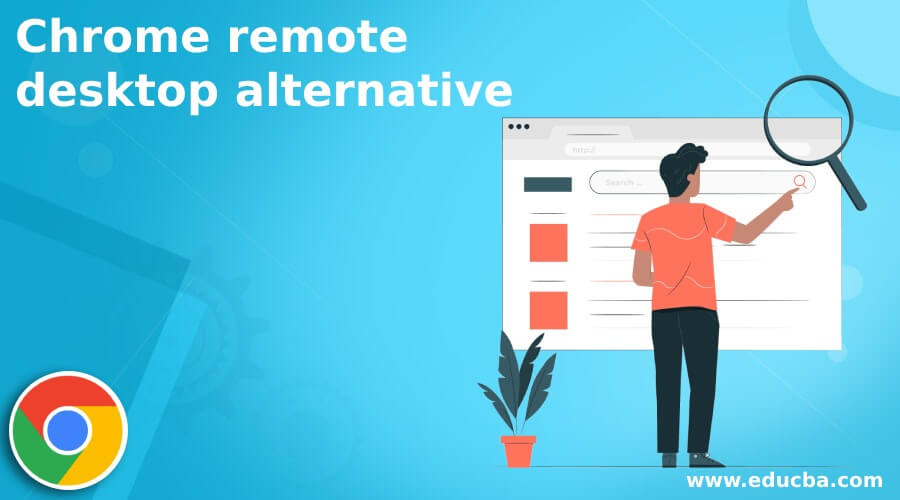 Introduction to Chrome remote desktop alternative
Chrome Remote Desktop is the official remote desktop program for Google's own browser. It makes it possible to become a host on any computer using Chrome as a browser. The host can be connected at any time to the client. To connect to Google, the user does not need to login. It works on computers like Mac, Windows, and Linux.
Alternatives of Chrome remote desktop
Lets have a look at chrome remote desktop alternatives.
1. Cisco
You have their back. Provide customers anywhere in the world with real-time support and service. Call time reduction, speed up resolution, and overall cost reduction. You can fulfill and exceed expectations with Cisco Webex Support. A dynamic technical support platform remotely. Provide clock and globe remote support. Your business will grow if your customers need you. Build your company with excellent service from anywhere. Less waiting. Your users can use your product, site, or e-mail to obtain help.
2 Dualmon
For small and medium-sized companies, Dualmonprovides secure, fast, and affordable remote access. Dualmon Remote Access provides unlimited on-demand remote help deployments, both in the cloud and on-site. Dualmon Remote Access Key Functions and features include remote printing, user management, file transfer, computer diagnostics, reporting on usage, screen blanking, login, etc.
3. AnyDesk Software
Connect to a computer from the other end of the bureau or around the globe remotely. AnyDesk guarantees secure and reliable remote desktop connections for both IT professionals and people on the go. AnyDesk can work for all devices, iOS, macOS, Linux, and even your Raspberry Pi. It works on all of your devices and systems! Work together and easily communicate whether you have online meetings and presentations, or if you are working on the same document from across the globe. Just copy and paste or use the new transfer tab for files transfer between computers. No necessary administration or installation privileges. You're off just downloading the 3 MB file.
4. LogMeIn
Maintain the most dependable remote access toolday-to-day operations. Make LogMeIn Pro safe, flexible and productive from anywhere. Simplify your work and store access, share and work with all your devices. Access to your websites, cloud, and desktop applications most frequently visited. Easy remote access from your browser, iOS, desktop, and Android to your PC or to your Mac. Access your desktop quickly as if you sat in front of it. For instant collaboration, extend computer and file access to anyone. Free access to LastPass insecure password vault to store any accounts.
5. Instant Housecall
Founded in 2005 and offering a title software called Instant Housecall, Instant Housecall is a Canadian software company. Instant Housecall provides live online training. Instant Housecall is remote support software and includes features such as diagnostic tools, live chat, file transfer, real-time chat, screen share, and remote control. Instant Housecall offers Windows, Mac, and SaaS software with regard to system requirements. $29.00/month/user starting costs. Instant Housecall includes support for business hours and online assistance.
6. NetSupport
Founded in 1989, NetSupportis a UK-based software organization that offers NetSupport Manager software. We offer training through documentation, webinars, live online, and personal workshops to the NetSupport Manager. Windows, iPhone, Mac, iPad, and Android software are the software suite for NetSupport Manager. NetSupport Manager provides online support and business time. A free trial is provided by NetSupport Manager. It provides features like real-time chat, file transmission, diagnostic tools, live chat, remote control, session recording, scrum-sharing, session transfer, and surveys & feedback and is supported by remote software.
7. Comm100
Comm100Live Chat and digital customer involvement enable you to talk to your customers in real-time and whenever and wherever they need you. A wider range of powerful instruments including co-browsing, automation, routing, video, and audio chat allows your agency to more effectively connect. Comm100 is now offered a free live chat with unrestricted agencies and chats in businesses, businesses, and freer editions. More than 6,500 firms worldwide, including Rackspace, Stanford University, and Canadian Blood Services use the Comm100 to offer the most individual live chat experience in the world.
8. Acquire
Support for real-time clients. The expectations of your customer are changing – the co-browse and live chat are greater than them. Enable your representatives to resolve complex problems in real-time with customer support. To increase conversion rates, on the Internet or mobile app, achieve it in a single touch and in real-time. Our smart bots help your team respond immediately to common questions. Living chat and co-browse power provide quicker, more personalized support. The simple but powerful tools of Acquisition encourage customer commitment and overall success.
9. Devolutions
Devolutions is the 2004-founded Canadian software company with the title "Remote Desktop Manager." It offers software. Remote Desktop Manager provides documentation training, live online training, and webinars. Free version and free trial are available for Remote Desktop Manager. The remote desktop management software includes features such as diagnostic tools, file transfer, in-time chat, login, remote control, surveys, transfer, and feedback.
Recommended Articles
This is a guide to Chrome remote desktop alternative. Here we discuss the various Chrome remote desktop alternatives. You can choose any of them based on your requirements. You may also have a look at the following articles to learn more