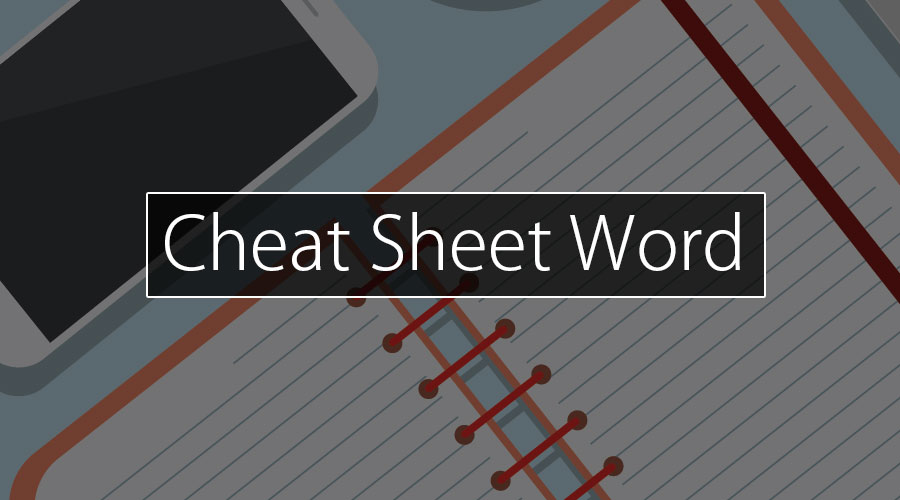 Introduction to Cheat Sheet Word
 What is Microsoft Word? MS Word is the most preferred data processing code used nowadays. An application program is basically a computerized version of a quality printer. However, the pc adds options that the printer never dreamed of getting features like spell check, the power to copy and paste, save and store documents, feature pictures and shapes to documents, and lots of a lot of. Once connected to an email and electronic documents created by MS Word is delivered in seconds.
What is MS Word Used For? This code is employed to make, edit, and format written documents within the offices, at school, and at reception. Examples of somebody's personal and formal official letters and resumes. Intermediate and advanced level information of this code may lead to job opportunities since MS Word is employed plenty within the organizations.
Commands and Content On Cheat Sheet Word
The following are some useful Microsoft Word keyboard shortcuts.
Notes:
If a cutoff needs 2 or additional keys at a similar time, they are separated by a sign (+) if you have got to Action one key forthwith once another.
The Microsoft Word keyboard shortcuts mentioned in this cheat sheet word article are corresponding to the U.S. keyboard layout.
This table shows the foremost often used Microsoft Word keyboard shortcuts.
| | |
| --- | --- |
| Task | Action |
| To Go to | Press Alt+Q |
| To Open | Press Ctrl+O |
| To Save | Press Ctrl+S |
| To Close | Press Ctrl+W |
| To Cut | Press Ctrl+X |
| To Copy | Press Ctrl+C |
| To Paste | Press Ctrl+V |
| To Select all | Press Ctrl+A |
| To Bold | Press Ctrl+B |
| To Italic | Press Ctrl+I |
| To Underline | Press Ctrl+U |
| To Decrease font size | Press Ctrl+[ |
| To Increase font size | Press Ctrl+] |
| To Center text | Press Ctrl+E |
| To the left, align text | Press Ctrl+L |
| To the right, align text | Press Ctrl+R |
| To Cancel | Press Esc |
| To Undo | Press Ctrl+Z |
| To Re-do | Press Ctrl+Y |
| To Zoom | Press Alt+W, Q |
Cheatsheet Word Keyboard shortcuts
Create, edit, view, and save documents
| | |
| --- | --- |
| Task | Action |
| To create a new document. | Press Ctrl+N |
| To Open a document. | Press Ctrl+O |
| To Close a document. | Press Ctrl+W |
| To Split the document window. | Press Alt+Ctrl+S |
| To Remove the document window split. | Press Alt+Shift+C or Alt+Ctrl+S |
| To Save any document. | Press Ctrl+S |
Work with website content
| | |
| --- | --- |
| Task | Action |
| To Insert a hyperlink. | Press Ctrl+K |
| To Go back one page. | Press Alt+Left Arrow |
| To Go forward one page. | Press Alt+Right Arrow |
| To Refresh. | Press F9 |
Print and preview documents
| | |
| --- | --- |
| Task | Action |
| To Print a document. | Press Ctrl+P |
| To Switch to print preview. | Press Alt+Ctrl+I |
Check spelling and review changes
| | |
| --- | --- |
| Task | Action |
| To Insert a comment | Press Alt+R, C |
| To Turn change tracking | Press Ctrl+Shift+E |
Find, replace, and go to the specific keyword
| | |
| --- | --- |
| Task | Action |
| To Open the search box | Press Ctrl+F |
| To Replace text | Press Ctrl+H |
| To Go to a page | Press Ctrl+G |
Free Tips and Tricks of using Cheat Sheet Word Commands
1) Copy, paste and cut with keyboard shortcuts.
Ask anyone who is aware of these Microsoft Word keyboard shortcuts — Ctrl + C to repeat, Ctrl + V to stick, and Ctrl + X to cut — and that they can testify to their important expeditious nature. Master these 3 basic commands initial, and you'll end up zooming through document creation at shocking speeds.
2) Quickly centre or resolute saves eye strain.
Some individuals prefer to add a Word window zoomed in to a hundred and fiftieth, whereas others prefer to eliminate the requirement to scroll left and right or up and down by zooming resolute seventy-fifth to examine a document in its completeness. Either way, use the Window > Zoom button to decide on the setting that works best for you — or seek for the "100%" tab with a slider at the bottom right of the document to simply center or out.
3) Delete entire words at a time.
This is a simple one you will not grasp about: rather than slowly pecking at the keyboard to delete text or holding down Backspace to eliminate words or entire sentences, Action Ctrl+Backspace with the pointer placed when a word you would like to erase a word at a time, creating a tedious task abundant easier.
4) Use a good search to go looking at the web.
Anytime you highlight a word or phrase and right-click it, you'll see "Smart search," which is a fast crosscut to browse the net — while not swiftness right down to open a separate browser window. This powerful tool will remodel a straightforward question into a wealth of information from word definitions to news scans.
5) Remove unwanted information.
Trying to show a document from an external supply into one thing that works for you? Strange information will slow you down, thus rather than attempting to repair one issue at a time, Action Ctrl + Space or click the Clear All Formatting button (in newer versions, an eraser on an A on the home tab) to get rid of information from a highlighted text and begin contemporary together with your own vogue.
6) Tell the program specifically what you would like to try and do.
Most newer versions of Word embrace a handy "Tell Pine Tree State what you would like to do" field at the highest of the toolbar. Insert a word or phrase bearing on any instruction, and therefore the program will quickly establish the command you're searching for.
7) Use multiple clicks to pick out chunks of copy.
Rather than using the tedious drag and highlight methodology, you'll use your mouse to pick out chunks of copy: double-click over a word to spotlight it or triple-click to spotlight a complete sentence or section.
8) Quickly insert links into a document.
Similar to the copy/ paste/cut commands, learning the keyboard crosscut for adding internet links to a document — Ctrl + K — can save millions of time and quickly become one amongst the sharpest tools in your kit.
9) Select the default font you would like, not the default font Word needs you to use.
Don't like Calibri or Cambria? Like Arial to Times New Roman, or just like the fashionable nature of Verdana? The simplest half regarding Microsoft Word is you'll opt for the default font — this command differs by version; however, the foremost reliable method is to click Format > Font, choose the attributes you would like, then click Default.
10) Find any word you would like quickly and simply.
Instead of mistreatment your mouse to navigate to the Find command, click Ctrl + F to either open the window in older versions of Word or move the pointer mechanically to the Search in Document menu that perpetually seems within the toolbar in newer versions.
Conclusion – Cheat Sheet Word
No matter what your level of proficiency with Microsoft Word, we tend to may all use a boost to form our use of the program additional productive and economical. However, the workplace productivity suite will have a bearing on your regular operations? Speculative about whether or not it's time to upgrade your version of Word? Produce other tips and tricks that have revolutionized your use of the program? Still, there is a lot to learn about this wonderful world called a world.
Recommended Articles
This has been a guide to Cheatsheet Word here; we have discussed the content and command as well as free tips and tricks of cheat sheet Word. You may also look at the following articles to learn more.