Updated March 20, 2023
Introduction to Artificial Intelligence Technology
Artificial Intelligence (AI) is the combined attribute of science and computer that makes the system or program or any machines perform the Intelligent and Imaginative functions of a human, independently and solution to problems, be able to make decisions. The main aim of Artificial Intelligence systems is to have the ability to discover, which makes people increase their performance and productivity over time. Artificial Intelligent Technology tools include machine learning and deep learning which gives an analysis report to increase the clarity of planning, reasoning, thinking, problem-solving and also learning.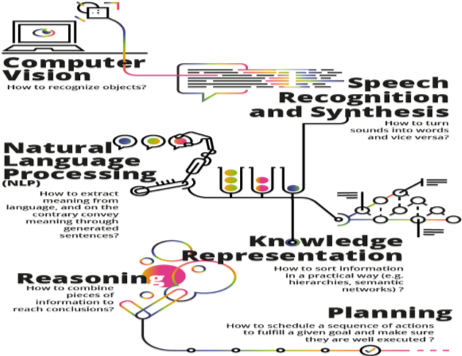 Advantages of Artificial Intelligence Technology
The advantages are as follows:
Artificial Intelligence in education makes a worthy contribution to human beings. Here a complex problem is solved by dividing the problem into subunits and finding the solution to each subunit. The subunit may be a system or human trying to find a solution to the problem. The proposed theory shows that cognitive science in education developed a tutor by programming a computer and that tutor would watch the students problem-solving skills. Now the tutor will guide the student and advises them in each step of his solution by preventing them before they fell into a trap. This method makes the student learn a lesson about the problem and be cognitive in the future.
The Expert system is widely used in Artificial technology. The popular one is spell corrector and spell checker. They act as a proofreader by checking spellings and grammatical mistakes and gives all the possible suggestion to get the best article. The expert system in the automation industry is widely used in 80 percent of its manufacturing process. It saves the labor cost, reduces the error and gives a maximum output in minimum time because the robot does not need a lunchtime or break hour. The man takes hours to complete a pain taking the task in which the robot does in a fraction of minutes.
Robotics with applied AI is most attractive and beneficial to human resources. The robots are programmed to do a repetitive task which increases productivity and it is efficiently used. The unique feature of robots are bomb defusing, space exploration and programmed do all task which is dangerous to be done by humans. The advanced research in robots is to make them see, hear and touch by implementing them with collision sensors, cameras, and ultrasound sensors. The robot is used in space exploration and they are adaptable to the environment and physical conditions.
Emotions intercept the intellectual thinking of human which is interference for artificial thinkers. Apart from emotional handling, a robot is also programmed to think logically and take effective decisions.
In daily life, Artificial intelligence is implemented and successfully growing around us in aspects of communication, time management, education, cognition, health, safety measure, traffic control, purchasing, marketing, shopping, and planning Artificial Intelligence is used in science to design experiments, train the resources, interpret the data, reduce complexity.
Top Technologies used in Artificial Intelligence
Some of the few top technologies rocking the world are listed below:
1. Natural Language Generation: AI converts the data into a readable form allow the system to interact ideas with perfect accuracy. It is widely used in customer services to generate reports and pull market data.
2. Speech Recognition: Siri is the best example of speech recognition which understands and interacts with the voice response of human language by mobile apps.
3. Virtual Agents: The Chatbot is a suitable example that is programmed to interact with a human.
4. Machine Learning Platform: The main aim is to develop techniques that enable the computer to learn. They are currently developed for prediction and acts as an audience management tool. It is most profitable for digital marketing.
5. AI Optimized Hardware: The new graphics and processing unit are designed and developed to perform Artificial Intelligent oriented tasks.
6. Decision Management: Intelligent machines are designed to frame new rules and logic to AI systems for setting up, prolonged maintenance and optimum tuning and make you run a profitable organization.
7. Deep Learning Platform: It is mainly used for classification and pattern recognition for large scale data.
8. Biometrics: This technology is used to identify and analyze the human attributes and physical features of a body's shape and form.
9. Robotic Process Automation: It uses scripts and mimics the human process and fed to a robot to complete it effectively.
10. Digital Twin: A digital twin is software that joins the space between physical systems and the digital world.
11. Cyber Defense: It acts as a firewall that detects, prevent and provides timely support to fight against any threat which is yet to affect information and infrastructure.
12. Compliance: It is an agreement between the employee and organization to follow the standard policies and rules of the organization.
13. Knowledge Worker Aid: AI technology also can widely help employees at work, especially those in knowledge work.
14. Peer to Peer Networks: When multiple systems are connected and share resources without the data going through the server computer. It is also used in cryptocurrencies.
15. Content Writing: Artificial intelligence helps in content writing such as articles, blogs, reports by suggesting possible words that suit well for sentences and also provide spell correction and grammatical mistakes to their online world.
16. Emotion Recognition: The technology permits the software to "scan" the sentiments on a human face using high-level image processing or audio processing.  now at the point where you can catch "micro-expressions," or complex body language ideas, and vocal accent that reveals a person's feelings.
17. Image Recognition: Image recognition is the method of recognizing and distinguishing an object or trait in a digital image or video, and AI is frequently being piled on top of this technology to great effect.
18. Marketing Automation: Marketing automation enables companies to increase engagement and improve performance to grow income faster. It uses software to automate client segmentation, data integration, and campaign management, and streamlines repeated tasks, providing vital minds to get back to doing what they do best.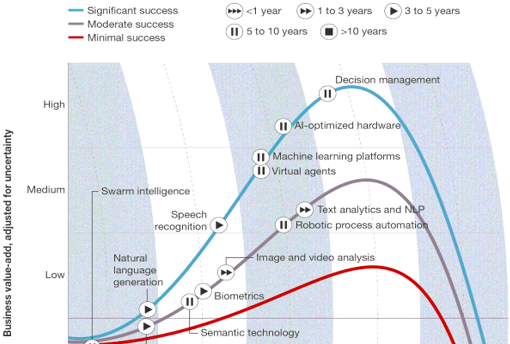 Artificial intelligence is successfully set its milestones in all industries such as e-commerce, biotechnology, diagnosis of diseases, military, mathematics and logistics, heavy industry, finance, transportation, telecommunication, aviation, digital marketing, telephone customer services, agriculture, and gaming.
Recommended Articles
This has been a guide to Artificial Intelligence Technology. Here we have discussed the Overview and Advantages of Artificial Intelligence Technology with 18 Top Technologies used in AI. You can also go through our given articles to learn more-