Updated July 29, 2023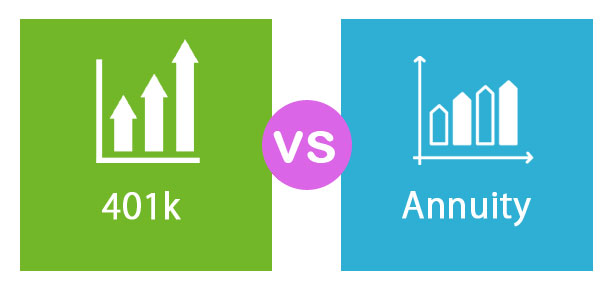 Difference Between 401k vs Annuity
Saving for retirement money is not an easy task as an individual needs to think a lot about where to park his valuable and hard-earned money from which he can spend life in peace in the later years without facing any hardship. Plenty of retirement options are available for an individual to park his money. Some of the most prominent options that are available are 401k vs annuity. This article will try to understand the basic difference and characteristics of both the investment options available in detail.
Head to Head Comparison Between 401k vs Annuity (Infographics)
Below is the top 5 difference between 401k vs Annuity

Key Differences Between 401k vs Annuity
Let us discuss some of the major differences between 401k vs Annuity:
The key difference between 401k and annuity is that if the employer of the company in which the company is working does not have an option of 401k, then the employee cannot contribute a piece of their salary to 401k. On the contrary, an individual willing to save can put his money in an annuity account for future savings and plans.
The fees involved in the investment of 401k are much easy to figure out as the fees are known to the administrator in the company who is responsible for the investment of your savings. On the other hand, in the case of an Annuity investment instrument, the fees which the fund charges do is not easy to figure out, and no basis for the calculation of fees is shared with the investment receipt, so one does not know exactly how much amount has been deducted and investment at a particular time.
Another major difference between 401k vs annuity is that if an individual withdraws funds before the legal age of retirement or the age of retirement as per his or her company's policy, he needs to pay an early withdrawal penalty of 10%, which comes with in addition to the income tax due to the amount an individual withdraws from his her savings. On the other hand, under the annuity savings instrument, the fees are levied on the withdrawal amount, but at the same time, it reduces as the tenure of the annuity is increased. Generally, in most cases, the annuity can be withdrawn after a tenure of 5 years.
Another big difference which is to be highlighted between 401k vs Annuity is that annuity will offer you guaranteed payments of the amount invested by you in the earlier days as long as an individual is alive and living, whereas if you look at the case of 401k is that the money that you will receive at the time of retirement is only a one-time thing and it will only include the amount that an individual has invested plus incremental earnings on that investment which the company has invested your savings in the long-term
401k vs Annuity Comparison Table
Let's look at the top 5 Comparison between 401k vs Annuity
| | |
| --- | --- |
| 401k | Annuity |
| 401k is constant and consistent throughout an individual's life. | An annuity is subject to market cycles, and it is not consistent and constant in nature as the investment earnings might vary with the market conditions. |
| There is a cap on investment with 401k. | There is no minimum or maximum investment one can contribute. |
| In 401k there is no such option in a 401k financial instrument. | Variable annuity, if taken by an individual, the money earned on investment can go up with the market in which the amount invested performs well. |
| In some companies, 401k is mandatory in nature. | An annuity is not mandatory in nature. |
| Penalty if withdrawn early, that is, before the legal retirement age. | Anyone can withdraw an annuity after a time period of 5 years. |
Conclusion
An individual should plan gracefully and keep in mind all the objectives and an individual's credit and financial position. An individual should know all the developments, benefits, and hidden clauses. This is important when you start opting for various retirement benefits plans. One should not forget to integrate Social Security payments into your retirement plan. While they may not have a monumental effect on your finances in retirement, they can provide extra cash when you need it most.
Recommended Articles
This has been a guide to 401k vs Annuity. Here we also discuss the 401k vs Annuity Key Differences with Infographics and Comparison Table. You may also have a look at the following articles to learn more –