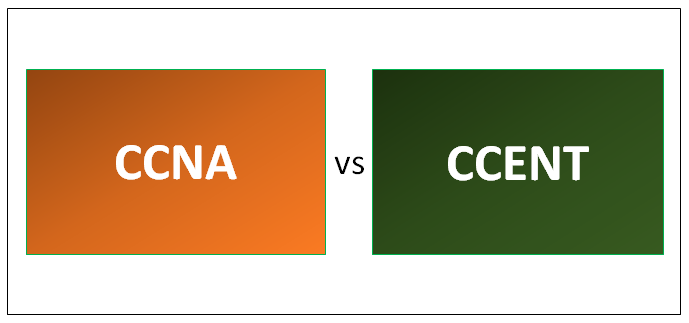 Difference Between CCNA and CCENT
CCENT (Cisco Certified Entry Network Technician) and CCNA (Cisco Certified Network Associate). Both CCNA vs CCENT certifications belongs to the Cisco ecosystem which is a mass provider of networking and infrastructure components. It has also pioneered innovations in switching, routing and networking technologies over the past decades. CCNA expects the students to prepare and administer for medium-sized switched and routed networks. CCENT certification for getting the advanced certification.
IT certifications are the best way to demonstrate your skillset to the employers and giving them a higher likelihood of hiring you and thereby giving high salary offers. There are many certifications in various domain of this sort such as for the world of testers ISTQB is among the most recognized certification, for someone belonging from JAVA background OCJP and OCWP are the ones to go for, for cloud experience AWS Solution cloud architect professional is the certification to go for and if you belong from a Big Data/Hadoop/Spark background, CDH, HDP or MapR backed certifications will give you the intended benefit. In a similar way, we are going to discuss two such certifications which mark their presence in the field of computer networks.
These certifications teach different skills at various levels and are directed towards different IT positions and job types. Students are expected to do rigorous hours of learning before appearing for these exams and their validity is of three years before they require renewal.
CCNA expects the students to prepare and administer for medium-sized switched and routed networks. They also cater to WANs which are essentially used in establishing the connection between computers and devices over various geographical locations. Students who have already done their CCNA are also aware of all preventive measures and troubleshooting basic security and their relevant threats for keeping the network safe from all viruses and hacking attempts which could possibly harm them or show private user data. This requires skills that are equivalent to the CCENT certification for getting the advanced certification. It must be noted that it is not the prerequisite to take the CCNA exam. CCNA certified professionals take jobs such as those like internetwork engineers and WAN/LAN engineers.
Both these exams, CCNA and CCENT are valuable to employers and show real-world, practical skills for Cisco networking in almost all business settings. These certifications help you as being stepping stones and in also getting hired which will surely help you in building your skills as an IT network professional.
Head To Head Comparison Between CCNA and CCENT (Infographics)
Below is the top 5 difference between CCNA vs CCENT

Key Difference Between CCNA and CCENT
Both are popular choices in the market; let us discuss some of the major difference:
The primary difference between CCNA vs CCENT is related to the depth of scope. The CCENT certification is majorly based out of an entry-level design which serves as a good starting point for all the professionals looking to start their career in the field of networking. The topics covered in this exam are basic and does not require much of an effort.Topics such as installation, operating and supporting small branch networks are included in this certification course. It is one of the best fits to clear your basics in the field of networking whereas CCNA is considered to be the associate level of examination whose course and a curriculum is slightly complex when compared with CCENT. It serves as a good value add to the foundation knowledge covered by the CCENT examination already. The scope, depth, and skillset required to clear this examination are higher and deeper when compared to CCENT. Topics such as advanced dynamic protocols especially the ones responsible for routing, RST (Rapid Spanning Tree) and VPN protocols are covered in this exam.
The CCENT is not only aimed to give you an understanding of the networks but also about how networking is related to other operating systems and applications. For example, a database administrator, a computer software programmer and a system administrator might be interested in learning and clearing the CCENT exam in order to provide a better understanding of networks and the impacts it has on the application systems running. There have been constant and often battles between the networking team and the programming team or a system admin team regarding where can the IT problem lie. A high understanding of networking will help in minimizing such instances. CCENT exam, therefore, can be said to be the first step in taking the CCNA certification.
The CCNA certification consists of one exam 640-822 ICND1 which stands for interconnecting Cisco network devices 1 with an exam fee of $125 and an exam duration of 90 minutes with around 40-50 odd questions whereas the CCNA exam includes both ICND1 and ICND2 examinations and basic troubleshooting. Since troubleshooting is a pre-requisite for any network administrator and therefore troubleshooting related topics and questions are introduced in both exams. It is also important to understand the working of the OSI layer model and its working; what network problems occur at every layer, various show and debug commands.
CCNA vs CCENT Comparison Table
Below is the topmost comparison between CCNA vs CCENT
The Basis Of Comparison 
CCENT
CCNA
Scope Depth
Introductory foundation level
More advanced than CCENT
Number of exams
1 (ICND1)
2 (ICND1 and ICND2)
Topics covered
Installation, operate and support
Dynamic routing protocols, Rapid Spanning Tree, VPN protocols
Level of Understanding
Network and their operations and their interdependency on other operating systems
Apart from Networking and OS, it also expects you to be well versed in the OSI model with an individual network layer
Route of exam taking
One exam 640-822 ICND1 for $125, 90 minutes duration with 40-50 questions
Two ways of taking this exam:
Composite: 640-822 ICND1 and 640-816 ICND2, 90 minutes, 45-50 questions for $250
Individually: The cost of the individual exam is $125 each where 640-816 ICND2 has a time limit of 75-90 minutes and 40-50 questions.
Conclusion
Both CCNA vs CCENT certifications will surely add value to your career and especially if you are looking to climb your way up into the field of networks. Choose a certification as per your background and your goal and shine in the market as this is a never-ending industry. Stay tuned to our blog for more posts like these.
Recommended Article
This has a been a guide to the top difference between CCNA vs CCENT. Here we also discuss the key differences with infographics, and comparison table. You may also have a look at the following articles to learn more