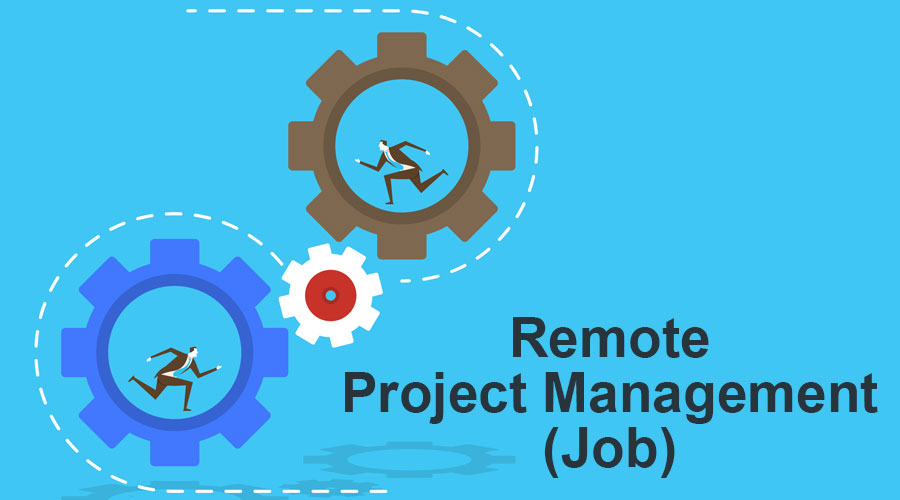 Introduction to Remote Project Management (Job)
Remote project management (job) is working on a project remotely, not being physically present at the place where the project is done, but remotely either from home or another country managing a project and successfully completing it. In today's day and age managing, a project remotely is not uncommon; a lot of professionals are doing so. Managers are in different locations, and team members are scattered across different countries, but this is very much possible with the assistance of modern technology. Telecommuting or working from home is very much on the rise; this benefits the companies and employees. Companies benefit in terms of cost-saving and other benefits that they need to provide to employees. Employees enjoy the freedom and flexibility to work on their schedule; they only need to complete their tasks with the specified time frame. In this topic, we are going to learn about Remote Project Management (Job).
Education Required
Managers and employees who are part of remote project management need to first be well-versed in modern technologies. It is because of modern technology that this is possible in the first place. They need to good communication skills. Managers and team members need to be sensitive to each other's culture, and working style as everyone can be from a different country.
However, apart from the above-mentioned soft skills, to be part of remote project management, one needs at least a bachelor's degree in any one of the following areas.
Business management
Marketing
IT
Computer science
Engineering
This can be followed by a masters degree in:
Business analytics
International business
MBA
PMP (certified project management professional)
Along with the above-mentioned qualifications, a specialist course like a diploma and training will also be helpful as this will help an individual gain some advantage over his competitors and also more likely to get a better position compared to his competitor's. Having a degree is always an added advantage and shows a person is serious about his/her career. One also needs to figure out the area of remote project management they want to be part of and then undergo specific training for the same.
Job Path
One can find that working in the remote project management field can be quite challenging and demanding. A person needs to work hard and dedicate a lot of time and effort to make sure the deadlines are completed within the stipulated time frame.
However, over time, one can find that their knowledge and experience greatly increases and makes them efficient in remote project management.
Below is a list of some job position: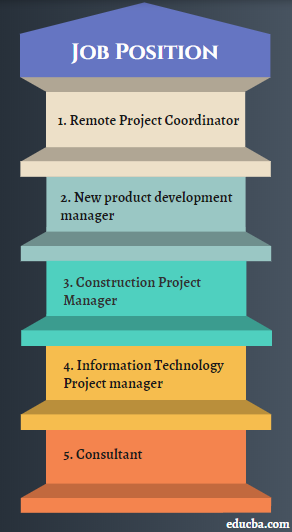 1. Remote project coordinator: He is the leader of the team, and complete responsibility for the project lies on his shoulder. He will be responsible for the success or failure of the project. They will need a very good understanding of business and technology, managing a remote team, and getting the best of them. He will be someone who has a lot of experience in remote project management and has a track record to show some past successful projects
2. New product development manager: Individuals having a degree in marketing and some experience in sales would be suitable for this role. Also, they will need a very strong understanding of the markets. Their primary responsibility would be to develop new products, test them and finally market them
3. Construction project manager: The size of projects in this field is very big and involve considerable cost; managing such projects remotely requires a different level of skill sets like a very good understanding of a project, rules, and regulations of the regional project is conducted in, and ability to manager labors
4. Information technology project manager: Because of technology, remote project management is possible to a great extent. Individuals well versed in this field will find it easy to work.
5. Consultant: This is to be taken up after experience as a project manager and a successful track record. The main benefits are that a consultant can choose a project of his choice, and working independently is also an option if he does not wish to work for a firm.
Salary
As of Apr 1, 2019, the average annual pay for a Remote Senior Project Manager in the United States is $117,221 year.
While ZipRecruiter is seeing annual salaries as high as $169,500 and as low as $32,000, the majority of Remote Senior Project Manager salaries currently range between $91,500 (25th percentile) to $144,500 (75th percentile) across the United States.
Career Outlook of Remote Project Management (Job)
A job in the field of remote project management is filled with a lot of challenges.
A remote project manager finds it difficult to monitor his team's performance as everyone is in a different location.
When teams are spread across geographies, language barriers, cultural differences, and time zones are some key challenges.
The project manager needs to be aware of the rules and regulations of the country that are applicable to his project.
A lot of planning needs to undergo so that all parties part of remote project management know what to do when things go wrong.
Goals and responsibilities need to be well established and laid out. Hiring the right kind of workers is equally important as when things don't go according to plan, they will have to rely on their expertise only as it will take time to get the plan from other counterparts.
Effective communication is key; if the team is global, then everyone might not have the same native language. Hence communicating in simple terms and efficiently is important so that everyone is on the same page.
It is important that the team overall has frequent meetings with each other so that they can update everyone on their progress and also seek assistance from others on issues that they are struggling with.
Having the right technology can make work really efficient and productive. Video conferencing tools like Skype and zoom are very helpful.
Recommended Articles
This is a guide to Remote Project Management (Job). Here we discuss the education required, job path, and the salary with career outlook of Remote Project Management (Job). You can also go through our other suggested articles to learn more –