Updated May 12, 2023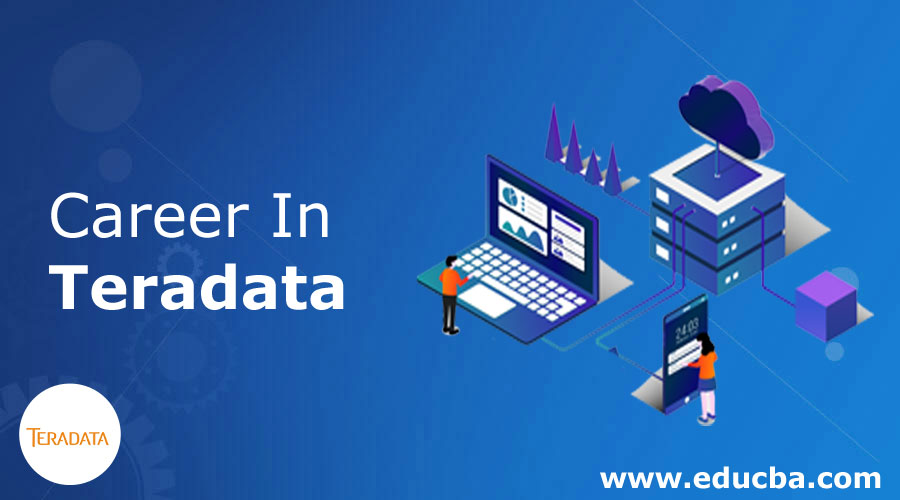 Introduction to Career In Teradata
Teradata is known as a relational database management system, which is mainly used to build and manage large-volume data applications. Teradata is an organization which was founded in the year 1979. It is primarily working on data warehousing. Teradata gives a lot of importance to big data and analytics, as many organizations want to manage a large amount of data effectively and increase their business.
Teradata combines new technology with communication and offers various data analysis and management features. Teradata is based on a massively parallel processing architecture that divides the system's workload into parts, which helps in completing a task more quickly. Moreover, Teradata systems are highly scalable, and it also supports the standard SQL to interact with data stored in tables and gives its own extension.
Education Required for Career In Teradata
The individual should have a bachelor's degree in computer science and technology and good analytical skills. An associate degree or certification in a database field will also do for job interviews and job opportunities. One should have a good knowledge of the database and its architecture to analyze and manage the data for the organization to help them in marketing strategies.
Teradata professionals need to learn big data and analysis of data; this can be known through online portals, forums, and widely available videos. Teradata's professional job is not easy, but also difficult to learn different skills. It is a continuous process that one must stick with and up-skill to get a good job opportunity.
Career Path
The career path in Teradata for professionals and beginners is exciting. At an entry-level position, one can work as a Teradata developer. At a senior level, one can start after getting experience as a database administrator or Teradata consultant. The individual that likes to work with data and analyze the large volume of data can go for this skill or technology.
Teradata engineers must be more technically sound, which involves creating and managing complex data. In today's world, a lot of data is already in computers, databases, and organizations that we cannot operate properly. Hence, they need skilled data engineers to maintain their data properly and effectively. Teradata Engineers can also work as freelancers and take the projects, as sometimes some engineers want to work for multiple organizations.
Job Positions or Application Areas for a Career In Teradata
The job positions or application areas for Teradata are different for different organizations. There are some common job roles Teradata Engineer, Teradata developer, Teradata consultant, Database administrator, Technical Teradata Manager, Product Manager, Teradata specialist, Senior Teradata Engineer, and principal software engineer (Teradata).
Teradata gives exciting and challenging opportunities for individuals mainly working on the data or database side. The individual also wants to work as a Teradata professional because of global opportunities and the good salary that everyone attracts to this profession. Everyone has another job in a different role according to their skill and role. Teradata database administrator needs to check the creation and establish the structured role to ensure data optimization. One should know to write SQL queries, functions, and data analytics, responsible for quality control, and good use of data to get precise results.
Salary
Teradata professionals or specialists are getting good salaries across the globe. The average salary for the Teradata specialist is around 85K USD per year. The starting of a Teradata engineer is about 55k USD per year; at mid-level, it is around 75k USD per year to 100k USD per year. The senior-level Teradata specialist is around 110k USD per year to 140k USD per year.
The salary is always based on the organization, mainly individual skills, and expertise. It is always better to upgrade the skill and experience while working in a particular technology helps in finding them in and out of the same, and most importantly, it will help you get a good salary. Teradata engineers working as freelancers also earn good salaries; few individuals work freelance for multiple organizations as companies want dedicated engineers for them and strategies the data.
Career Outlook
The career outlook for Teradata engineers is excellent in the future as the data is increasing daily in large organizations and small businesses. To maintain this, big data specialists are required. Each company is looking for specialized skills and expertise to keep the data and who can help the company to achieve a better result.
Teradata requires more technical and analytical ability, and engineers are not many in the market. So, it is one of the best options to start your career in Teradata and become a specialist and demanding person in digital marketing. Teradata specialist is responsible for all the things from development to test and then to production. This job's major and important role is to collect and analyze the information and know the different data statistics. A career in this technology or skill is reliable, secure, and highly paid.
Conclusion
Almost all organizations or companies require Teradata Engineers to manage and analyze their data, benefiting their company in marketing and giving them an edge compared to other companies. It has been observed that the Teradata database management system has grown, and companies are adopting it. It is expected that other companies will also adopt it in the future as well.
Teradata has many features to offer to manage the data warehousing applications effectively. It provides robust utilities to import or export the data from one Teradata system to another Teradata system. It distributes the data evenly to the system without any manual intervention. Teradata is set to be the future of technology and has good career opportunities across the globe.
Recommended Articles
This has been a guide to Career in Teradata. Here we have discussed the basic concepts, education required, job position, salary, and career outlook. You may also look at the following articles to learn more –