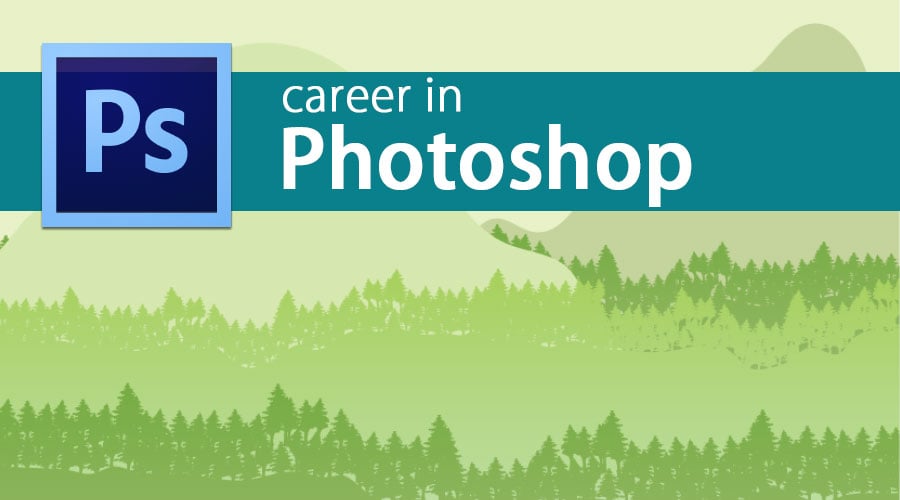 Introduction to Career in Photoshop
Adobe Photoshop is the most widely used image editing software used by millions of creators, artists, designers, web designers, photographers, VFX artists, advertisers and so on, as Photoshop offers them ways by providing powerful tools and means to excel in their professional career and growth that can help people with computer skills and knowledge about fundamental of arts and color theory to utilizing the rising demand for Photoshop professionals across a wide spectrum (social media, print media, websites, apps, etc.) from across various companies across the globe and they can make a great living out of the compensation offered for skilled and experienced professionals.
Education Required to Build Career in Photoshop
For the main career focus on our educational requirements in Photoshop, its requirements mostly depend upon our creative skills and a bachelor's degree in graphic design related to the field you are applying for.
In some of the studios or companies, they consider some options regarding some experience related to art and our educational qualifications such s under-graduation or S.S.C. passed (optional in some cases). Some common courses, such as the bachelor's degree program, allow us to prepare ourselves for a career in various substitutes, i.e. visual effects, graphic designing, and web designing.
Before we all get into the Photoshop course details, we also need to understand that some departments do admire strong computer skills. These courses are in-depth, which includes fundamentals of art that is sketching/drawing and designing, the basics in Photoshop, illustration basics with its techniques and color theory.
Other companies in various countries like the U.S. mainly consider the main points to be followed in their requirements. Its demands are a thorough knowledge of designing and aesthetic principles in sketching, drawing or painting. They also look into the aspects i. e. the ability to work sincerely in a team or as an individual and communicate our ideas towards each other to help the company grow.
Even if the person is good with the skills like marketing which can help the company reach with the clients.
Career Path in Photoshop
We live in a world where people are consuming more and more visuals in media and advertising for their career goals, and those are from photos to videos and animations. Many companies these days need graphic designers to help them out of their brands across many different channels (e.g. social media, print media, websites, apps, etc.).
With Adobe Photoshop, we could choose various options to get into this field because the demand for Photoshop in the market has great value. For this kind of work to happen, it usually involves using many of the Adobe software, including Photoshop. Bigger companies or studios prefer artists who have better and extended years of experience in the field that they are choosing to work for.
If you have a specific career path that can relate to that software, we have it here:
That is Photoshop. It's an assistant to various photographers, photo editors and any company that deals with a large number of photos and accessories such as (fashion accessories, magazines, comic books and novels etc.). If you choose to go into graphic design as a career, you should be proficient in Photoshop at a minimum stage.
Job Positions or Application Areas
For the job positions or application areas For a career in Photoshop, various jobs may include touch-ups advertising photos or for visual effects to make your favorite actor or actress look young or old. The use of Photoshop will be required for all kinds of design and print-related to choose from in your career fields. If it interests you in using your favorite software applications in your new career, these are a few things on your wish list to choose from.
1. Photographer
A photographer's job includes getting rid of blemishes on a subject right after the picture is taken, adding light sources where ever required, adjusting the colors, and adding creative details to your pictures. All of these creative insights can be touchdown using Photoshop.
2. Visual Effects Artist
A visual effects artist's job includes creating various stages of pre and post productions designs. A pre-production design includes setting up the artwork for the characters in the movie or a storyboard. Even the creation of matte paintings is included in some of the Big Budget movies, e.g. Avatar, Bhahubali, etc. A post-production artist works on touch-ups, wire removal, etc.
3. Advertiser
An advertiser amplifies a brand to appeal to its memorable items to its customers. For this to happen, Photoshop is used to create the advertisements and more. It's used to prioritise their work by creating and editing items for displaying online videos or blogs. The work of an advertiser and graphic designer is combined to even structure the designs, which give the best outputs in the end for the client to visualize it.
Salary
With regards to the salary, on average for an artist using Photoshop, the salary in India starts around Rs 8,000/- for a fresher, and after that, a Mid Level artist would earn around 20,000 to 30,000 once the tenure increases. Once that happens, a Senior Graphic designer's salary would hike up to 40,000 to 50,000.
Career Outlook
So for all of this, from what we understand here is that the jobs that focus on Photoshop, students and employees need to learn the importance of how to use the program from the professionals. For this, we can learn it from a specific class at a high school or college level and even digital art or photography classes that include Photoshop as part of the course. Some artists or freelancers might teach Photoshop as part of an education program either at home, in a classroom, or online.
Conclusion
To conclude this, the use of Photoshop doesn't just apply to still pictures and designs. As we all call it software, this program is a whole package to all the art lovers or designers who choose this software as a profession in their career. So it a fair share to understand for ourselves that Photoshop does bring wonders in a way to prove that it's quite valuable for us as we take it forward in the market as a career in photoshop.
Recommended Article
This has been a guide to a Career in Photoshop. Here we have discussed the Introduction, Education, Career Path in Photoshop, Job Positions, Salary, Career Outlook in Photoshop, etc. You may also look at the following articles to learn more –