Updated March 23, 2023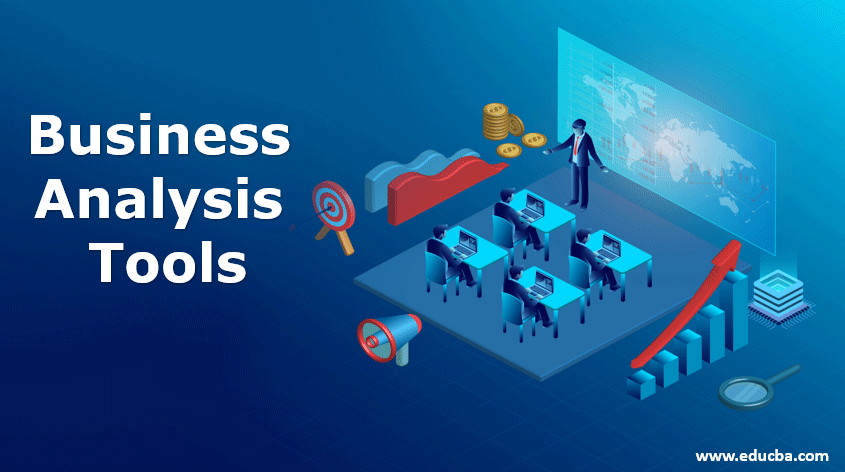 Introduction to Business Analysis Tools
Business Analysis is the practice of enabling the modification in the enterprise by recommending solutions to the stakeholders for a sustainable business insight using the business analysis tools such as tableau (helps in creating visual at a faster speed), Informatica (data integration tool used for Analytics and visualization), Microsoft Business Intelligence( allows users to collaborate and share data in a different medium), IBM Cognos( provides an intuitive and immersive user experience), Power BI( cloud-based service for analyzing and visualizing the data) and QlikView(A business discovery platform).
Tools used in Management of Business Analysis
Here are the top 6 business intelligence tools that are noticeably different and are the best approach to organizations for substantial business insights.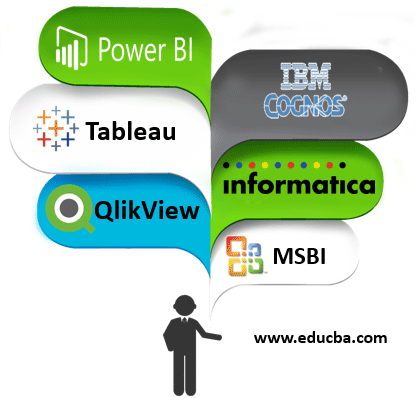 1. Tableau
Tableau is a very simple, yet powerful business intelligence tool for everything to try and do with data and is used and deployed in many enterprises. Tableau lets you create visuals sometimes 10 times quicker than you would have created in other programs and tools. It has very simple drag-and-drop operations to analyze and visualize the solution. Tableau is simply accessible on any device and is a new and adaptive approach to BI for anybody to understand and implement it in an easy manner.
One of the reasons Tableau has grown so popular is that its drag-and-drop interface is relatively simple to use; therefore, users without any programming knowledge can manipulate the data to create interactive visualizations.
Converts primary data into business insight.
Simple Drag and Drop
Tableau offers five main projects: Tableau Desktop, Tableau Server, Tableau Online, Tableau Reader and Tableau Public.
2. Informatica
Informatica is a data integration tool empowering Analytics and visualization. It actually gathers the data from various multiple sources and then loads it into target mappings. Informatica Server is used to extract the data from sources. It consists of one designer who is accountable for creating the mappings between the source and the target. It has its predominant use in integration and services for businesses, industries, healthcare, financial, insurance, and a ton additional.
Informatica allows you to load data. Informatica offers four main software system products: Power Mart, Power Center, Power Connector, and Power Exchange.
Based on ETL Design and Structure.
The leader in Gartner Magic Quadrant.
Gathers data and loads into targets.
Provides data integration software and service.
3. MSBI
MSBI is an acronym for Microsoft Business Intelligence. It provides complete compositions to work with your BI requirements and needs. It permits users to collaborate and share reports with data in SharePoint, Excel, SQL, etc. It's additionally capable of manufacturing fast and precise output through significant volumes of knowledge. It also consists of tools that aid in providing effective solutions for business intelligence and data processing queries.
MSBI is an acronym for Microsoft Business Intelligence.
Business Intelligence and Data Processing tool.
Provides optimized solutions for BI queries.
Uses Visual tools to gain accurate results.
Divided into three categories – SQL Server Integration Services (SSIS), SQL Server Analytical Services (SSAS), and SQL Server Reporting Services (SSRS).
SSIS is an integration service, SSAS is an analysis service, and SSRS is a reporting service.
4. IBM Cognos
Cognos is one of the leading technology platforms in today's world and it permits a user to create, modify, distribute, and schedule reports to totally different communities. It comprises of different products including abilities like dashboarding, Analytics, Visual Image, and Data Integration. It provides intuitive and immersive user experiences mainly focused on analytics and discovery. Cognos has a report studio that is used to create advanced formatting and charting.
The main functionality of IBM Cognos includes IBM Cognos Connection, Insight, Workspace, Report Studio, Event Studio, Query Studio, Analysis Studio, and Microsoft Office. Cognos supports Web Gateways having the default ones as the CGI and ISAPI for delivering faster performance for Microsoft Internet Information Services (IIS).
Online BI tool.
It offers a complete array of BI software.
Provides immersive user experience
5. Power BI
Power BI is a cloud-based business analytics service for analyzing and visualizing data. It produces creative and simple reports and let them publish to a specific organization through Power BI Service. With power bi, anyone can simply create personalized dashboards with a unique view of their business. It is used for intuitive data exploration having a live connection with your data source. Apart from this, power bi has an easy-to-use drag and drop canvas for excellent visualization patterns.
The most valuable and key features for Power BI include Artificial Intelligence with automated machine learning and Azure Machine Learning capabilities, Data Model support with extensible data schemas such as entities, attributes, and relationships, APIs for integration enriching big data support in the Power BI web service, the Power Query data prep for multiple reports, dashboards, and models.
Cloud-based Business Analytics Service.
Analyzes and Visualizes the data.
Capable of creating personalized dashboards.
Major features – Content Packs, Printing Dashboards, Custom Visualization.
6. QlikView
QlikView is a leading Business Discovery Platform. It has many features that are useful in creating advanced reports and dashboards from multiple data sources. This analytics tool enables users to uncover data insights and relationships across various sources. It has a clear license to in-memory technology that consolidates data from multiple sources to provide centralized data for high-level reporting.
Leading Business Discovery Platform.
Broad Data Connectivity for multiple data sources.
Provides end–to–end platform for Data Integration.
Data is held in memory for multiple users and for a great user experience.
Conclusion
Business Analysis tools can be used for modeling by the analyst from planning through to product support. The analysis tools can be used with any Business Analysis process with a wide range of features that allow analysts to work using their preferred methods, such as Word Processor views, Spreadsheet Views, Diagrams, Relationship Matrix, and other extended features. The analyst will be happy in the knowledge that whatever the task is, there will always be an analysis tool to assist them.
Recommended Articles
This is a guide to Business Analysis Tools. Here we discuss the introduction, Tools used in Management of Business Analysis. You can also go through our other related articles to learn more–