Updated May 25, 2023
About Buckingham Palace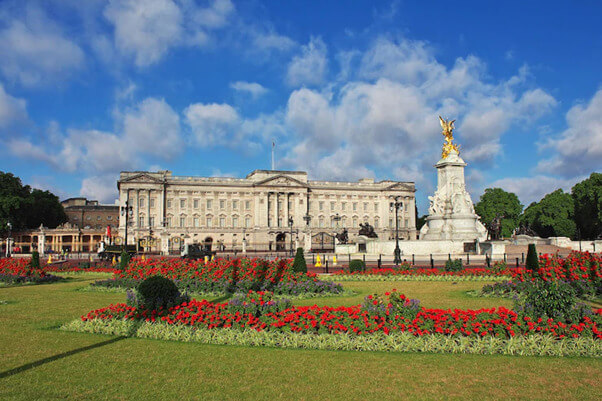 (Image Source: Freepik)
Have you visited Buckingham Palace? Made in remembrance of Queen Victoria, this palace is surreal. Buckingham Palace is a memorial made for Queen Victoria in front of the palace. The Dominion Gates comprise the Canada Gate, West Africa Gates, Australia Gate, and South Africa Gates.
It also had memorial gardens and a vast central monument. This monument is made to pay respects to Queen Victoria. It was made back in 1901 to comment on the queen's death.
Some facts about Buckingham Palace
The monument is 25 meters high and is made with 2,300 white Carrara marble.
Apart from Queen Victoria, Buckingham Palace has other statues representing charity, truth, motherhood, courage, and constancy.
This monument was created between 1906 and 1924 by Sir Thomas Brock.
Sir Aston Webb made the whole design, including the memorial gardens in Buckingham Palace.
It was formally unveiled in 1911 by King George V.
It is a protected landmark, including gates, piers, balustrades, and walls of memorial gardens.
Facts about Memorial Garden in Buckingham Palace
Sir Aston Webb created the memorial gardens in 1901. He kept the design around Queen Victoria's memorial after her death.
The memorial garden has formal flowers. These are laid in a semi-circular design as a flowerbed.
The bed is created around the central memorial. You may see a familiar sight during famous ceremonies and processions.
Memorial gardens follow seasonal flower patterns. The planting is based on a restricted schedule. This is repeated every year, and each planting takes around 2 weeks (with 10 staff members).
There are a total of 22,500 plants sowed in the summer.
These summer plants include spider plants, geraniums, weeping figs, and salvias.
There is The Queen's Guard at Buckingham Palace. The scarlet geraniums are matched with the same tunic.
There are a total of 50,000 plants sowed in the Winter. These include red tulips and yellow wallflowers.
History
There's a history related to Buckingham Palace- this can be traced back to the reign of James 1.
Buckingham House
Buckingham Palace was with James 1 in the 17th century.
James 1 planted mulberries to tear silkworms.
Charles James 1 later gave his garden to Lord Aston in 1628.
The house was much larger than the palace today.
There have been many owners and tenants of the house.
John Sheffield, also known as Duke of Buckingham, gave this place a name- Buckingham House.
Today, Buckingham House is called Buckingham Palace. It was designed and built with the help of William Talman and Captain William Winde.
The structure was later built on contract for £7,000 by Fitch.
Queen's House
In 1762, George 3 acquired Buckingham Palace for his wife, Queen Charlotte.
This place was called THE QUEEN's HOUSE.
Sir William Chamber was chosen to redesign and model the place. It was remodeled from 1762 to 1776 at £73,000/-.
Ceilings were designed by Robert Adam and later painted by Giovanni Battista Cipriani.
George IV
George IV wanted Bughingham House to be his palace. It was in 1820 that he acceded to the throne.
John Nash was hired to convert the house into a palace. The house was enlarged with a U- shape building. This building became Buckingham Palace.
Queen Victoria and Prince Albert
Queen Victoria got the throne in 1845 and complained to the prime minister about the lack of space at Buckingham Palace.
It was due to accommodations and entertainment.
New wings were ordered. The work started under the supervision of Edward Blore.
In 1855, the Ball and convert room were completed by James Pennethrone.
It was also designated as the Headquarters of Taste- thanks to the Renaissance-style interiors of the new rooms.
It is now darkened due to smog in London. It started to show the effect in 1911. The palace was refaced in Portland stone and was completed in 1914. The place overlooks the mall today and features some amazing sites.
You may see the famous balcony on which the royal family appears on special occasions.
The Queen's Gallery was created in Buckingham Palace and was refurbished in 2002. This was done to mark the Golden Jubilee of Queen Elizabeth II.