High-Tech Museum
Have you ever fancied those "tea party gatherings" in movies and TV series? You can experience that in real life as well! If you are in Boston, you can always be a part of the Boston Tea Party Ships and Museum. This museum is situated at the Congress Street Bridge and attracts thousands yearly. It is a high-tech museum that floats in the river and provides an interactive experience to visitors. You may enjoy reconstructed tea ship tours and watch a full documentary about the American Revolution. You can witness every dramatic re-enactment by historians and artists, participate in exhibitions, and unveil the reality behind the actual Boston Tea Party.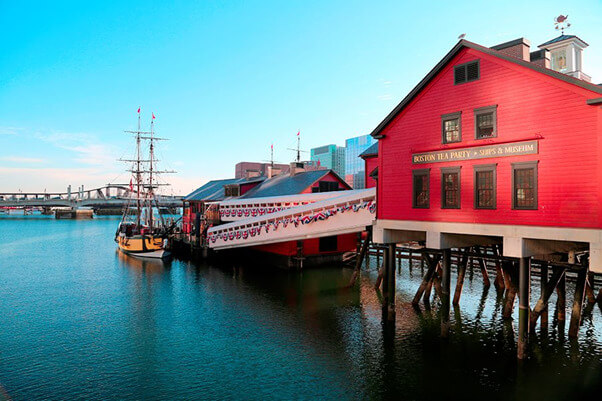 (Image Credit: Boston Tea Party Ships & Museum)
History
Earlier, the Boston Tea Party represented American political protest started in Boston, Massachusetts, by the Sons of Liberty. This happened on 16th December 1773, and the main target of this protest was the "Tea Act." The act enabled the British East India Company to export tea from China to America without any tax payment. So, the Sons of Liberty took it upon themselves to oppose the taxes levied by the Townshend Act. It was a straight violation of their rights, and the protestors began destroying all the tea shipments sent across by the East India Company. All the demonstrators came on the ship and threw the tea chests into the Boston Harbor. Britishers responded to this act brutally, and that led to American Revolution. It is an iconic event in the history of the country.
Not only this but many Americans, including John Adams, stopped consuming tea and shifted to coffee instead. It was not before 1834 that the "Boston Tea Party" came to the news. Before that, this term was solely dedicated to the destruction of tea. The entire experience and history of those days are represented in the Boston Tea Party Ships and Museum.
What is Special About Boston Tea Party Ships and Museum?
People visit this museum to take a tour of history. The museum re-enacts the entire revolution and how it all began. There are several replicas of 18th-century sailing vessels and amazing historical artifacts that people can see during their visit to the Boston Tea Party Ships and Museum.
What is there in Boston Tea Party Ships and Museum?
There are 7 sections. Sections 1 to 5 can only be visited if you have purchased a ticket. Sections 6 and 7 include Abigail's Tea Room and Gift Shop. You can visit them without any ticket. Let's take you through the sections 1 by 1 –
 1. Meeting House
Go back to the time and meet with Samuel Adams. He would be your 18th-century host here and take you through the journey of 1773 when it was a rebellious time for Boston. You would learn everything about what led to American Revolution.
2. Tea Party Ship
You would enjoy life in the sea for some time with the Sons of Liberty. You can also be a part of the destruction of tea containers. Yes, you might be repeating a 240-year-old history.
Griffin's Wharf: Here is a replica of sailing vessels and other cargo. You can learn about 1773's Boston Tea Party and talk to the daughters and sons of Liberty.
3. 3D Re-enactment
Be the first-hand witness of the debate between the protestors and the government officials.
4. Robinson Tea Chest
This is the only-known tea chest that survived that time. The chest is displayed at the Boston Tea Party Ships and       Museum; everyone loves to peek into this part of history.
5. Minuteman Theatre
"Let it Begin Here": a multi-sensory movie that tells you all about events of 19th April 1775. You can learn a lot here.
6. Abigail's Tea Room & Terrace
Enjoy hot tea here! How can your experience of Museum be complete without the charming flavors of that era? Join us at lunchtime for food!
7. Gift Shop
Take home some souvenirs!
Recommended Articles
We hope that this EDUCBA information on "Boston Tea Party Ships and Museum" was beneficial to you. You can view EDUCBA's recommended articles for more information,