Updated December 1, 2023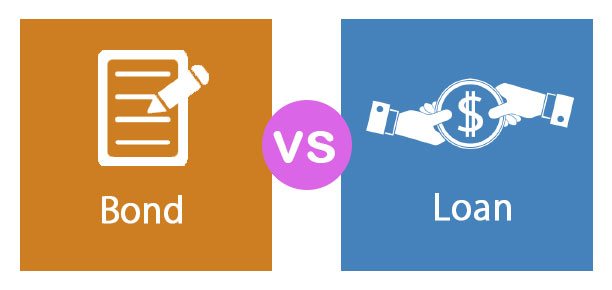 Difference Between Bond vs Loan
A bond is a fixed income instrument that represents a loan made by an investor or investors to a borrower that could be a firm, a company, or even government. The terms of the bond are pre-decided by the issuer (who borrows the money) which contains the details of the loan and its payments. Any amount that is given out in form of debt by a financial institution, to a firm or a company, or an individual with the promise of future repayment along with interest over the period as per decided terms. The terms of a loan are typically agreed upon by each party before any exchange of funds.
A contract would normally include, the amount lent, amount to be repaid, repayment period, repayment installments, collateral (if any). A firm or a company functions on capital, it may be the capital that the partners bring in, it may be the equity capital from the shareholders or it could be borrowed capital. Borrowed capital could be in the form of a loan from a bank or a financial institution or the company may issue bonds to raise the borrowed capital.
What is a Loan?
The borrower i.e. the person who receives the money has to pay back the loan amount with interest. A lending institution is expected to check the financial credibility of the borrower before lending. This helps determine whether the borrower is in a financial position or has the capacity to pay back the loan given. As with other financial tools, there are many types of cash loans you can get as a potential borrower. Each of them differs, depending on your spending needs.
Loans can be further classified as under:
1. As per Security
Secured Loan: This type is backed by collateral.
Unsecured Loan: This type of loan has no collateral, typically means higher risk, and thus demands higher interest.
2. As per Repayment
Time Loan: This loan (including interest) is paid at a specified future date.
Installment Loan: This loan is paid back in a series of installments over a period. The amount of installment will be as per terms decided beforehand.
Demand Loan: This loan repayment is dependent on when the lender demands the same.
What is a Bond?
A bond is for a fixed term. The amount to be paid usually includes variable and fixed interest payments. The principal is usually returned at the end of the period and interest could be paid periodically. A period of interest is called a coupon.
A Bond can be of various types:
Government Bonds: This is considered a risk-free investment and has a lower yield.
Corporate Bonds: A corporate bond is issued by a corporate-like it issues shares and has a higher yield than government bonds as they are riskier. Corporate Bonds have subtypes depending on additional features like Callable Bonds, Convertible Bonds, Deep- Discount -Bonds, and Zero-Coupon bonds.
Asset-Backed Securities: This kind of bond is normally issued by banks or financial institutions and is backed by a stream of future cash flow. The most known Asset-backed security is Mortgage-backed security (MBS), which is infamous due to its role in the financial crisis (2007-08).
Head to Head Comparison Between Bond vs Loan (Infographics)
Below is the top 9 difference between Bond vs Loan

Key Differences Between Bond vs Loan
Let us discuss some of the major differences between Bond vs Loan:
A bond is usually long-term in nature. A loan can be for a short term or long term.
A bond is subscribed by a high number of investors. A loan is usually given by a single financial entity.
A bond is issued by Corporates, governments,s or Financial Institutions. A loan is generally given by Financial institutions or unorganized sector firms (moneylenders).
Bonds are issued like equities through public offerings or private placement. A loan is given by a financial institution.
The terms of bonds are decided by the company or government that is raising funds. The terms of a loan are decided by negotiations between the borrower and the lender (typically a financial institution).
Bonds are rather rigid in terms and quite difficult to revise the terms once issued. A loan is comparatively less rigid and terms can be changed by the 2 parties to the transaction getting to gather.
Bond vs Loan Comparison Table
Let's look at the top 9 Comparisons between Bond vs Loan.
Basis of Comparison 
Bond
Loan
Meaning
A bond is a financial instrument used to raise borrowed capital
A loan is a lump sum borrowed from a financial institution as borrowed capital.
What is it?
Borrowed capital – generally Long term
Borrowed capital – could be short term or Long term
Place in Financial Statement
Under Sources of Funds
Under Sources of Funds or Current Liabilities as per the nature of a loan
Benefit
Better financial leverage and helps with liquidity
Better financial leverage and helps with liquidity
Impact on Profit Margins
A fixed interest payment arises which reduces profit margins
A fixed installment arises which reduces profit margins
Impact on Cashflow
When the funds come in there is an inflow,

The repayment of interest and a lump sum in the future years reduces cash available

When the funds come in there is an inflow,
The repayment through installments reduces cash available
Impact on Working Capital
Current Asset increases when funds come in
Current Asset increases when funds come in,
Current Liabilities also increase if Short Term
Impact on Ratio
Increases Debt to Equity Ratio
Increases Debt to Equity Ratio if long term
Affects Current ratio and Quick ratio if Short Term
Impact on Capital Structure
The proportion of Debt increases
The proportion of Debt increases if long term
Conclusion
Consequently, A Bond and a loan serve the same purpose for the person who receives them. It is important for a business to avail such Debt in the form of a Bond or Loan as it helps improve Financial leverage and decrease the cost of capital. The purpose of raising a long-term debt could be anything from starting a new project, expansion of business, buying a fixed asset like plant & machinery, or a building. A short-term debt could be to help the company in a temporary liquidity crunch or it also could be a working capital loan that helps the company run the business in a smooth and efficient manner. To conclude Debt plays an important part in today's business and it can be raised through Bond or Loan.
Recommended Articles
This has been a guide to the top difference between Bond vs Loan. Here we also discuss the Bond vs Loan key differences with infographics and comparison table. You may also have a look at the following articles to learn more