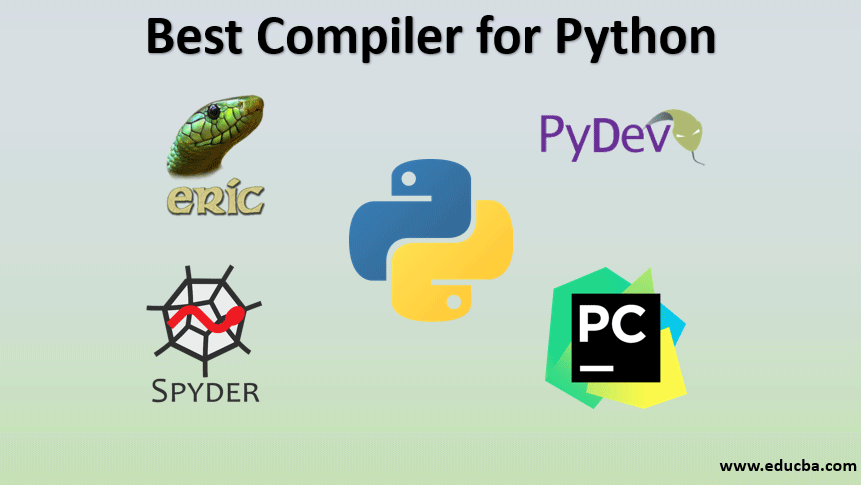 Introduction to Best Compiler for Python
The Compiler is a built-in feature that is used for converting the code in the programming language into a machine-readable language for the interpreter to execute it. In python, the .py source file is converted into a .pyc barcode, which is passed on to the interpreter for execution. As python development can happen in a variety of integrated development environments, there are options for the selection of compilers as well. A few of the most commonly used compilers in python programming are Pycharm, Spyder, Idle, Wing, Eric python, Rodeo and Pydev.
Top 7 Compiler for Python
Following are the various python IDE used for creating an executable program that converts source code to high-level programming language:
PyCharm
Spyder
Pydev
Idle
Wing
Eric Python
Rodeo
Below is the detailed description of python compilers:
1. PyCharm
It is one of the best and extensively used IDE, which Jet Brains create. Developers use this IDE for developing productive Python and develops neat & maintainable code. The PyCharm IDE helps developers to create more productivity and provides smart assistance to the developers. It increases the profit by taking care of the routine tasks by saving time.
Features of PyCharm:
PyCharm includes code editor, code navigation, and fast & safe refactoring.
It is used to integrate debugging, testing, deployments, profiling features, as well as tools of the database.
It provides support for python's web development frameworks by using HTML, JavaScript, CSS, and AngularJS features.
It provides developers with a smart platform that allows them to complete auto code, detect errors, fast fix errors, etc.
PyCharm can be integrated with an IPython notebook, python console & scientific stack and provides multiple structures by taking advantage of price-saving factors.
It contains a cross-platform feature that allows developers to create a script on various platforms.
Its productivity can be increased by using the customizable interface feature.
2. Spyder
It is another open-source IDE that can be used as a python compiler for python code development. The main reason for developing this IDE is to provide a significant scientific environment for python, which scientists and engineers use. Spyder includes edit, debug, & data exploration features and also has a plugin system and API.
Features of Spyder:
It provides syntax highlighting and auto-code completion features.
It can explore and edit the variables with the help of GUI.
It supports a multilingual editor with various functions and auto-code completion.
It integrates with the ipython console and customizes the variables so that the programmer can run the python code line by line.
It finds & eliminates the bottlenecks to improve the performance and includes a debugger to smoothly trace every python code execution step.
Using this IDE, users can view any object documents instantly and modify the documents.
It improves the coding functionality by supporting extended plugins.
3. Pydev
It is an open-source IDE and powerful interpreter, which is linear in size and used for refactoring the python code, rectify the graphical pattern, code analysis, etc. Pydev allows developers to use IDE to develop the application with various features. It is one of the most usable IDE and preferred by most of developers.
Features of Pydev:
Pydev includes an implementation of the functionality of Django, manual-code completion and accessibility of code. It also supports other features such as application evaluation, recompilation, and testing.
Provides support for PyLint implementation, application keys, online monitor, Unittest development, graphical interfaces, portable simulator, and f-string evaluation.
It provides a syntax for highlighting code, error parsing, folding of code, and multilingual. It displays a better view of an outline, marks occurrences and contains an immersive console.
Pydev gives interactive probing in suspended mode by supporting CPython, Jython, Iron Python, and Django.
It includes preferences for tabs, smart indentation, integration of Pylint, TODO assignments, keyword auto-completion, and data assistants.
4. IDLE
IDLE is one of the best and simple IDE for python code development and used by beginner-level programmers to process python development. Idle is cross-platform; therefore, it is known as disposable IDE; because of developer shifts to a more advanced IDE after understanding the basics.
Features of Idle:
It is developed in Python along with the Tkinter GUI toolkit and increases the developer's versatility.
Idle has a dual-window text editor feature that includes tips for calling, smarter indentation, undo and coloring of code.
It also includes a debugger that gives global views, breakpoints & local spaces and provides supports for dialog boxes, browsers, and editable settings.
5. Wing
The wing is one of the powerful IDE with many features required for developers to develop the python code. The wing has a debugger and smart editor, which provides speedy Python development. It provides developers with 30 days trial version to work with its features. It has a price range between the US $95 – US $179 for commercial use.
Features of Wing:
It provides a testing framework for Django, unit test, pytest for test-driven development.
It assists in centralized development, customizable functionality, and extensible feature. It also includes the completion of the auto-code.
It provides migration of an application before expiring the trial version, and the source browser displays all the variables that are used in the script.
The wing helps to debug the code by using an additional exception handling tab.
6. Eric Python
It is one of the powerful Python IDE's that Python itself creates and often used by professional developers. Eric is created on the QT toolkit, a cross-platform that has merged with the Scintilla editor and plugin system that provides an expansion to the functions of IDE.
Features of Eric:
It has numerous editors, customizable window design, folding source code, highlighting the faults, and functions for search.
It provides features such as auto code completion, application diagrams, debugger, inbuilt project management, monitoring, and code coverage support.
7. Rodeo
It is one of the best python IDE's built for work related to data science, such as extracting information from various tools and mapping for issues.
Features of Rodeo:
This includes all the functions used to work with analytics and natural language processing activities such as accessing information, etc., as well as connecting, evaluating information, examining and illustrating the application.
Rodeo provides features such as application manual-completion, cleaner script, syntax emphasis and IPython assistance for quicker programming.
Conclusion
So far, we have studied how python can be used as an object-oriented programming language to work with modules, exceptions, dynamic typing, high-level dynamic data types, and classes in python. Python provides various IDE's with numerous features that are useful for Python programmers to deliver a high quality of applications. These IDE's also works on Windows, Linux, Mac OS, etc.
Recommended Articles
This is a guide to Best Compiler for Python. Here we discuss the best compilers for python like PyCharm, Spyder, Pydev, etc., with their numerous features. You may also look at the following articles to learn more –