Updated June 27, 2023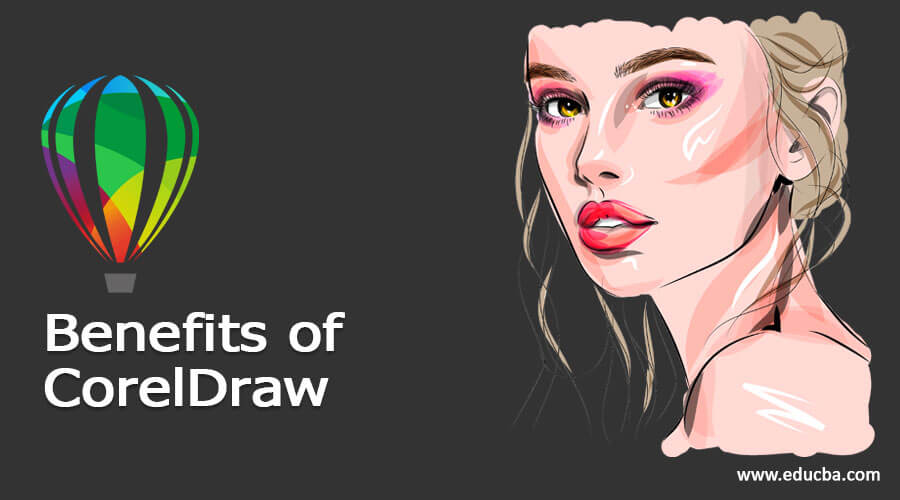 What is CorelDRAW?
CorelDRAW is a vector graphics designing software that Corel Corporation offers. It is a multiple-functional software used by several graphic designers for their professional graphics work. In this article, we will discuss the Uses of CorelDRAW, which means 'What are the major areas in which CorelDRAW works?' and 'How does it work for that particular purpose'? In the use of CorelDraw, we will analyze all possible aspects of CorelDRAW and understand the key features of those aspects.
Now let us discuss some important tools and features of this software, which will explain to us the uses of this software for our better understanding of its use of this software.
Uses of CorelDRAW
Here we will understand the uses of CorelDRAW in 10 simple points in a very easy and exciting way of understanding.
We know CorelDRAW is Vector graphics editor and designer software, so it offers us several exciting tools that make working with CorelDRAW software easy. CorelDRAW offers some geometrical shapes as a tool that helps you explore your idea without any limitations. You can make professional logos, brochures, business cards, and other advertising elements with the help of these tools and can give them different looks according to your client's requirement.
You will have some artistic tools in the features of CorelDRAW software, which will help you design very complex and eye-catching drawings with different types of logical ideas.
CorelDRAW offers you different types of brushes that help you in creating a detailed image with a realistic look, and that image can easily convey its real purpose.
In CorelDRAW, we also have a Layer system, just like Illustrator and Photoshop software, which helps work with different layers of an image without damaging originally of the individual layer.
Corel Corporation designed CorelDRAW in this way so that it can work with its other design-oriented software, Corel Photo-Paint. So you can use their other designing software during working with CorelDRAW to make your design easy or include other features of designing.
You can also design a 3d object or logo in CorelDRAW software as a vector image with the help of its exciting tools and features, adding a plus point to your design works.
CorelDRAW software is also used to make an image in PNG and CDR file format, making that image usable for other designing software.
You can use CorelDRAW software to create QR codes and generate page layouts with special effects for a particular theme.
In CorelDRAW, we have Text Tool also, which offers you the designing of different types of Text logos, helps in writing designer matter for magazines, and you can make typographical works in CorelDRAW software.
CorelDRAW software is generally working for printable projects. So you can use it for print-oriented work with its high-level adjustment features for printed items.
Now after going through some essential points of 'Uses of CorelDRAW'. Let us now look at 'Is there any other aspect?' which gives us the reason for using this software as our professional graphics designing or editing software.
Then the answer is 'Yes'. So let's discuss it.
Reasons for Using CorelDRAW
As explained above, CorelDRAW is vector graphics editing software which you can use for vector graphics-related purposes.
The reason for using this software is quite simple that is:
The first thing is CorelDRAW software is 'Cost Effective' software. If you have a low budget and you won't do work on a small scale business with high-level professional work, then it will be nice software for you.
The second one is 'Good for Beginner'; if you are a beginner and want to learn graphics editing or designing most simply, CorelDRAW software will be good for you. CorelDRAW software offers a very user-friendly environment and the simplest tool, which is easy to handle. So you can get expertise in graphics designing work without any stress.
Benefits of CorelDRAW
We have several benefits for using this software as our professional designing software. Here we will discuss some of the essential benefits of this software in some important points that are as follows:
With this software, you can have a wide range of printing techniques, which helps in the advertising business very well.
CorelDRAW offers you many Vehicle Templates, Clipart & digital camera images, and many other presets of its different features, which helps you explore your idea of graphics design while working with it.
You can extract images or other requirements of your clients quickly from their website using the 'Corel Connect tool of this software.
It works with file formats PNG and CDR, which are easily accessible in other designing software. So when you work on a large project by using more than one designing software for that project, switching files from one software to this software will be easy for you.
These are some essential benefits of CorelDRAW software that make it different from others and give you a reason for using it as your learning software for graphics designing or professional software for your graphics designing project.
Conclusion – Benefits of CorelDraw
Now after this software, you can understand different aspects of CorelDRAW and analyze its use thoroughly for benefits from CorelDRAW software in your graphics designing work. You can also understand the advantage of using this software after going through this article. It will help you start your work with this software without hesitation for your graphics designing purposes.
Recommended Articles
We hope that this EDUCBA information on "Benefits of CorelDraw" was beneficial to you. You can view EDUCBA's recommended articles for more information.