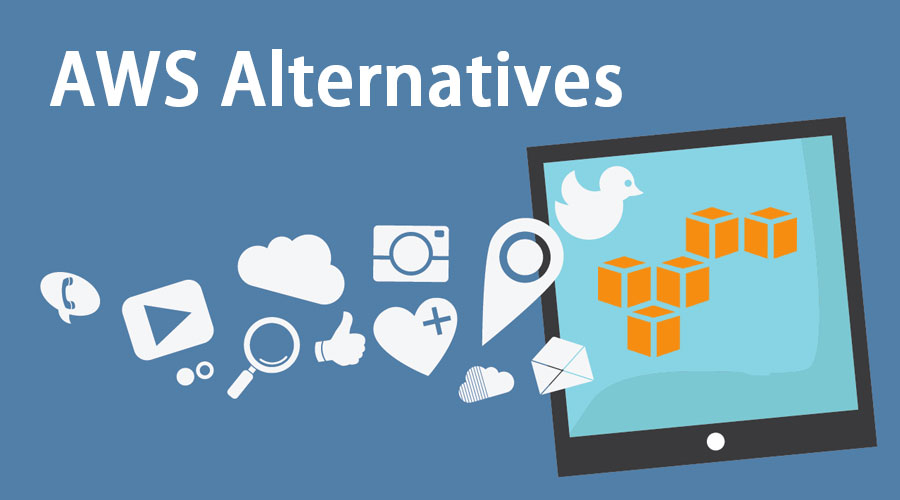 Introduction to AWS Alternatives
Amazon Web Services (AWS) is a cloud-based platform provided by Amazon, to organizations, individuals, and government. It is a subscription-based service. AWS allows users to access computers from anywhere, providing a virtual environment of computers with almost all and sometimes additional features and capabilities of working with a physical computer. AWS is one of the best and most sought out platforms to avail cloud web hosting service on cutting-edge technology and infrastructure, combined with the latest hardware and high speed of network connectivity. Many big organizations usually opt for AWS, as it is one of the leading services in terms of a cloud. However, also many will go for some other AWS alternatives platforms, as there are some challenges involved with AWS.
So, let's look at the cons that come with using AWS:
AWS is not very easy to manage; someone handling AWS needs to have advanced knowledge about this stuff to maintain the servers on AWS platform.
AWS support services are costly, even in their basic plan; they do not provide free email support or any instant technical support. Therefore, in order to get technical support, you need to pay a heavy price, which makes it costly than other platforms in the market.
The billing system is confusing, it is recommended to go through a reseller to get a better understanding of the detailed monthly plans.
Therefore, due to these and other challenges with AWS, some prefer to go for other cloud hosting platforms that will cover these cons in some way or provide a better AWS Alternative.
Cloud Hosting Platforms
Different AWS alternatives are as follows:
1. Cloud Sigma
Cloud Sigma has what they call a 10GigE networking that offers up to 7Gbps speed between Virtual Machines, an open-source layer of software that can run any x86 Operating System with full root access. It is the first company to provide IaaS publicly that offered a cloud ecosystem for media professionals and consumers with free incoming data transfer, which they called Media Cloud Ecosystem.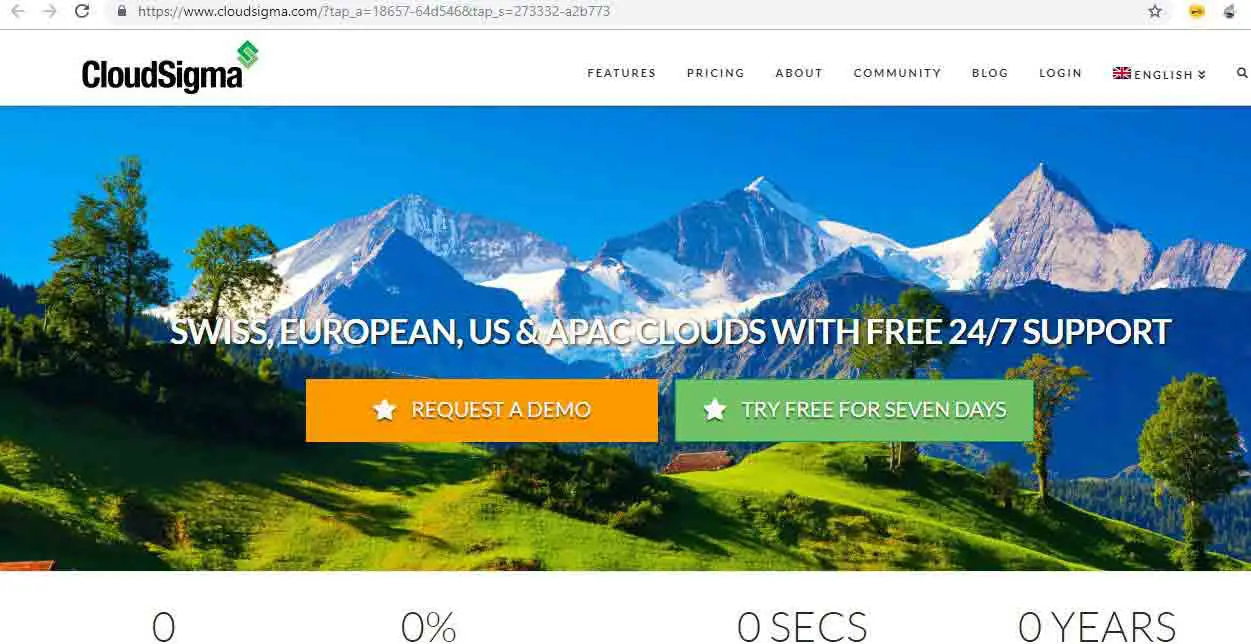 It also offers the flexibility to pay for the services in a number of currencies like Euro, Swiss Francs, British Pound, US Dollar, and many. By providing services at an affordable price, they give away some freebies also. On 10$ spending monthly, they provide 1GB RAM, 50GB SSD, and bandwidth of 5TB. In addition, unlike AWS, they provide free email support and 24/7 live chat.
2. Vultr
Vulture provides easy scalability, and because of its 15 data centers, an outage is not a problem. Their hosting packages are simplified, because of which they are able to provide a high usability experience compared to AWS.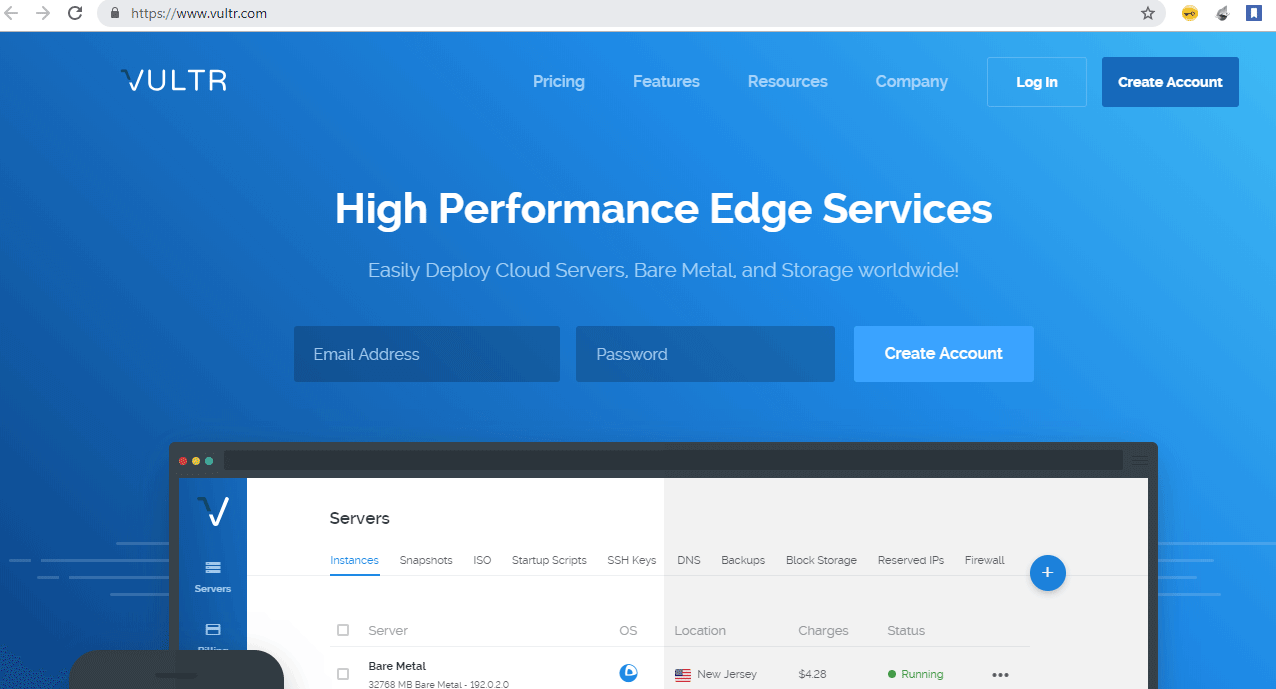 The CPU, RAM, memory, bandwidth are provided in a defined way. They also provide plans that we choose on a monthly or hourly basis. They have introduced Bare Metal solutions that do not have any resource sharing, which means they are fully allocated to a specific role. The control panel is intuitive; therefore one can do things with one click and also can manage operating systems. They also have free documentation and support forums added with 24/7 email support. With an integrated SSD server, Vultr is a stable cloud provider.
3. DreamHost
DreamHost hosts different types of hosting services, which it has been providing since 1997. The most eye-catching part of their service is the 97-days money-back guarantee. Its infrastructure is small as compared to the massive Amazon Web Services.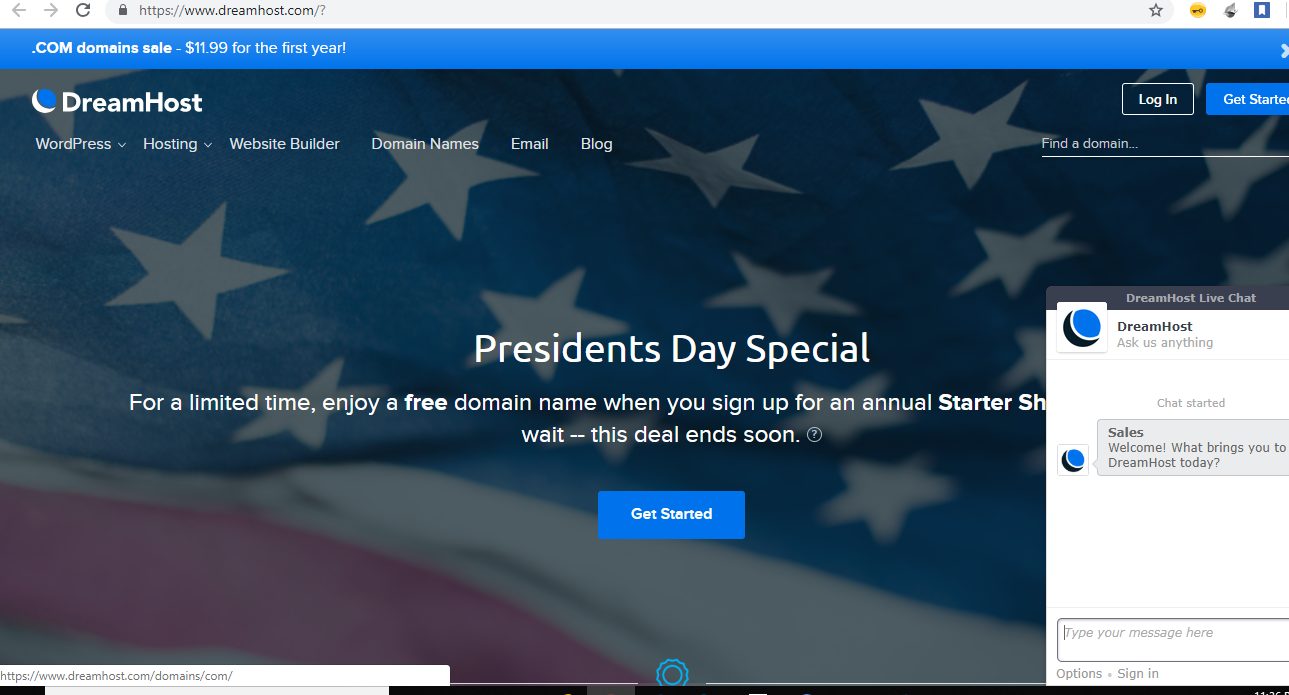 But DreamHost provides one of the best value for money services you can ask for. The monthly $4.5 that is offered under its basic service package consists of 80GB SSD storage, free bandwidth, and 1 CPU core. DreamHost's fully supportive environment with features that are developer-friendly allows advanced users the flexibility of selecting from Windows or Linux or BSD operating systems. DreamHost has an edge over other cloud providers in terms of technical support. They have a response time of 24hrs for email support that they provide 24/7, in addition to the live chat, but that is limited to some specific timings. DreamHost sits as a good choice for folks who are looking for reliable and cost-effective cloud hosting platforms for small and medium-level applications.
4. DigitalOcean
DigitalOcean is present in 195 countries and serves 1M+ developers, which makes it a reliable cloud hosting platform for AWS Alternatives. It is also using SSD servers for fast reading and writing of data as compared to hard drives.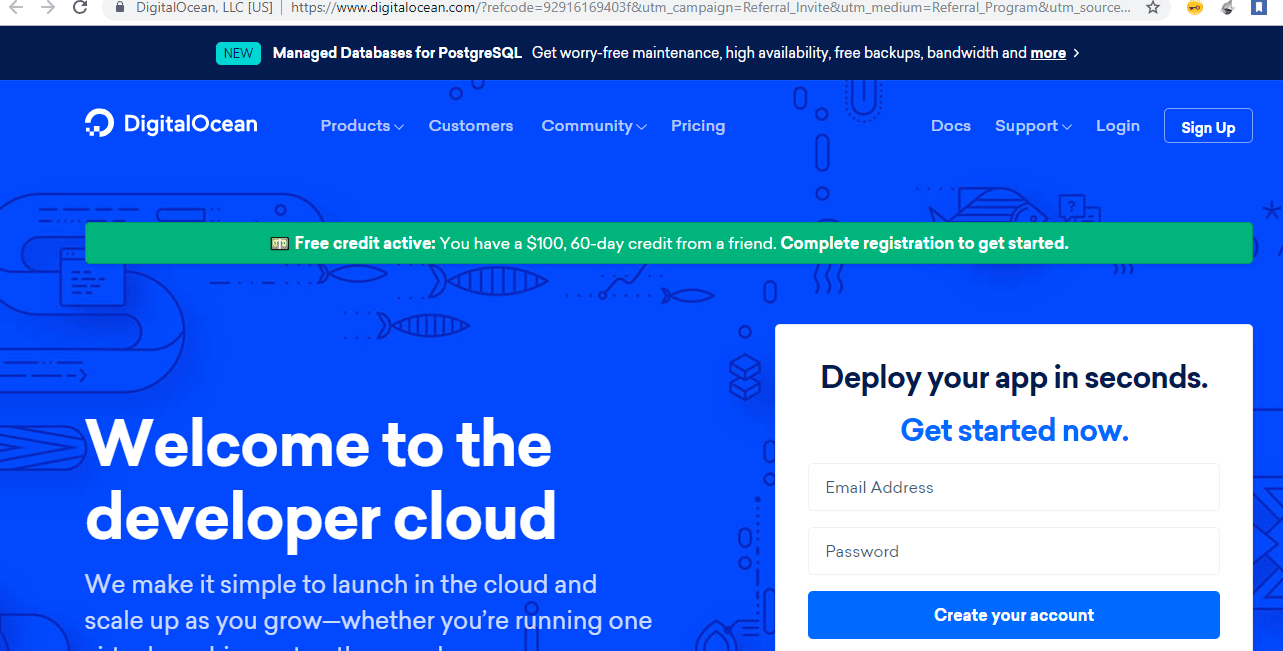 The account set up is pretty simple, that's why many people prefer it. The plans are customizable with the basic plans consisting of 1GB RAM, 1TB monthly data transfer, and 25GB storage. Because their infrastructure is large, DigitalOcean can handle a project of any size. DigitalOcean's installer allows a user to organize a control panel with one click. Therefore, apps like GitLab, WordPress, Docker, etc. can be installed without running commands by simply using the one-click installer. It has 8 Global data center locations and provides free 24/7 email support.
5. A2 Hosting
Present from 2001, A2 Hosting is popular because they provide affordable fast servers at a reasonable price, which makes them a good AWS alternative competitor.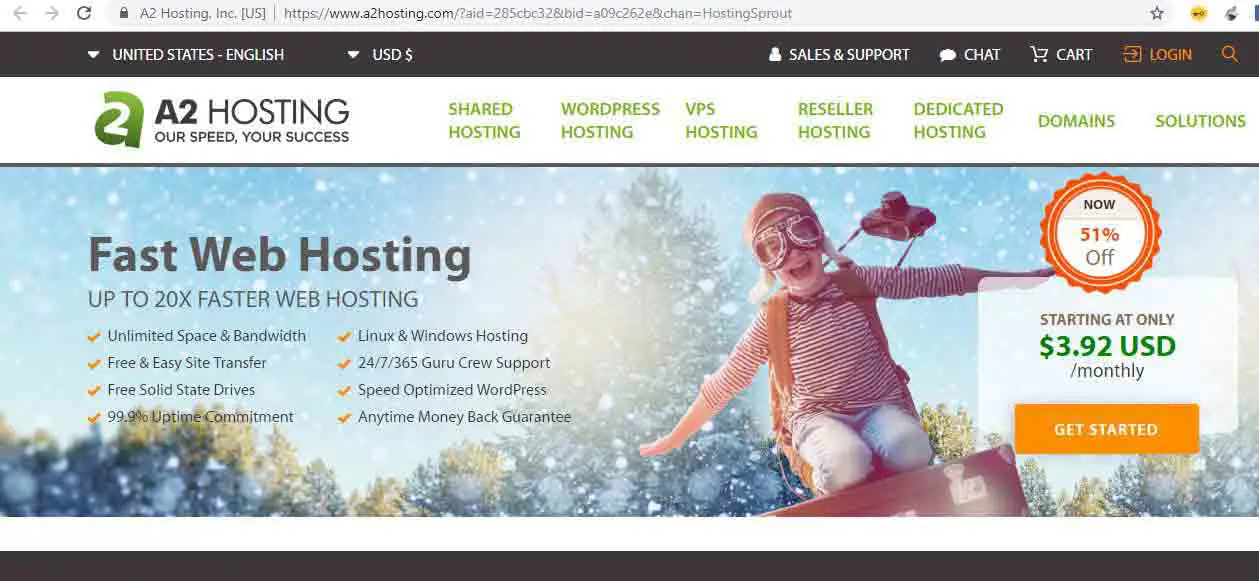 Plans are always configurable, but they also offer pre-made cloud packages. You can customize a plan up to 32GB RAM and 12 Core CPUs. What is different about this company is its unique refund policy. You can get a full refund within 30 days of use, and after that, it is pro-rated. Support provided is through email and live chats 24/7.
6. Google Cloud
Google has a mountain of data with it, so it is no surprise that we would not find Google in the cloud computing business. Google Cloud provides an SSD-based infrastructure for cloud, with a reputation to be remembered, Google Cloud makes it to a strong contender to AWS.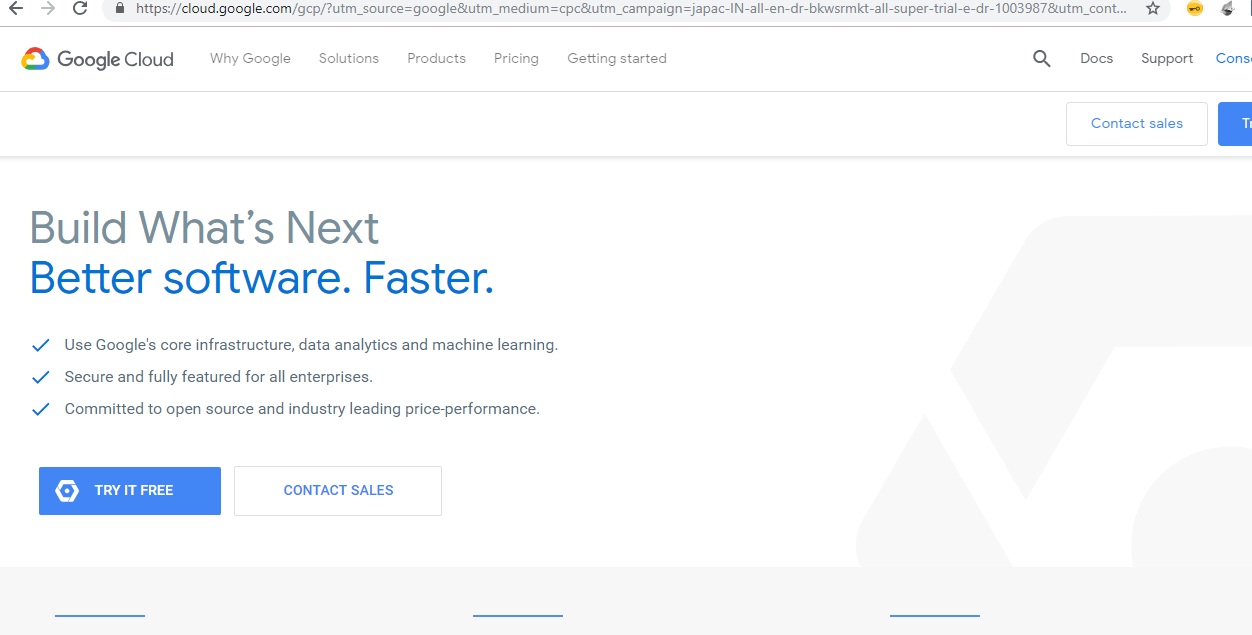 It is preferred by businesses because of its performance excellence and highest uptime. As Google has a big repository of data and being a big IT company, it needs to maintain good state-of-the-art security. Google has expert security professionals that enforce sturdy security protocols that strengthen their systems. Google does not provide free technical support, but you can get free support during the trial period. The billing system is good and they give their documentation for free that will be helpful for folks looking for technical support alternatives.
Comparison Table of AWS Alternatives
Following are the top comparisons of AWS Alternatives:
| | | | | | | | |
| --- | --- | --- | --- | --- | --- | --- | --- |
| Features | AWS | Cloud Sigma | Vultr | DreamHost | DigitalOcean | A2 Hosting | Google Cloud |
| Data Centers | 60 Availability Zones within 20 geographic regions around the world | 11 Data Centers | 15 Data Centers | has data centers in Ashburn Virginia and Hillsboro Oregon | 12 Data Centers | Have data centers in Michigan, Arizona, Amsterdam, Singapore | Google has eight data center locations in the U.S., one in South America, four in Europe and two in Asia. |
| Pricing | It has a bit of a complex pricing structure. | Has $10 monthly plan. | Package starts at $29/month | A plan starts from $4/month | Pricing is simple compared to AWS | Offers full refund policy within 30 days. | Relatively low cost. |
| Support | No Free Support | free 24/7 live chat and email support for | 24/7 free email support | 24/7 free email support with a response time of 24 hrs. limited live chat support. | 24/7 free email support | 24/7/365 customer support on live chat, phone, and emails | Free support during the trial period, free documentation. |
Recommended Articles
This has been a guide to AWS Alternatives. Here we discuss the different AWS Alternatives like Vultr, A2 Hosting, DigitalOcean, etc with their specification and comparison. You may also look at the following article to learn more –