What is an Autonomous Expenditure?
Autonomous expenditure is the necessary expenses that an individual or government has to make irrespective of their or the nation's income level.
For example, a nation struggling financially still invests in its defense system. Defense is a necessary expense for a country, so it is an autonomous expenditure.
These expenses are compulsory for the nation and the individual to keep surviving. They are necessary to make even if their earning level is inadequate. These expenses include costs for food, shelter, clothes, etc.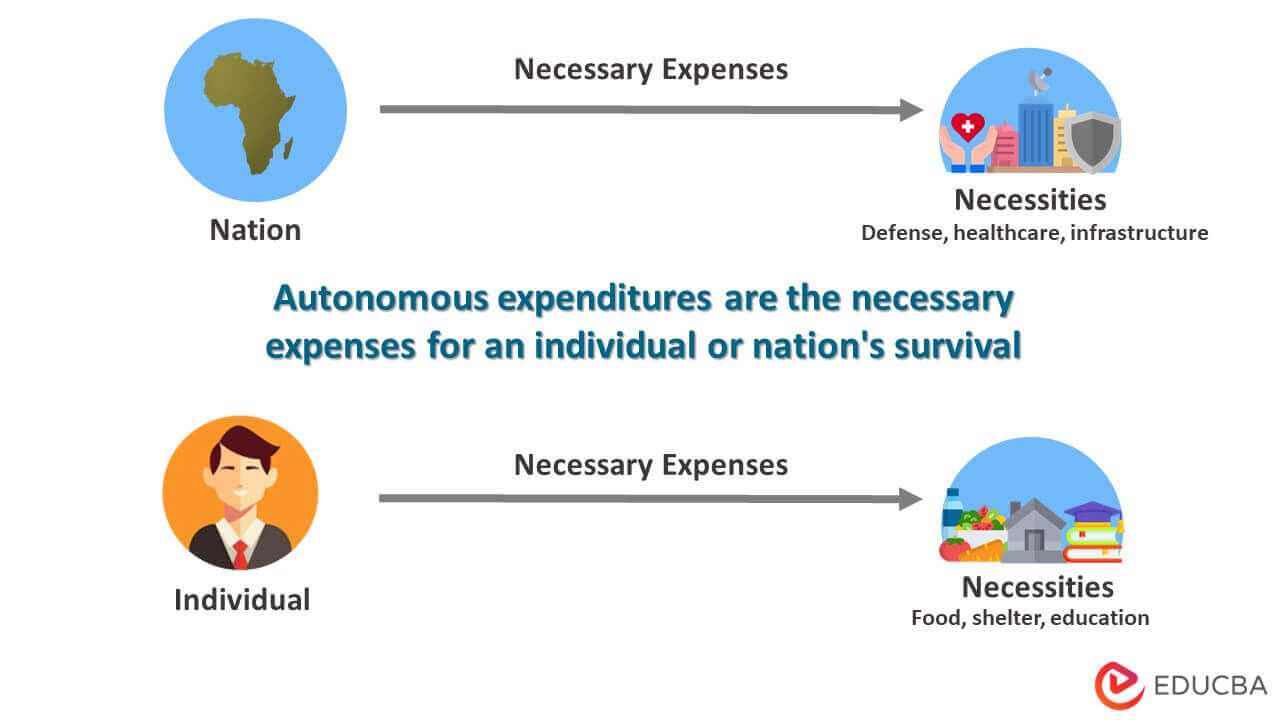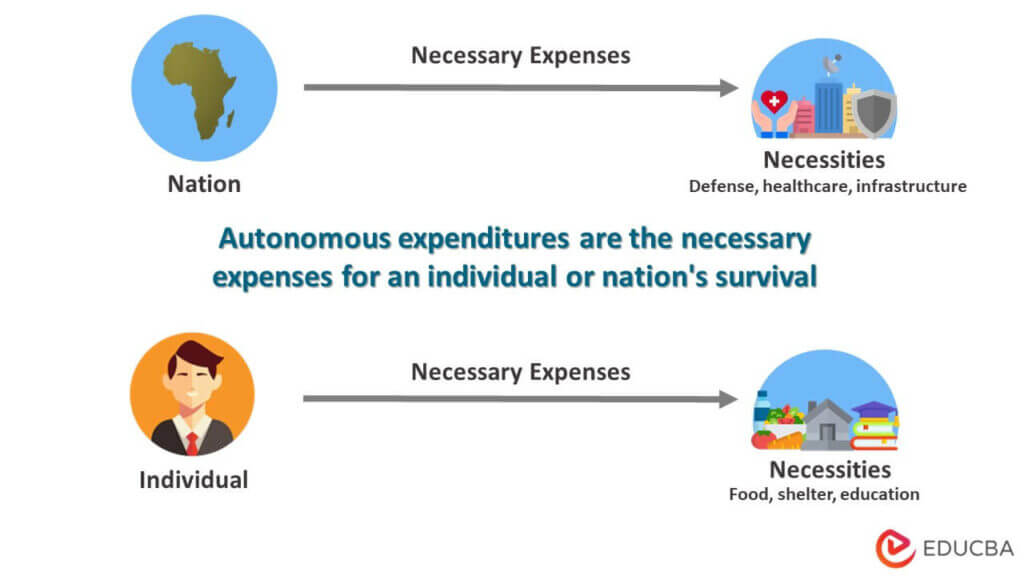 Key Highlights
Autonomous expenditure is the government's necessary national expenses regardless of economic income.
The total cost consists of the expense incurred daily.
It includes the cost of hiring and paying employees' wages, renting property and paying rent, maintaining vehicles and other assets, etc.
It classifies as non-capital expenditure in accounting records.
In addition to this, it has no fixed value.
How to Calculate Autonomous Expenditure?
It is a complex mathematical metric that has a graphical representation. As per the formula, autonomous spending won't be zero even if the income is zero. Thus, in turn, autonomous expenses won't be zero.
The equation for the same is,
AE = c + bY
Where,
C is the autonomous spending that the citizens or the government spend on the necessities.
Y is the nation's individual or national income or real GDP value.
B represents the changes in the graph as the income changes, i.e., if the income declines, the slope will decrease and vice versa.
Examples
Example #1:
Company XYZ owns a rented factory and office and has around 35 employees. They produce products for about $500,000 per year, and the salaries and rent cost up to $1,000,000. These are the company's autonomous expenses. Even if the company stops making profits, it will have to pay the employees and the rent. However, it can stop producing goods. Therefore, $500,000 is not an autonomous expense.
Example #2:
A country spends over $4 million on its defense, education, healthcare, and other public services. If the government is not making any revenue, it will still have to spend those $4 million on the necessities. They are called autonomous expenditures. The country can, therefore, either borrow from another country or look into savings to meet those expenses.
Factors
Savings:
As autonomous expenses are necessary for survival, people have to spend on those necessities even with no income.
In such cases, people turn to their savings. They analyze their finances and spend accordingly.
Borrowings:
It is when a company or individual borrows money to cover needed expenses.
In this case, the individual has to spend wisely as they have to return the borrowings at a future date.
Trade Policies:
These policies, like taxes, subsidies, import/export tariffs, etc., keep the economy growing and help businesses flourish.
However, due to different trade policies in every nation, prices of imported goods/services can vary, affecting autonomous costs.
Slope
The slope of autonomous expenditure is the rate of change in autonomous spending per year.
It shows how spending is increasing or decreasing relative to income.
Your slope is zero if you have a constant revenue and spending rate.
The slope is positive if your spending increases faster than your income and negative if it decreases faster.
Final Thoughts
As autonomous expenditure is necessary for the survival of an individual, businesses, and nations, they have to be met irrespective of their earnings. Therefore, governments and citizens should be careful while spending their income on things other than necessities. They should also make a lot of investments and savings for future purposes. In conclusion, we cannot avoid these expenditures. When the income does not meet the needs, one can use their savings, investments, or borrowings.
Frequently Asked Questions(FAQs)
Q1. What is the purpose of autonomous expenditure?
Answer: Autonomous expenditure is crucial for the survival of an economy and an individual. It serves the purpose of providing the basics one needs to live, and the government needs to provide public services to the citizens. These expenses help meet everyone's fundamental needs.
Q2. How do you use autonomous expenditure?
Answer: Autonomous expenditure is a necessary aspect of every individual and country. Therefore, one should be very careful while using these funds and spend them according to a strategic plan. They can make an expenditure plan and sort out the most necessary requirements apart from the less necessary ones. They should make strategic choices based on market conditions, available resources, and internal capabilities to plan, implement, and manage efficiently.
Q3. Why should an organization establish an autonomous expenditure plan?
Answer: Autonomous expenditure is a basic necessity for an organization's well-being, safety, and functioning. The expenses of an organization, such as salaries paid, maintenance of infrastructure, and marketing expenses, are considered autonomous. As it is necessary to run the organization. Thus, implementing an expenditure plan will help them strategize and manage their finances and spending. It will ensure that the organization is budgeting its expenses effectively to meet its basic survival needs.
Q4. What happens when autonomous expenditure increases?
Answer: According to the Classical Economic theory, the growth in autonomous expenditure will increase the aggregate output like GDP. If not, at least it will rise equivalent to the expenditure.
Recommended Articles
In this article, you learned about autonomous expenditure. Factors affecting it, how it gets influenced, and a few examples. To know more about the topic, you can refer to these articles,