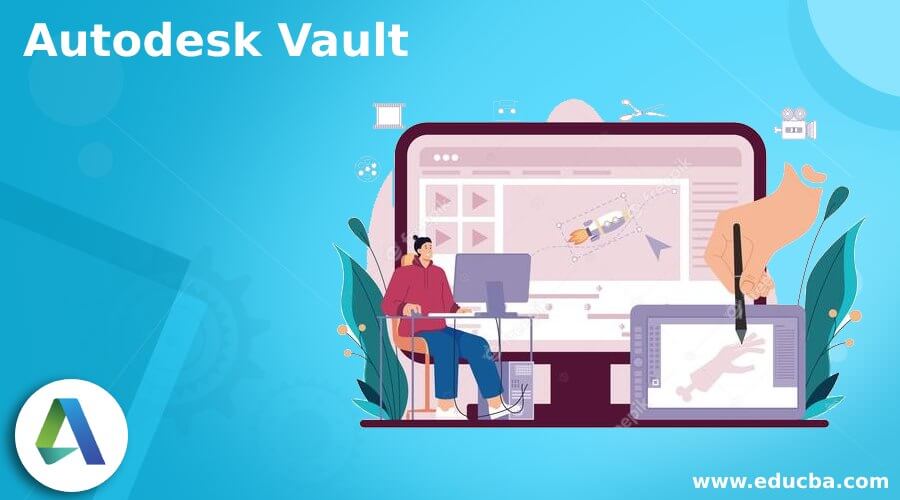 Introduction to Autodesk Vault
Autodesk Vault is a data management tool integrated with Autodesk Inventor Series, AutoCAD Mechanical, Autodesk Inventor Professional, AutoCAD Electrical, Autodesk Revit, and Civil 3D products. It focused on tracking the work process of design teams and maintaining version control of multi-user environments. Vault allows users to reuse designs and organize them by consolidating product information and reduces the need to re-create designs from scratch. With the help of Autodesk Vault, users can search and store CAD data and non-CAD documents. CAD data may include Autodesk Inventor, DWG, and DWF files; non-CAD documents include Microsoft Word and Microsoft Excel files.
How to Use Autodesk Vault?
Implementing Vault into a new working environment may seem like a daunting task for you if there are no proper outlines for the used steps. So today, I will tell you how you can be prepared to implement Autodesk Vault and its actual process.
Get through Autodesk Vault Basic System Requirements:
The basic requirements of Vault depend on where you will host this, and requirements change from year to year, but you can have an idea about it from this article.
There are three major requirements on which we have to focus that are Hardware specification, Windows Operating System, and SQL Server version.
Make sure the machine you use can handle the hosting Vault and manage the traffic through users checking in and outgoing files. Next, you should ensure hardware and SQL specifications meet your requirements.
The first thing we installed on the server was the Windows Operating system, so we installed one that matches Vault's listed operating system.
In concern with SQL server, we have few options such as Express, Standard, and Enterprise. If you are implementing Vault Basic for the first time, then you can go with SQL Express, and the best part of this option is that it is a free version that allows the database of Vault to grow up to 10 GB before you go to upgrade it to Standard or Enterprise (both are paid version).
Set Up Server Machine Initially:
To make the installation of Vault smoother, we need to go through some steps, and in this process, we need to install Internet Information Services (IIS) on the server. The installation process of Internet Information Services differs for each operating system.
On the other hand, IIS can be installed automatically by the Vault Service installation process. Still, to avoid multiple reboots of the machine before the final installation of Vault basic, you should go with the installation process of IIS first. Then, after installing IIS, go for the installation process of SQL, whether it is Express, Standard, or Enterprise.
Installation of ADMS in Autodesk Vault Basic:
After having the required software, Autodesk Vault Basic is installed, and you can move to the Vault Server now. Installation media of it is available through the link manage.autodesk.com portal.
Once you install the downloaded media, you can start the installation of Vault Basic. In this process, you first have to run the system pre-checks, allowing us to address any issues present in our system before we start the installation. Although when it automatically runs pre-checks to start the installation, it automates IIS and SQL, one can go through this first for a smoother installation.
Creating a New Vault and Inventor Project File:
Once you have installed ADMS, you can create a Vault that will work in users' environments. When you start using Vault, there will be, by default, an Administrator account with a blank password field that can be set for Vault and add a new user.
Adding Users, Groups, and Roles:
In the final step of using Vault, you will have to add Users who will work in your created environment but make sure each and every user should be identifiable in the environment of Vault.
After adding users, ensure they have the necessary permissions to do their jobs in Autodesk Vault Basic. Then, by a similar way of adding users, you can create groups and work with them.
These are some important steps you have to take to start using Autodesk Vault.
Why need Autodesk Vault?
After going through the above part of this article, I am sure you know why we need to use Autodesk Vault. First, however, I will discuss a few things that make it necessary to use if we want a well-organized way of working with our designs.
Once we start using it, with the help, we can store and search both types of CAD files, whether it may be data file that includes Autodesk Inventor, DWF, and DWG files or non-CAD documents file that includes Microsoft Word and Excel files. Not only this, but it also allows its user to organize and reuse their designs by consolidating product information and reducing the need to recreate designs from scratch.
Vault Server
Vault Server can understand a piece of Vault architecture that deals with data storage and backends. During this process, all the operations are done through the Vault CLI that interacts with the server over a TLS connection.
There is a server command which starts a Vault server that responds to requests of API, and by default, Vault will start in a state which we can call a sealed state. There are many more things in this Vault Server about which you can know once you start working with it.
Conclusion
In this article, I explained to you all the important aspects of Autodesk Vault, and I am sure this information must be helpful for you to have a proper understanding of Autodesk Vault. Therefore, I will suggest you first analyze where you want to use Vault and then start configuring its requirement so that you can go with smooth workflow operations with it.
Recommended Articles
This is a guide to Autodesk Vault. Here we discuss the important aspects of Autodesk Vault, and this information must be helpful for you to have a proper understanding of Autodesk Vault. You may also have a look at the following articles to learn more –