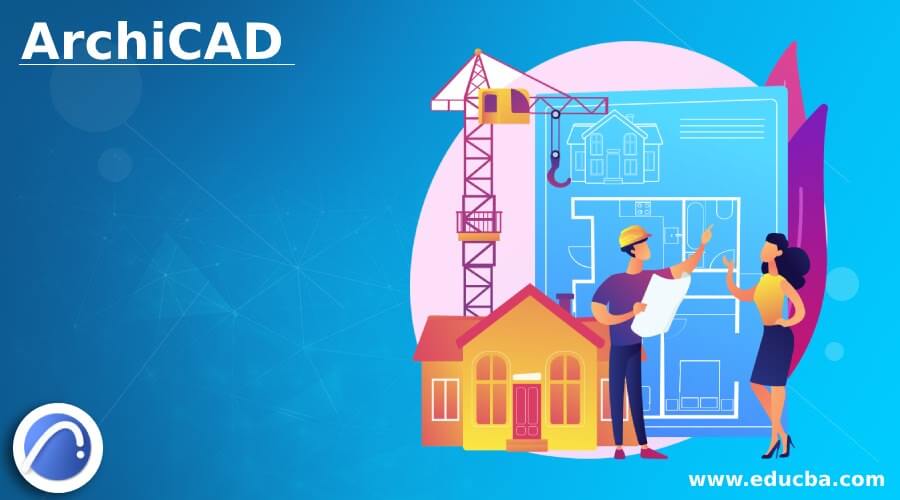 Introduction to ArchiCAD
It is architectural design-oriented software that is compatible with Mac and Windows operating systems and developed by Graphisoft Company which was a Hungarian company. During engineering and aesthetics design processes ArchiCAD offers computer-aided design solutions of the different components as well as aspects of designing environment of items or objects of architecture. It was designed especially for BIM (Building Information Modeling) and CAD. You can have it from its official website that is www.graphisoft.com. The first release of this software was developed in 1982 which was only compatible with Mac and after with passes of time it was considered as first CAD software for personal computers which can create 2D and 3D geometrical designs and is also considered as first commercial product of BIM for personal computers.
How does ArchiCAD Work?
It works with parametric objects which mean it allows user to workings with a parameter of objects and users called this object as smart objects. This technique differs this software from other CAD software which was developed at the same time of it that was 1980s.
It has the capability to designing of virtual buildings with virtual component such as slabs, walls, doors, roofs and many other objects which involve in architectural structures. You can find number of pre – designed objects in this software which makes your works easy in this software.
If you talk about what is ArchiCAD role in 2 dimensional and 3 dimensional design? then we will say yes it has an important role in 2D and 3D designing and it can also create 2D and 3D designs with some of its exciting features and you can always export 2D design of it any time.
The three-dimensional model of that two-dimensional design will store in database of this software for your future use. Changes made by you in your design will update every time in it.
Why do we Need ArchiCAD?
As we know this software was design for architectural design in 1982 and later it was also introducing in 1984 for BIM design which means its proves itself for giving detailed information about modeling of different type of building structures or architectural structures through its designing process so it has now good impact on architectural design industries.
In 36 years of its fully dedicated work toward the architectural designing field, it develops lot of designing techniques for two decisional design as well as three-dimensional models with lots of good features.
So we should try this software for having knowledge about its workings environment.
Advantages and Disadvantages of ArchiCAD
Although this is very helpful software in the architectural design field for architects we have to analyze both of its pros and cons.
So let us also see this for enhancing our knowledge level about it.
Advantages:
We can find the number of advantages of this software in architectural design during using it.
The very first advantage of it is that it has a very user-friendly working interface which you can customize in different theme according to your suitability.
The next one is you can easily design a conceptual base design in it by using customizing and easily modified geometrical objects, you can use pull and push modeling quickly in this software, multiple object extrude also possible in it.
The third one is it can render realistic images of model with large suite of photorealistic rendering tools. It has CineRender feature which allows it to render model in high resolution and then you can enhance light, texture, shadow, brightness and many more thing in your model for giving it a more realistic look.
The fourth one which is important about this software is Production as well as editing tools are more stable and intuitive than any other similar software of architectural field.
It has clearer concept for particular design because it is not bogged down with useless engineering functions.
Disadvantages:
Being many advantage of this software we also have some disadvantages of it:
The first disadvantage of it is that although it has very good user interface but you may face less flexibility during customization of it user interface in comparison with other similar software of architectural designing.
The second disadvantage of it is that you may face problem during setting up and customization of some features of it that are Revision or Change Manager, tools of new Stair and Railing and many more.
The third disadvantage it creates problem during transfer of standard details into projects. So it needs enhanced exchange systems for information transfer.
Usage of ArchiCAD
As we have seen above that this software works for designing of architectural structures and compatible with Mac and Windows operating systems so many companies use it for designing purposes of 2d and 3d model of architectural structures such as buildings, interiors, objects of interiors and many more things for fulfilling their client's desires.
These were some important aspects about ArchiCAD software which is very good software in architectural designing field.
Conclusion
Now after having good interaction through this article about this topic you can understand what ArchiCAD is? What are important features as well as valuable points about it for you? And how you can get benefit from it in your project work in a very effective way?
This is a guide to ArchiCAD. Here we discuss the introduction, working, why do we need ArchiCAD? advantages, disadvantages, and usage. You may also have a look at the following articles to learn more –