What is an Apprenticeship?
An apprenticeship is a type of on-the-job training where someone learns a skill or trade by working with and learning from a more experienced worker, called a mentor or a master. This also helps them gain practical knowledge and experience.
For example, if you want to be a baker, you can find a bakery that offers an apprenticeship. You would also work with an experienced baker to learn how to make different types of bread and cakes. As you get better at baking, you will take on more responsibilities until you become skilled enough to do the job on your own.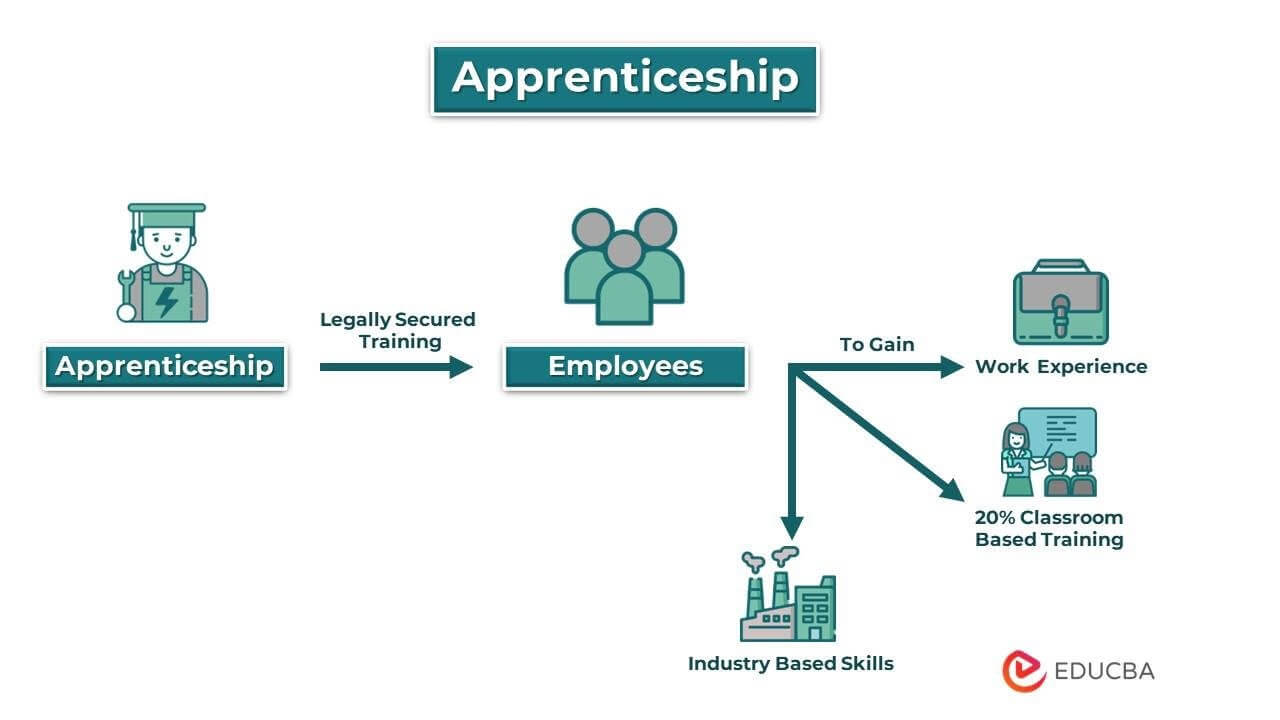 Key Highlights
An apprenticeship combines industry-based skills and classroom study in various industries such as education, healthcare, transportation, information technology, agriculture, cybersecurity, and manufacturing.
It can also be a booster for the ongoing business and provide training in any field or trade under an engineering or non-engineering background.
The main features of an apprenticeship include: providing training in accountancy, cold chain engineering, BPO executives, etc.
It builds business skills and helps individuals learn about business, such as business administration, customer service, human resources management, marketing, public relations, business support, insurance, and business development.
Types of Apprenticeship
The Apprentices Act of 1961 covered the objectives to train trade apprentices, further amended to bring Graduates, Technicians, Technicians (Vocational), and Optional trade apprentices. Here are the various types of Apprenticeships, which are as follows:
#1 Trade Apprentice
If you're a graduate or an Industrial Training Institute-qualified candidate, then this program suits you best. It was also the first training program that came under the act of 1961. Here are its basic features:
Features:
Beginner-friendly (for students of 8th, 10th, and 12th).
Focuses on a specific occupation or trade.
Learning practical skills.
Include Classroom Instruction.
Work alongside experienced professionals.
Helps to develop trading strategies.
Helps to develop practical skills, health, and safety codes, etc.
#2 Graduate Apprentice
If you're a graduate from an engineering or non-engineering background and have passed all the subjects, then this apprenticeship is for you. It also has some perks to add to your progress.
Features:
Development of decision-making skills.
Combines academic study and work-based learning.
Offered in a wide range of professional fields.
Help build a broad network of people.
Gives you a chance to get involved in projects and other businesses during the training.
Lead to full-time employment upon completion.
#3 Technicians Apprentice
You can be a tech apprentice if you hold a diploma in an engineering or non-engineering stream, with the following perks:
Features:
A better understanding of social media.
On-the-job training.
Develops a range of technical skills.
Pathway to a technical career.
Digital world familiarity (software development, technical support, etc.)
High demand in the market.
#4 Technicians (Vocational) Apprentice:
If you've completed your secondary education and completed vocational training in a certificate course, you can enjoy the following features:  
Features:
Helps in the development of combat skills specific to manufacturing and engineering sectors.
Both practical and theoretical knowledge.
You can have the benefit of transferable skills equivalent to graduation.
If you own a small business, the training is a booster for the ongoing business.
#5 Optional Trade Apprentices
The optional trades provide training in any field or trade under an engineering or non-engineering background. The 2014 amendment allowed the creation of more job opportunities. Its main features are:
Features:
You get training in accountancy, cold chain engineering, BPO executives, etc.
Flexibility in further education.
This training is applicable if you're working under a private employer.
The practice also allows you to create your course of trade or business.
Examples of Apprenticeship
Apprenticeship opportunities change every year with an increase in demand and the introduction of new sectors. Some of these sectors are:
#1 Agriculture and Environment
In this apprenticeship, you'll learn about animal care, crop production, environmental conservation, and sustainability practices. This sector also provides a great opportunity for individuals who are passionate about the environment, agriculture, and animal welfare. Hence, as an agricultural technician, you can gain practical experience and kick-start your career in the industry.
#2 Business and Administration
This apprenticeship is ideal for individuals interested in building business skills and learning about the business world. The training includes activities such as business administration, customer service, human resources management, marketing, public relations, and insurance. You'll also gain valuable experience that will help you become a leader and excel in your field.
#3 Construction
This sector offers apprenticeships in a variety of fields, including renewable production, infrastructure, bricklaying, welding, carpentry, plumbing, electrical servicing, and construction management. Traditional apprenticeships in this field typically involve on-the-job training with experienced professionals. Thus, if you enjoy operating with your hands and have a technical background, this sector may be a good fit for you.
#4 HVAC
This apprenticeship teaches individuals how to install, maintain, and repair HVAC systems in homes and buildings. As an HVAC apprentice, you'll work with experienced HVAC technicians to learn how to troubleshoot problems and also install and maintain existing systems. Therefore, this sector offers a great opportunity for individuals interested in the growing field of energy efficiency and sustainability.
Levels of Apprenticeship
An apprenticeship has four levels (subcategorized from 6 levels, levels 2 to 7). The level depends on your qualifications. These are as follows:
1. Level 2 (Intermediate Apprenticeship)
This is the first step towards an apprenticeship advancement and also takes about 12-24 months to complete. You should be 16 years or older. It is 80% work and 20% study. It is also ideal for those with work experience or who completed 2 GCSEs.
Academic Qualification Required: The qualification can vary from employer to employer. Generally, it doesn't require any formal qualification.
2. Level 3 (Advanced Apprenticeship)
After completing Level 2, you can get a Level 3 Apprenticeship. Thus, this advanced level involves training along with academic study. This apprenticeship also allows you to gain experience while studying.  Therefore, it is ideal for those with work experience or who completed 2 GCSEs. It also prepares you for a specific sector and industry.
Academic Qualification Required: You need to have at least 5 GCSEs.
3. Level 4/5 (Higher Level Apprenticeship)
This level of apprenticeship is ideal for those who are leaving school and are 18 or above. It also focuses on developing managerial skills. It is also equivalent to a higher degree. Thus, this apprenticeship lasts for about 3-4 years. The time is usually spent on academic modules while working with a company.
Educational Qualification Required: It requires completing Level 3 and at least GCSE.
4. Level 6/7 (Degree Apprenticeship)
This level of apprenticeship focuses on a higher-level job, which lets you complete your graduate/ postgraduate degree while working. It usually takes about 3-6 months to complete. It is also an opportunity to earn a degree for free.
Academic Qualification Required: You need a higher-level apprenticeship and at least five GCSE grades.
Benefits of Apprenticeship
The following are the benefits of apprenticeship:
1. Skill Development and Career Opportunities
You can develop your skills and get opportunities in a particular field.  Further, it fills the skill gap and challenges you to strive high.
2. Asset Creation and Cost Reduction
You can create a strong workforce and reduce liability costs. Additionally, you can strengthen your pipeline and bring new prospects.
3. Flexible Training Options and Innovation
It ensures you get the right skills and flexibility in your work. Thus, you can bring fresh ideas into your work and help generate profits.
4. Tax Benefits and Educational Opportunities
You receive tax credits and employee-tuition benefits.  It also makes you eligible for a free degree under level 6/7.
5. Improved Memory
Continuous Retention exposure enhances your retention and also memory. It helps to retain things faster in case of a new goal or challenge.
6. Productivity and Job Retention
It improves your productivity and creates a solid foundation.  Further, it encourages you to think seriously about your work and stay in the job for a long time.
Difference between Apprenticeship & Internship
An internship and an apprenticeship aim to provide training to you with exposure to assignments and other fields of study. You also get a certification for both of them. Therefore, both training programs are the major pipeline of the workforce, often leading to full-time employment.
Below are some differences that will help you choose your area of employment (either an internship or an apprenticeship).
| | | |
| --- | --- | --- |
| Particulars | Apprenticeship | Internship |
| Duration | It is a long-term training (1-3 years). | It is a short-term training (1-3 months). |
| Mentorship | It always includes mentorship. | It does not always include mentorship. |
| Paid/Unpaid | It is usually in the paid form in any industry. | It is paid/unpaid depending upon the industry. |
| Selection Process            | It may have a more rigorous selection process, including aptitude tests and also interviews. | It may have a less rigorous selection process and may also be open to a wider range of applicants. |
| Employment Opportunities | It often leads to full-time employment. | It does not lead to a full-time job (sometimes it does). |
| Skill Focus | The focus is on developing a specific skill set for a particular trade or occupation. | The focus is on gaining broad work experience in a particular industry or field. |
| Credentials | It requires industry-recognized credentials. | It typically does not need a credential. |
| Structure | It is structured. | It is not structured. |
| Further Qualifications | It also results in more qualifications. | You have limited qualifications here. |
| Certification      | It also leads to industry-recognized certification or licensure. | It does not typically lead to any formal certification. |
Final Thoughts
An apprenticeship is a skill-training program that combines academic study with industry-laid practical experience. An apprenticeship is an effective way to "get paid while you learn."  It aids in the character development and overall personality of an individual.  Thus, if you are looking for an apprenticeship, remember all the above things!
Frequently Asked Questions (FAQs)
Q1. Does an apprenticeship benefit your businesses?
Answer: Yes, it does benefit your business. It improves productivity and also adds value to your career. Moreover, on-field training can help you gain communication and problem-solving skills, which are highly important for any business.
Q2. What are the eligibility criteria to get an apprenticeship?
Answer: Apprenticeships also have eligibility criteria that can change by country and industry. Generally, individuals need to be at least 16 years old, have a minimum level of education, and be legally permitted to work in the country. Therefore, other requirements may include certain skills and passing pre-employment examinations.
Q3. What is the age limit to enroll as an apprentice?
Answer: The maximum age is between 16-24 years. (You also need to enroll for 12 months). The age limit to register as an apprentice also differs by country and industry. Some programs may have higher or lower age limits or prioritize specific age groups. Therefore, it is essential to research specific apprenticeship programs to understand their age requirements and eligibility standards.
Recommended Articles
This is an EDUCBA guide to Apprenticeship. You can also view EDUCBA's recommended articles for more information.