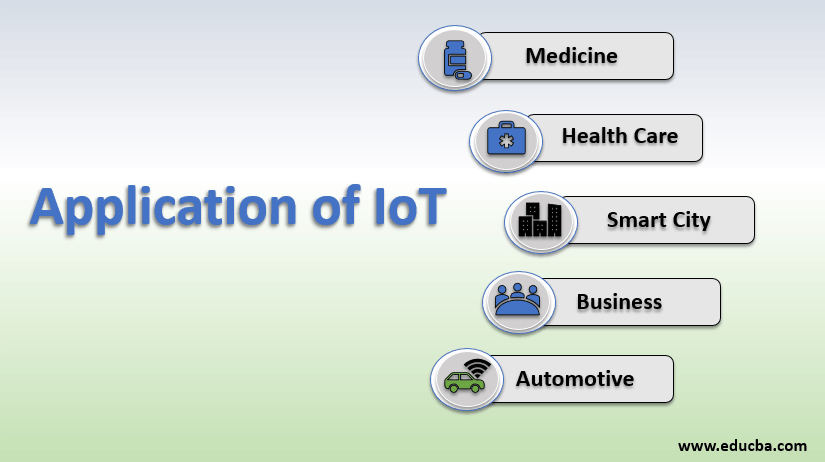 Introduction to IoT
Before understanding the Applications of IoT, let us first study IoT. IoT is based on "Information and Communication Technology", which interacts with electrical devices, computers, and physical objects (things) through embedded sensors. With the help of data processing ability, "things" can collect and transfer the data over connected devices. IoT systems can be used to support numerous applications ranging from home appliances such as automatic lights to medical science where life-sustaining devices such as human heartbeat monitoring systems. IoT has been made highly available with the advancement in technology and is used to generate big data, which is further utilized by Business Intelligence tools for decision-making purposes.
Applications of IoT
In this section, we will be Introducing a few of the many major Applications of IoT. IoT application has been introduced in many domains such as social media, health, transport, medicine, etc. The advantages and requirements of IoT solution dependents on the needs of the industry. Few domains such as health care, business analytics, transport, and smart homes/city will be discussed in this article.
1. Medicine and Health care
Health care has been a major user of IoT applications, where IoT applications are helping the users to gather statistical data and further control and automate the medical process. According to a recent survey, the IoT market share has been increased from USD $298 Billion in the year 2014 to USD $700 Billion in the year 2017. IoT technology is being embedded in health care devices, including wearable and implantable devices used to monitor and improve patients' medical conditions. With the advancement in IoT in the medical and health care domain, investors and the public will benefit in many ways.
Overall life-sustaining care costs will decline, and improved health monitoring systems will benefit millions of people every day. A method was proposed at IoT annual meet in 2018, which was aimed at reducing childhood obesity. A robot was built with the help of AI and was assigned to collect medical data with the help of sensors placed on the chest of the children. Further, a questionnaire-based survey on the food diet, physical activities, and other environmental factors were collected from the population and transmitted over to the web. This is one of the examples of advanced IoT functionality in the health care sector.
2. Business Analytics
IoT devices embedded in machines generate a large amount of data that is being used by BI (Business Intelligence tools) such as Power BI to generate useful insights and predict future outcomes. With the help of business analytics tools, the data generated from IoT are used to study customer behavior to increase customer satisfaction rates and provide a better customer experience. In the near future, BI tools will be embedded within things such as wearable health monitoring systems, which can make instant decisions based on the current data. Data recorded from the user's behavior and everyday habits will give better opportunities for the caretakers and hospitals to tackle any sickness in advance.
3. Automotive IoT
The Internet of Vehicles (IoV) has seen rapid growth in recent days. Many researchers and organizations are spending a large amount of time and resources to reach the full potential of the Internet of Vehicles. The concept of connected cars is not too far from being a reality. IoT will prove to be a game-changer and close the existing gap between the automobile and software industry. The main idea behind the concept of connected cars is to create a network of running vehicles and things such as traffic lights to establish communication between them. With the help of vehicle to vehicle and vehicle to an infrastructure network, the system to manage the traffic can be developed, which will eventually replace the traditional traffic light system. A few of the applications of IoT in the automobile are given below:
Entertainment System: Several smart apps such as car navigation systems and voice assistance systems are already making their way to the cars. With the help of IoT, these features have been embedded in vehicles. Automakers have partnered with Google for their apps such as google maps, google assistant, and Play store services.
Maintenance: With the help of IoT, vehicle owners will be aware of which of the vehicle parts needs to be serviced and be safe from any breakdown. With the help of embedded sensors, IoT will be able to monitor the functionality of components such as the engine, breaks, and electrical systems.
4. Smart city and Homes
Smart city IoT application is designed to provide improved and better-living conditions. With the growth in technology and population, IoT will play a major role in managing the city and population. Many services such as energy-saving lights, weather reporting systems, and streetlights will be embedded with IoT solutions for sustainable and cost-effective reasons.
Home automation has seen rapid growth in recent times. Consumers have been provided with services like lightning control for their homes, voice-based controlling, smart air quality adjustment, AI experience, and smart locks with the IoT enabled in homes.
The biggest reason people are attracted to smart home technology is because of security features. For example, with the help of a simple IoT device, the lights of the house can be monitored when on vacation; this function will keep the intruders away. Webcams can be installed with the help of this application to monitor the home; the major advantage here is one can control the connected devices remotely using a web interface or just a simple mobile application.
Conclusion
In this article, we have seen multiple applications of IoT in the health care industry, the automobile industry, in smart homes, and the city and in the Cloud. IoT is one of the fastest-growing technology, and in this age, where we are moving from the age of products to an age of services and experience, IoT plays a key role in this technological revolution. The day is not too far when you will come home by a self-driven car, and your home will auto-detect your presence to open the door for you and start playing the music depending upon your mood.
Recommended Articles
This is a guide to the Applications of IoT. Here we discuss the basic concept with different forms of application of IoT. You can also go through our other related articles to learn more –