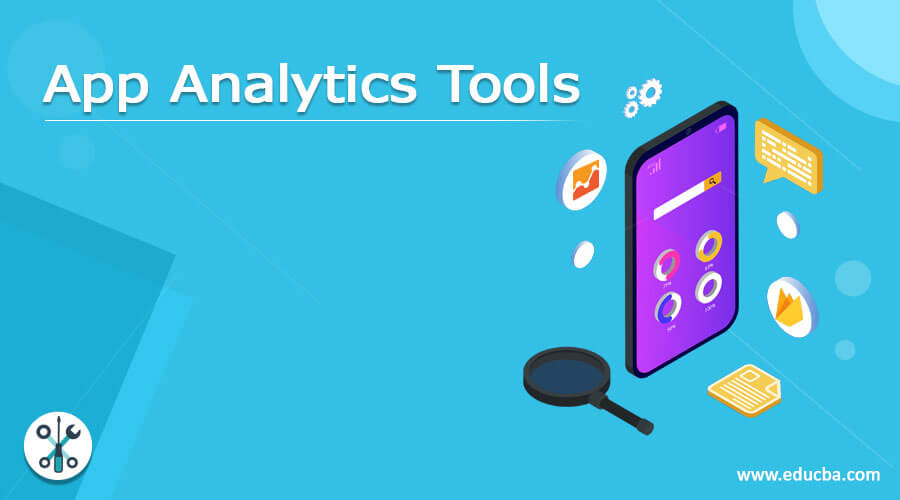 Introduction to App analytics tools
App Analytics is the process where team test and analyze the data and understand how users are engaged with their application. App Analytics helps to understand user interest in the app, and how well the system is performing. What features are missing? In short, it gives the overall performance of the application. To perform this analysis, the team uses tools. App analytics tools analyze the performance of the app and help you to gain a good understanding of the interaction between the use and app and how app can be optimized to reach the goals.
Top 10 App Analytics Tools
Here we discuss the top 10 app analytics tools:
Localytics: Localytics is the best app analytics tool. It is a cloud-based analytics tool that targets every customer from media, travel, business, retail, and lifestyle. Its retention feature generates an analysis that pinpoints reasons for business problems such as low conversion rates, drop-offs, reduced client retention. It also provides customized notification and recommendations and personalized messaging features. Localytics understand and stop. customer churn, app uninstall, and encourage conversation using predictive analytics. Localytics engage across a variety of mobile app channels including app and web push, in-app message band app inbox.
Google Analytics: Another best app analytics tool is google analytics which tracks and reports the traffic of the application. It tracks various activities of the user such as duration of the session, bounce rate, pages per session, etc. It is integrated with google ads. It identifies the poorly performing pages with techniques such as funnel visualization, where users come from, their geographical position, how long they stayed. Google Analytics also provides advanced features such as customer visitor segmentation.
Apple Analytics: Another app analytics tool is apple analytics. It tracks user engagement, app store impressions and provides user segmentation tools. It gives insight into which application or apps subscriptions are popular. Based on this data and analysis, changes can be done in applications to attract new users as well as existing ones. It allows users to measure the percentage of view of your application on the app store. Track various activities such as number of installations, number of users using the app, session, and active devices.
Firebase: Firebase is developed by Google to create mobile and web applications. It is integrated with other Google products such as Google ads And AdMob. From analytics, messaging, database and crash reporting analysis can be done in one central location. It allows users to sign in to the app with their Facebook, Google Twitter or GitHub accounts. It tracks each step of the onboarding flow to improve the experience. Firebase uses remote config to show the specific content to each defined audience.
Mixpanel: Mixpanel is one of the most popular app analytics tools. It is codeless which means to track the app analytics there is no need for any coding knowledge. It is available in two versions, a free version, and paid version. Its free version comes with limited access and paid version offers various facilities. Based on the data points the organization can choose its plan. It helps organizations to go through various ranges of data points and understand the overall performance of the user on multiple channels.
Buildfire: Buildfire is used to develop as well as analyze the app. It provides build fire recon features that provide powerful app analytics for users. Buildfire tracks various activities such as how many users register, use of the plugin, number of installations, bounce rate, etc. Buildfire creates a user segment based on activity. Based on user tags, it also restricts the content of the application. It allows user to integrate their data with others such as google analytics, Mixpanel, amplitude, etc. It also delivers targeted push notifications at every step of the user activity.
AppsFlyer: AppsFlyer is a SaaS based app analytics tool, supports various operating systems like Windows, iPhone, and Android. AppsFlyer provides a variety of features including retention report, cohort analysis, installation measurement, rich in-app events, bundled app measurements for iOS, TV app ad attribution, people-based attribution deep linking, smart banners, performance metrics.
Smartlook: Another best app analytics tool is Smartlook. It offers to record to authenticate users. It allows users to integrate the data on various platforms such as iOS and slack. Provides a customizable dashboard to track and analyze the data easily.
AppDynamics: Another app analytics tools are AppDynamics. It is an application performance management-based tool that manage, performance and availability of the applications over cloud computing environments as well as inside the data center. It allows users to perform cloud migration, track activities, auditing, DevOps adoption, etc. The availability of the applications, along with its working range, is also notified with AppDynamics. Intelligence software and tools are offered along with AppDynamics to improve the working of the tool.
App Annie: App Annie is another best app analytics tool, which allows users to track their competitors and identify the best Applications and their activities. It Manages, enriches, and identifies hidden performance opportunities across your own advertising and monetization data.
Recommended Articles
This is a guide to App Analytics Tools. Here we also discuss the definition and Top 10 App Analytics Tools along with an Explanation. You may also have a look at the following articles to learn more –