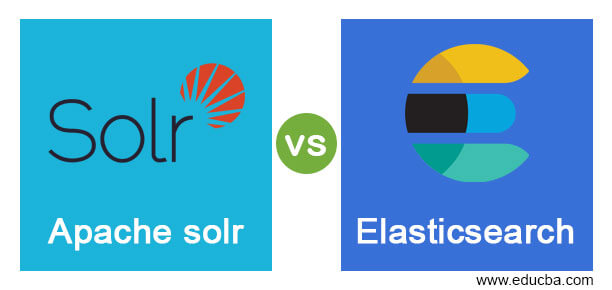 Difference between Apache Solr vs Elasticsearch
An enterprise search platform written in Java language with full-text search and dynamic clustering along with No-SQL features is called Apache Solr. This is an open-source application and is built on a Java library where recommendations are brought by the website itself. Scalability is also provided by Apache Solr. A search engine based on a Java library called Lucene that provides HTTP based web interface and JSON documents with full text supported search is called Elasticsearch. Real-time search is provided with a Java-based search engine that can be accessed through RESTful API support. Speed and scalability are its main advantage.
Head to Head Comparison Between Apache solr vs Elasticsearch (Infographics)
Below is the Top Comparison Between Apache solr vs Elasticsearch:

Key Differences
Since both Elasticsearch and Solr are using the Lucene library, real-time searches are supported with various feature sets and JSON based queries in the database. Initially, Solr supported only standard query parser and now it supports JSON based queries. Standard query parser made users make mistakes easily in the syntaxes but this supports any form of complex queries. These complex queries are not present in Elasticsearch. Also, velocity searches are provided in Solr that helps in autocomplete, highlighting and geo search. Aggregation queries are present in Elasticsearch as it has an aggregation framework that helps the tool manage memory footprints. DSL search is offered in Elasticsearch but not in Apache Solr.
Initially, Apache Solr required a defined schema where it was important for indexing the data. Now Solr provides a schema-less architecture in its tool. Similarly, Elasticsearch provides a schema-less architecture where unstructured data and any other fields are easy to index without a defined schema. This makes indexing easy for both the search engines. Custom analyzers are supported along with stemming and synonym-based indexing to make search easy for users in the tool. Tokenizers are also provided in both tools so that the text is broken into small pieces and a search is carried out.
Sharding is offered in both Solr and Elasticsearch where Elasticsearch focuses more on cluster management and scaling so that shards cannot be increased in this tool once it is created. Shrink API can be used instead to manage the shards and thus the scaling. Shrinking is not supported in Solr but we can split the shards and make more space for storing the data. ZooKeeper is used for cluster coordination in Solr whereas Elasticsearch has a built-in discovery module to manage the clusters. Cluster rebalancing can be done easily in Elasticsearch but it is not that easy in Apache Solr.
Solr has a large community as it was developed first and developers are selected into the community based on their contributions to the tool. Elasticsearch works in a different manner where developers can contribute to the codes and it must be approved by the Elasticsearch employees. Hence, the community is not large. Based on the documentation, Elasticsearch offers most guides on its website as well as on the internet. The documentation is provided with examples. These tutorials with examples are missing in Apache Solr and documentation maintenance is also less here. With proper maintenance of documentation, Solr can beat Elasticsearch for its APIs.
Comparison between Apache solr vs Elasticsearch
| | |
| --- | --- |
| Apache Solr | Elasticsearch |
| Apache Solr was initially developed in 2004 and was popular in the initial days for its database and search engine integration. Now, it ranks 3rd for database management and search engine systems. The popularity is due to the faster search application. | Elasticsearch was initially released in 2010 and is the first popular search engine along with a database management system for its popularity in the market. It is most popular due to its scalability and web interface systems with HTTP support in the Java library. |
| The memory required for Apache Solr is less than Elasticsearch and it is 512 MB of HEAP memory. If needed, we can change this memory setting as well in Solr script file present in the bin directory. The compressed version of Apache Solr is 192 MB and the files are written in XML format. | 1 GB of HEAP memory is required for Elasticsearch installation. We can change the memory settings in jvm. options present inside the configuration directory. There is a compressed version of Elasticsearch of 314.5 MB which is written in YML format. |
| Index files are written in Lucene library in Java programming language. There is a standard query parser with robust architecture which goes well with Lucene syntax. This makes the enterprise search faster. | Index files of Elasticsearch are also written in Java language in Lucene library where DSL support is provided in native format so that the files are searched and scaled with DSL architecture support in the files. This helps in the scalability of the search engine. |
| Handlers are needed to ingest data from various sources such as XML, CSV, PDF and even word documents. Apache Tika library is used to extract and index any file type. Commands are used to extract files from the library and this process is relatively faster than Elasticsearch and the process is more standardized. | Handlers are not used here but instead JSON based files are used. Data ingestion is supported from different resources and it is taken into the database with the help of lightweight data shippers. These are present in ELK Stack and Logstash of the database. |
| Advanced information retrieval is used so that enterprise directed text searches are more focused here. This is advantageous in terms of big data tools and Rich Text Format documents. Static data can be easily searched using Solr. | Modern web applications are more into focus here where data is in the form of JSON documents. Log analytics is in a better form which makes the application scale itself easily. The database undergoes many transformations in development and hence it is always a reliable form of data storage. |
Conclusion
Both are similar in search engine terms but the functionalities are more in Solr whereas the scalability is more in Elasticsearch. It always depends on the requirement of users to manage the search engine. Big data ecosystem is followed in Solr while analytics model is followed in Elasticsearch application.
Recommended Articles
This is a guide to Apache solr vs Elasticsearch. Here we discuss Apache solr and Elasticsearch key differences with infographics and a comparison table. You may also have a look at the following articles to learn more –