Updated April 18, 2023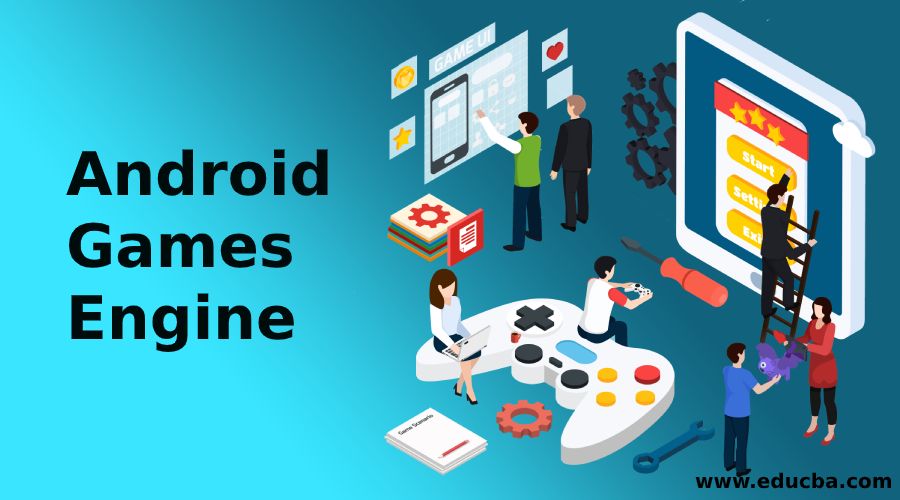 Android Games Engine for Test
In this topic, we will learn about the Android Games Engine. Throughout my student life, my focus has been to study well, and my goal has been to build a great career. What are your aspirations? A dream job? A fulfilling career? But foremost, you aspire to get admission into a reputed University that offers the professional degree that will lay the foundation for a great job. To get into any educational institute of repute, one must pass an entrance test.
Importance of Examinations
Entrance exams play a significant role in the education system as they help check a student's potential and awareness in a specific area. They are the parameter that measures how well you have studied. Examination results determine how good a student you are. At every step, we must clear the hurdle of examinations and fare well in exams to achieve our goals. Some of the most popular entrance tests are SAT, GMAT, ACT, and GRE…..
Our exam performance decides how close we get to our dreams or future goal. It requires rigorous preparation, hard work, planning, grit, and determination to do well in these exams. But specific entrance exams can be tough to crack. How you prepare for these tests decides the result. Students have various ways of test preparation.
Traditional Ways of Test Preparation
Students spend days in libraries and burn the midnight oil to fulfill their hopes and dreams. They borrow notes and collect old test papers from glimpsing what the test would be like. That's the traditional method of test preparation. Another great way to prepare for tests is to take online tests and use online study resources. However, this also has its limitations. It can be very time-consuming and nearly impossible for you to afford such a time if you also have a full-time job to look after.
Modern Approach
Mobile phones are inseparable from youngsters these days. These can be very distracting, especially during the study. Most parents would also agree that kids are obsessed with electronic devices, especially mobile phones, and anything those devices conveys to them through that medium will affect them more. Educational research and studies also reveal that we must use new learning methods for practical analysis. The best way to tackle this problem is by devising a way to study with the help of mobile phones.
You would be surprised to know that you can find a lot of mobile apps for Android game engines that help you with test prep. It is the best remedy that can please both students and their parents. Android games engine for test prep has so much potential that it has forced conventional test-prep businesses to develop mobile app versions.
Top 8 Best Android games Engine for Test Prep Effective
Let us review the eight best Android games engines for test prep effectively, which will help you with for Android games engine strategy:
1. Play2 Prep
Are you preparing for ACT, SAT, PSAT, Math, and English? Wish to achieve the highest score? Download the Play2prep app on your Android phone. It helps you prepare for the ACT and the SAT through a single app.
It has the most efficient practice tests one can personalize to match their level and other requirements. This fun Android game helps you prepare for the most formidable challenge by providing daily prep tests through the Android games engine and enhancing your time management skills. It also allows you to know where you stand against other aspirants with its option to play against other players.
Play2 prep tracks your daily progress and, based on the results, prepares customized tests for you. Daily training helps you to overcome obstacles and make you more and more perfect.
Important Features:
Thoroughly examines each answer and provides a clear insight into your strong and weak areas to help you enhance your strengths and pay closer attention to the places where you lag.
Provides a daily schedule of time-bound preparation tests to enable constant practice and hone better time-management skills
Competing against others helps you analyze your preparation level and encourages you to do better by stirring the spirit of competition.
Mock tests that are precisely similar to the actual tests give you an accurate idea of how your test would be
A reasonable explanation support every attempt that helps you to understand your mistakes and help you gear up for the subsequent shots.
The question bank is so vast you will never find the questions repeating across different tests.
It keeps your results confidential from other users so that only you know your real mettle and can work on your weak areas.
2. GRE Exam Prep by GradeStack
This excellent Android games engine by GradeStack contains various courses to help you achieve success in GRE Entrance. Its unique features enable you to study and test the skills you are on the move. Based on the new syllabus, this android game contains a complete curriculum, including separate sections for Verbal Reasoning, Maths, and Analytical Writing Skills, each having study notes and practice tests.
You can prepare individually or take GRE quizzes against other aspirants to
Important Features:
Study notes are compact and crisp, which helps you to learn on the go.
Enhance your vocabulary with the help of more than 3000 flashcards.
A massive collection of GRE test questions along with comprehensive solutions
Evaluate your performance and get a glimpse into your level of preparation through the system-built detailed diagnostics
3. IQ Test Preparation by Flutter Technologies
An IQ test is integral to any entrance examination, whether a school, college, or university entrance exam. IQ tests are also for general mental exercise. One, who has mastered this area, has won half the battle. This excellent Android games engine by Flutter Technologies covers ten subject areas that include:
Visual patterns
Number sequence & Alphabetical sequence
Mental arithmetic
Logical reasoning
Verbal aptitude
Relationship problems
Time and date problems
Age-related problems
Speed, time & distance
Profit & loss related problems
Important Features:
It consists of a large number of questions along with detailed elucidation for each topic
It also includes tips and tricks to crack challenging problems and improve creative-thinking
Short tests help you to assess your preparation level.
4. CPA Exam Prep by Quiz World
In the list of Android game engines for test prep, CPA Exam prep by Quiz World is a jewel. It helps you to prepare for the Uniform Certified Public Accountant Examination, which allows you to attain the title of Certified Public Accountant (CPA) in the United States. Public attestation and auditing of financial statements are the reason for CPA licensing.
It familiarises the student with the complete exam paper, which includes four sections, namely: Financial Accounting & Reporting (FAR), Auditing & Attestation (AUD), Regulation (REG), and Business Environment & Concepts (BEC).
Important Features:
Free of-cost application
A huge question bank for Multiple choice questions in a quiz format
Hundreds of competition-level questions with detailed solutions
Review your test or quiz results and explanation for all correct as well as incorrect answers to avoid future mistakes
Attempt random questions in each section
5. ACT Exam Prep by Pocket Prep
ACT (American College Testing) also comes in the list of Android game engines. It is a uniform test for high school and college admissions in the United States.
ACT practice test app is a potent exam trainer that helps you to generate personalized practice tests. It offers thoroughly explained solutions to each question. You can download it on your Android phone as well as tab.
Each test contains all four sections: English, Mathematics, Reading, and Science. The app includes the latest exam curriculum and is current for the 2016 exams.
You can view your test results and review your exam history to help you prepare.
Important Features:
It improves your learning capacity through its "spacing effect," which lets you space out your study time per your retention span by specifying the number of questions you are willing to take in a given period.
You can also pose your question to experts through In-app messaging.
The app download is free, but you can also buy its premium upgrade package that will give you additional practice questions and e-mail support.
You can choose between two practice modes: simulation and study
It will keep you on your toes with its study reminders and countdown to the examination date
6. SAT Up by ScoreBeyond, Inc.
SAT Up is unarguably the most innovative & easy to use SAT prep app. It can also be helpful in preparation for some other tests such as PSAT, ACT, AP, and TOEFL. It contains quizzes on the three main SAT sections: math, critical reading, and writing. You can use this app as your sole preparation tool or with other preparation methods. Therefore, it is on the list of Android game engines.
With SAT Up, you can significantly improve your test score by creating your prep plan and designing customized tests. It helps to improve your vocabulary with Android games ideas and vocabulary flashcards. Besides each question, you can find in-depth solutions to review wrong attempts.
Important Features:
It gives you an estimated SAT score based on your practice test results.
The app also provides e-mail support by connecting you to your coach
Create your practice tests by selecting the preferred topic and level of difficulty
It is undoubtedly the most convenient and fun way of learning while on the move
7. TCYOnline
TCYOnline is a multipurpose 'Exam Prep app that helps you prepare for GATE, MBA/CAT, Bank Exams, GRE, Engineering and PTE, and many more, covering more than 50 categories of exams from the following career streams:
& Private Jobs
Management
Language and Skills
Science and Technology
Commerce & Law
You can either download mock tests or search for a particular section-wise test from the vast collection containing updated sample tests per the latest exam pattern.
Although it is a paid app, you can take the first ten tests for free to assess the practicality of this excellent exam preparation platform.
TCY online boasts some unique features:
Important Features:
You can generate your test by specifying factors such as= topics to be covered, the number of questions, etc.
You can challenge other online users to compete with you to test the actual waters
Receive updated exam alerts and stay in touch with any relevant information regarding the exam
Get detailed feedback and a graphical analysis of your test results
8. IIT JEE PMT Prep by Topper
This Android games engine by Topper helps you to improve your IIT JEE and AIPMT score considerably and makes it possible to crack one of the most challenging entrance exams. It covers all the relevant sections, namely: Physics, Chemistry, Math, Biology, and Mental Aptitude, with its vast question bank and provides comprehensive solutions in the form of videos. The questions are on par with the required level. The app covers preparation for both IIT Mains and Advance.
It constantly tracks your performance graph through close analysis of practice test results and thus helps you to achieve your goals. Constant updates add newer and better features to bring you closer to achieving your dreams.
Important Features:
Can be downloaded android games free of cost from the google play store
It contains a vast collection of practice tests, which on attempting, provide instant results pinpointing improvement areas.
Students get round-the-clock support from IIT graduates to clarify any doubts. Also, be a part of doubt sessions to learn from the doubts of other students.
Helps students improve their attempt time
Conclusion: Android Games Engine
The ease of Mobility that a mobile app offers is unmatched. Aspirants can study anytime, anywhere, and stay in touch with their curriculum. The same can not be said about online resources, which require you to carry your notebook computer and also need internet connectivity. Opening your laptop in a crowded coffee shop or subway train is also impractical. Talking about traditional books and study material is completely passé. On the other hand, a mobile app is straightforward, practical, and a great handy tool for test prep.
What is more, learning by way of gaming can be fun. It helps you retain your interest while studying, lets you spend long hours in practice, and lets you grasp the course better.
Thus, android games ideas for test prep are the in-thing that will ensure great success in examination and fulfill your dream of a promising career.
Recommended Articles
This has been a guide to Android Games Engine. Here we discussed the eight best Android games engine with features that will help you with Android games engine strategy. You can also go through our other suggested articles to learn more –