Affiliate Manager- Introduction
In the dynamic online business world, affiliate marketing has emerged as a powerful strategy. Imagine you are getting paid for recommending products online. That's affiliate marketing! Businesses pay individuals or groups (affiliates) a commission for driving traffic or making sales through their promotion. It's a performance-based approach where affiliates (bloggers, influencers, businesses, etc.) promote products and earn a commission for driving sales or desired actions.
An Affiliate Manager is a person who oversees and manages relationships between a company (or advertiser) and its affiliates (partners or promoters). Their role involves coordinating activities, providing support to affiliates, and ensuring that both parties benefit from the partnership, often in the context of affiliate marketing programs.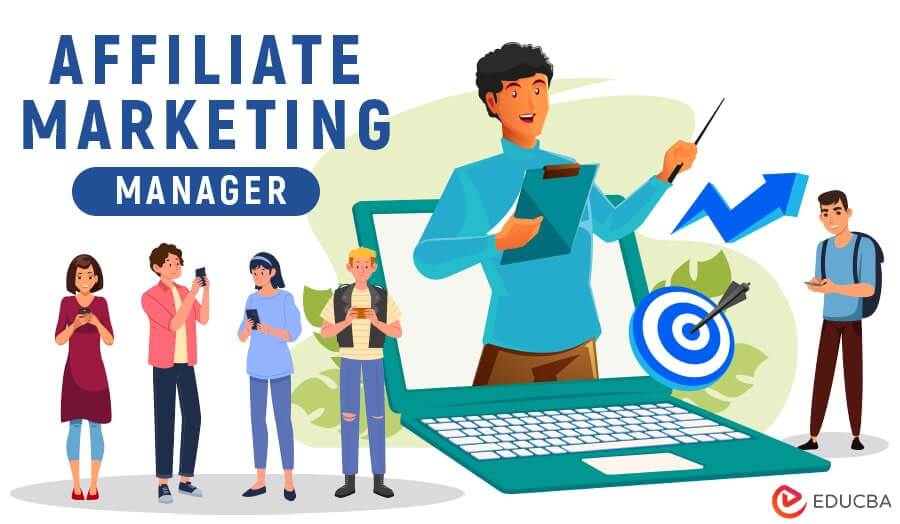 Basics of Affiliate Marketing
Affiliate marketing is a teamwork approach between a company and people (affiliates) who help promote the company's product or service. These affiliates can be bloggers, influencers, or businesses. When these affiliates successfully get people to buy the company's products or take some specific action, they earn a reward, usually a commission.
An affiliate manager is like the coach of this team. Their job is to find new teammates (affiliates), help them get started, and ensure they reach the right audience. If the current teammates have any questions or issues, they contact the affiliate manager for help. The manager also plans and puts into action the strategy for how the team promotes the company's products or services, working closely with the company. They share advice on the best ways to do things and use their know-how to get the best results.
Responsibilities of Affiliate Managers
Here are the main responsibilities of an affiliate manager:
1. Find and Recruit New Members
Actively seek individuals or businesses aligned with company values and target audience.
Recruit new affiliates and provide comprehensive onboarding support.
2. Building and Nurturing Strong Relationships
Foster strong, communicative relationships with affiliates to build trust and community.
Address affiliate queries promptly, providing guidance and support.
3. Performance Analysis and Enhancement Strategies
Evaluate affiliate campaign performance using key metrics like conversion rates and revenue.
Provide affiliates with actionable insights to improve their promotional strategies.
4. Use Tools for Better Marketing
Ensure affiliates have promotional tools such as banners, text links, and promo codes.
Facilitate effective asset utilization for enhanced marketing efforts.
5. Compliance Oversight and Fraud Prevention
Uphold industry regulations to maintain ethical affiliate practices.
Monitor fraudulent activities and take corrective actions to protect the brand's reputation.
 6. Strategic Performance Incentives and Rewards
Design and implement incentive structures, including tiered commission rates and bonuses.
Recognize outstanding performance with exclusive promotions to foster loyalty.
 7. Dynamic Industry Observation and Innovative Approaches
Stay abreast of industry trends, emerging technologies, and competitive strategies.
Explore new affiliate opportunities, assess collaborations, and introduce innovative marketing methods to stay ahead.
Daily Tasks of Affiliate Managers
Affiliate managers ensure affiliate marketing campaigns run smoothly. Their main job is to set up new programs for companies that want to advertise through affiliates. They help affiliates by suggesting the best ways to promote products, like using specific keywords or creating eye-catching ads.
A big part of their job is mentoring affiliates to help them improve how many people click on their ads. They advise writing effective ad content, choosing the right places to promote, and using smart marketing strategies.
For ongoing programs, affiliate managers handle day-to-day questions from affiliates and develop ideas to keep bringing in new customers. They also keep track of what's working well and look for ways to make things even better.
If affiliate managers work for companies like Monsterclaw LLC or Amazon, they also take care of managing accounts. This means they support the companies advertising through affiliates and ensure everything goes smoothly for them.
Affiliate Manager Skills
To do well in this diverse role, affiliate managers need a mix of skills, such as:
Communication: Clear and effective communication for building relationships and problem-solving.
Data Analysis: Understanding data to find trends and make informed decisions.
Creativity: Generating ideas for promotions and engaging content.
Negotiation: Convincing potential affiliates to join and negotiating deals.
Tech Skills: Familiarity with affiliate tracking, reporting tools, and marketing software.
Affiliate managers play a crucial role in making affiliate programs successful. They are like the behind-the-scenes experts who handle partnerships, provide support, and devise clever plans to ensure affiliate marketing works well. Thanks to their skills and hard work, businesses can do great in the constantly changing world of online marketing.
Do We Really Need Affiliate Managers?
In the complex affiliate marketing world, having an affiliate manager is crucial. While some may think adding affiliate links is enough, the reality is that fine-tuning is necessary for success. They simplify the workload, handle inquiries, and enforce program terms to ensure profitable outcomes. Their guidance is vital for affiliates, leading to the best results for advertisers. Achieving desired results can be challenging without an affiliate manager, relying solely on the publisher's abilities.
Recommended Articles
We hope you found this comprehensive article on Affiliate Manager helpful. For similar articles, please refer to the following.