Updated March 21, 2023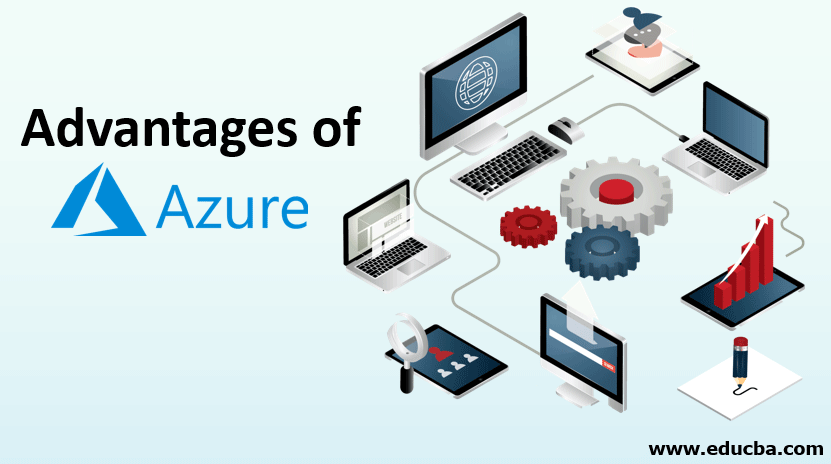 Introduction to Advantages of Azure
Advantages of Azure are the features and the industry implications of Azure cloud services as part of their technology landscape and business process tools. Azure is an industry-leading cloud service offering from Microsoft. Some of the services Azure provides are infrastructure as service, compute services, databases, web apps hosting, API management, analytics, mobile apps and application integrations, and DevOps. Azure being a fast-growing cloud vendor helps businesses to faster the business process and provides the reliability of the It infrastructures. Azure is an efficient platform for high availability(HA), Disaster recovery. Azure supports integration with other Microsoft products such as Office365, Sharepoint, Dynamics CRM, and Outlook.
Some of the top advantages of Azure are listed below.
Top 16 Advantages of Azure
Some of the top advantages of Azure are listed below:
1. Microsoft Azure is Fast-Paced Across the World
In this, every world, every people values the time and everything should get in a fast way. So the speed is a major unit for all the business which starts from the delivery of food and to launching a rocket.
Speed is a major impact in all areas with the main three key elements as the speed of deployment, speed of operation and speed of scalability.
2. Enhance your Business in an Agile Way
Business people use Azure for the continuous delivery and faster development cycles which have quick response time and make the process irritative which in-turn allows exploring the hidden features of the technology.
The business owner can adopt mature Identity Access Management and restriction to his enterprise and make the work in a more agile way by giving each user his permissions and restriction to certain files and devices With Azure.
3. Azure Can Take You to Global Reach
At Redpixie, it deals with customers who need to meet the holes in data capabilities at the global level. Azure has the major advantage of dynamic adaption to handle the utilization requirements and performance.
This decreases the need for the user or architect to monitor the behavior of systems.
4. Azure Associated Development Environment
The main goal is to develop an Azure IOT model that is integrated with data science. The data is collected through different components to maximize the response and mean of analysis.
With the help of Azure, we can build an engine that utilizes scalability to increase the capabilities of IoT systems.
5. Azure Has a Complete Integrated Delivery Pipeline
From the development of a tool to the deployment of the tool which offers end to end solution. It requires a unified delivery pipeline. As for Azure's source control, unit testing, integration testing, delivery and Go live tools. Here all these things are difficult to use for different providers but by Azure, it is easy to use.
To prevent from breakage of the continuity and to have more flexibility all the tools are embedded in the same unit. Hence it provided a long-lasting solution to a problem.
6. Azure – Monster for Disaster Recovery
In the enterprise, there may be a chance of failure of the server which leads to a greater loss. But with limited time the process and the server should be up and continue to do its regular work. The server should be restored as soon as possible to avoid huge losses in a production environment.
Azure covers all the spades by its unique options to work on global fail-over and regional, standby models, hot models, quick reboot capacity. The issue is separated from the rest of the business unit and resolved quickly and again to create a peaceful environment.
7. Adopt to Pocket-Friendly Azure
There are multiple cloud service providers available in the market, compared to that the cost is not a big issue since it provides power pack features to the clients. Once the Azure is set up in a business environment the client can easily able to view in his increase in revenue.
Not only the ROI increase but also the efficiency of the business unit and its outcomes also increases accordingly. To explore the seasonal demands in the market and to choose the correct right one for change in revenue design Azure will be more helpful.
8. Secure Your Business with Azure
Security is the most important thing that should be given to every customer. It is not like only the large-scale industry has to protect the data. The data and service should also be protected for the small-scale industry even for our mobile. The security is equally provided to all the users from business to customers and business to business.
With the help of a single sign-on feature, it is easily accessible to all of the users. It tracks the data of the user and their status of access and cross-checks with the database that contains all the user, admin, and employees', customers' details. So if there are a hole and any hacker can enter it generates an alarm and send the alert to prevent data snap or data loss. It is more location-specific and has control in all its integrated devices.
9. Bound with Compliance
All the organization has an agreement between the client and company and other agreements signed between the employee not to leak any confidential data. GDPR and HIPAA are the policies signed to enable a giant firewall and maintain the sovereign.
It is greatly implied in Finance based organization and banking sector, Medical, and Health care industries, and Insurance companies
10. Instant Azure – Deploy anytime and anywhere
Microsoft has built an Azure stack service which is a package of benefits to clients. In addition to that, it also provides secure hardware based on the requirement to clients with all the patterns and practices that need to be carried out for that particular business unit.
It is in the hands of businesspeople to choose which is the place for their data to store and work. Hence Azure is a complete cloud solution it makes all the process simple and easy.
11. Azure – Measurable and Flexible
Azure has three features that are predominantly associated with its services. They provide flexible, ductile and scalable service to its cloud storage and can access easily safe and secure. It also stands top as a performance and efficient storage system.
Applications can run easily on Azure environments where millions of users can be added or created without any extra coding. It is simply that the user can just alter the settings and utilize many processors for his business.
12. Azure – Stand Alone as a Hybrid
Azure has unmatched hybrid capabilities which makes it unique and stands as odd one in front of many popular cloud service providers. It enables easy mobility and builds a strong reliable platform between the public cloud and on-premise users.
Azure offers a huge range of connections in a hybrid way as virtual private networks, delivery nodes, clear caches, and also provides express route networks to increase the performance and usage
13. Azure Integrated with Microsoft Tools
Many people use Microsoft tools like office 365, Share point, the outlook for their business. They have to invest in these tools and pay for it accordingly. But here all the tools are integrated with Azure which is free and easily accessible.
The use of the Azure cloud simplifies the operations in both windows and Linux systems. Hence it is impeccably integrated with Microsoft products which in turn reduces the cost of investment for Microsoft tools.
14. Azure – Accurate Analyser
Azure alleviates NoSQL and SQL databases for support by built-in services and drilling into data to analyze and explore the key sights for increasing the business process, problem-solving and decision making. It acts as a reliable and reasonable person to analyze the problem and solve it. It finds the root cause of that problem and prevents it from happening again.
Thus Azure is an intelligent advisor which helps the user to reach anywhere at any time. It the only platform which offers many advanced services like Cognitive APIs, Blockchain as a service, Bot, and Machine learning. Choosing the correct cloud vendor according to our business requirement make us more wise and intelligent and also prevents the user from facing a great financial loss.
15. Easy to learn
Many familiar tools are ASP, .net, Visual Studio, Visual Basic, programming languages C, C++ is used to build a cloud-native app and it is easy for the industries to develop cloud applications and deploy it for their process and storage.
16. Unite to work
The fused applications can be developed on-premise with the cloud database in Azure. Azure assists IP and open sources like HTTP, XML, SOAP, REST. The tools and kits required for software development such as Java, PHP, Ruby are available in the Azure platform.
Azure is a trusted platform and standing top in the market place which helps the enterprise to build and deploy scalable and secure applications. It also used to generate new innovative ideas to improve the standards and quality of your business by giving you a big package of advanced features at a reasonable cost which in turn gradually increases your revenue of income.
Recommended Article
This is a guide to the Advantages of Azure. Here we discuss the top 16 advantages of azure in detail. You can also go through our other suggested articles to learn more –