About Renewable Energy Sources
Renewable energy sources can be replenished naturally and used as sustainable energy sources. Examples of renewable energy sources include solar, wind, geothermal, hydropower, biomass, and ocean energy. Renewable energy sources increasingly produce electricity, heat, and fuels as they provide clean, reliable and cost-effective energy. Renewables are also less expensive than other energy sources and are becoming increasingly available. As more people become aware of the benefits of renewable energy sources, more governments, businesses, and individuals are investing in them.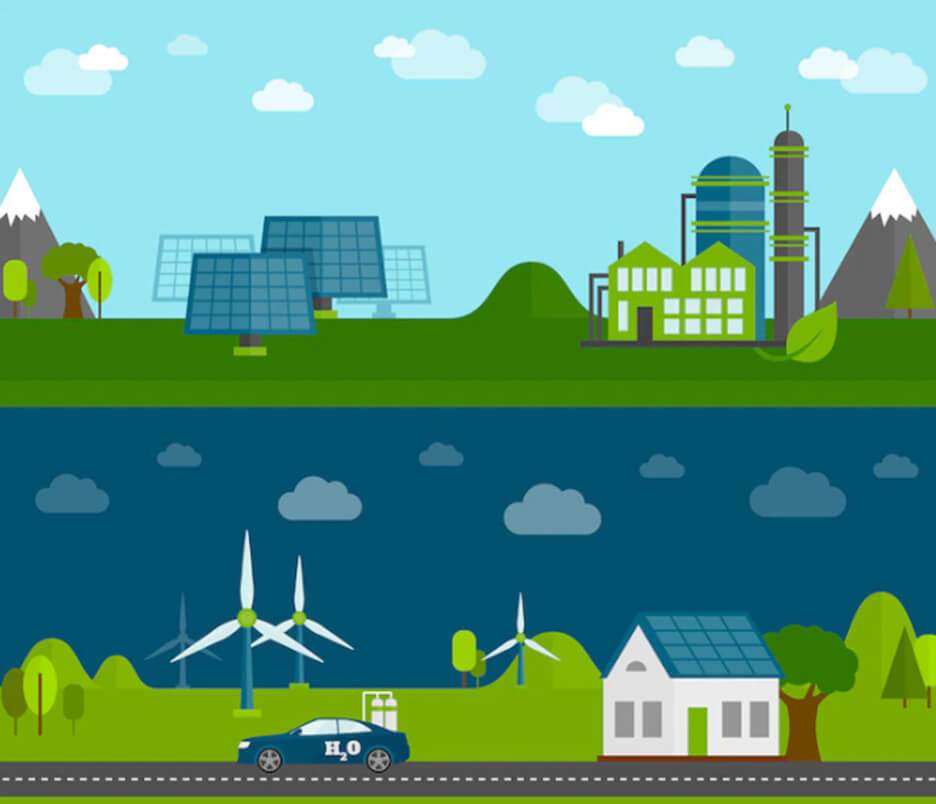 (Image Credit: Freepik)
Advantages and Disadvantages of Renewable Energy Sources
The following are some of the advantages and disadvantages of Renewable Energy Sources:-
Advantages of Renewable Energy Sources
Environmentally Friendly: Renewable energy sources are much cleaner than conventional fossil fuels. They produce much fewer greenhouse gas emissions, the leading cause of global warming. It makes renewable energy a much more viable and sustainable option for the future.
Sustainable: Renewable energy sources are also sustainable, meaning they are infinitely renewable. You can use them repeatedly without running out, making them perfect for long-term energy needs.
Cost Effective: Renewable energy sources are much more cost-effective than traditional sources, as they require little to no maintenance or fuel costs.
Versatile: Renewable sources are for various applications, from powering homes to providing electricity to industrial plants. This option makes them an excellent choice for a wide range of uses.
Reliable: Renewable sources are also highly reliable, as they are not affected by external factors such as extreme weather or political instability. It is an excellent choice for those who depend on a steady energy supply.
Renewable Jobs: Using renewable energy sources also creates jobs in the renewable energy industry, which helps boost local economies. It also helps to reduce unemployment in rural areas.
Reduced Dependence on Fossil Fuels: Renewable energy sources helps to reduce the world's dependence on fossil fuels, which are finite resources. It reduces the likelihood of running out of these resources, allowing for a more sustainable future.
Disadvantages of Renewable Energy Sources
High Initial Investment: Renewable energy sources require a lot of money to set up. Solar, wind, and hydroelectric power need large-scale infrastructure to harness the energy from these sources. This infrastructure is expensive to build, maintain and upgrade.
Intermittency: Renewable energy sources are only sometimes available. For example, solar power is only available during the day, and wind energy is only available when the wind blows. A large amount of energy storage is needed to ensure a steady energy supply when these sources are unavailable.
Environmental Impact: While renewable sources of energy are much cleaner than traditional sources of energy, they can still have an impact on the environment. For example, the construction of hydroelectric dams can disrupt ecosystems, and the use of biofuels can lead to deforestation.
Difficult to Scale: Renewable energy sources are often challenging to scale up. For example, solar energy requires large amounts of land to install solar panels, while wind energy requires large parts of space for wind turbines.
Low Efficiency: Renewable energy sources often have lower efficiency than traditional energy sources. For example, solar panels can only convert a small portion of the sun's energy into electricity.
Not Everywhere: Renewable energy sources are only available in some places. For example, solar power is only available in abundant sunshine, and wind energy is only in areas with strong winds.
Final Thoughts
The advantages of renewable energy sources are that they are clean and free, have a low environmental impact, and are generally abundant. They are also efficient, require less maintenance, and can provide a reliable energy source. On the other hand, renewable energy sources' disadvantages include the high installation costs, the need for large-scale infrastructure investment, and the lack of storage capabilities. Despite these drawbacks, renewable energy sources are an excellent way to reduce our dependence on fossil fuels and carbon footprint.
Recommended Articles
We hope that this EDUCBA information on "Advantages and Disadvantages of Renewable Energy Sources" was beneficial to you. You can view EDUCBA's recommended articles for more information,