Updated November 7, 2023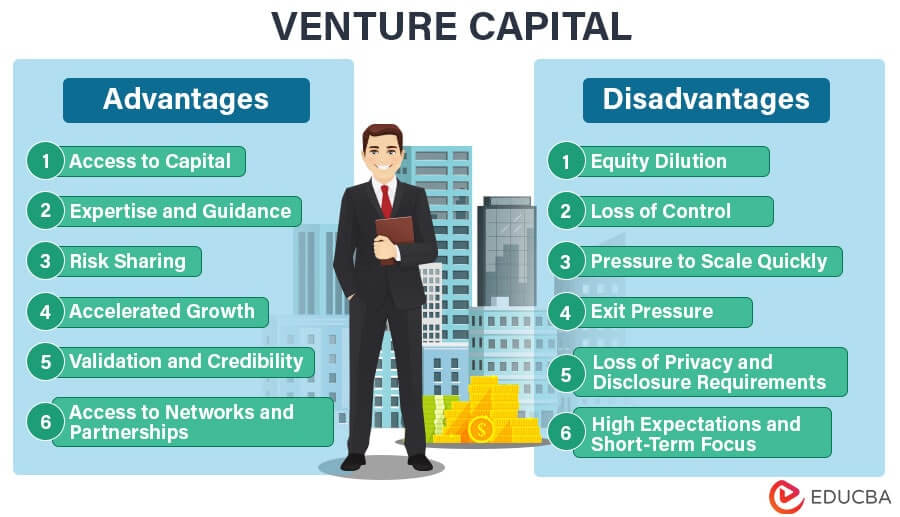 Advantages and Disadvantages of Venture Capital – Introduction
Imagine you have an excellent business idea, but you cannot make it into an actual business due to lack of funds. This is where venture capital comes in. Venture capital (VC), started in the early 1940s, is where investors provide you the financial support you need to build your own business. It helps early-stage businesses and rising enterprises that have great growth potential.
While venture capital offers several advantages, it also comes with its own set of disadvantages. Thus, let us look at the advantages and disadvantages of venture capital with examples.
Advantages of Venture Capital
Let's look at some advantages of venture capital in detail:
1. Access to Capital
One of the most significant advantages of venture capital is that it gives entrepreneurs access to substantial financial resources. Venture capitalists usually fund startups, making it easier for young business people to gain the required funds.
Example: The ride-sharing platform Uber received substantial venture capital investment in its early stages. It allowed it to expand rapidly and become a global transportation giant.
2. Expertise and Guidance
Venture capitalists often bring valuable expertise, mentorship, and connections. They can help entrepreneurs refine their business strategies and navigate the challenges of scaling their ventures.
Example:
In 2004, Sequoia Capital invested in YouTube, and Sequoia's guidance and network helped YouTube grow into the world's largest video-sharing platform. This eventually led to its acquisition by Google for $1.65 billion in stock.
3. Risk Sharing
If a venture fails, the burden is shared among the investors, and the entrepreneur is not personally liable. Thus, shared risk makes it easier for entrepreneurs to establish high-risk businesses.
Example: Airbnb, a home-sharing platform, faced challenges during its early years. However, its venture capital backers, including Sequoia Capital and Andreessen Horowitz, absorbed a portion of the risk, which allowed the company to weather difficulties and ultimately achieve success.
4. Accelerated Growth
With substantial funding, startups can invest in product development, marketing, and expansion, enabling them to capture market share quickly.
Example: Elon Musk's aerospace company, SpaceX, received significant venture capital funding in its early years. It allowed SpaceX to develop and launch innovative space technologies and secure contracts with organizations like NASA. This led the company to reach its current position as a leading space exploration company.
5. Validation and Credibility
Venture capital investment can provide a significant vote of confidence in a startup's potential. It can validate the business model and attract additional interest from customers, partners, and other investors.
Example:
Coinbase received early-stage venture capital funding from prominent investors like Andreessen Horowitz and Union Square Ventures. It not only provided financial support but also lent credibility to the app on the whole.
6. Access to Networks and Partnerships
Venture capitalists often have extensive networks that can help new businesses create strategic partnerships and collaborations. It can open doors to new opportunities for growth and development.
Example:
Elon Musk and Draper Fisher Jurvetson provided venture capital funds to Tesla. The relationships and networks these investors brought helped Tesla establish important partnerships and secure funding for its ambitious projects.
Disadvantages of Venture Capital
Let's look at some disadvantages of venture capital in detail:
1. Equity Dilution
When startups raise venture capital, they give a part of their ownership to investors, which dilutes the equity of the founders and early employees. It can result in reduced financial rewards for the original team.
Example:
As Airbnb raised more venture capital, the equity ownership of its co-founders, Brian Chesky, Joe Gebbia, and Nathan Blecharczyk, decreased to 11% each. While they still held valuable stakes, their ownership percentages diminished over time.
2. Loss of Control
Venture capital often involves giving up a part of control of the company. Thus, while making important decisions, entrepreneurs must consult with their investors, which can limit their autonomy.
Example: Mark Zuckerberg's decision to seek venture capital for Facebook meant that he had to share ownership and decision-making power with early investors like Peter Thiel. This loss of control can be a trade-off for the funding received.
3. Pressure to Scale Quickly
Venture capitalists expect high returns on their investments, which can lead to intense pressure on entrepreneurs. It can result in hasty decisions and a focus on short-term growth over long-term sustainability.
Example:
The rise and fall of WeWork is an example of the pressure to scale quickly. SoftBank's significant investment and expectations for rapid growth led to a valuation bubble that eventually burst. As per the latest updates, WeWork will file for bankruptcy.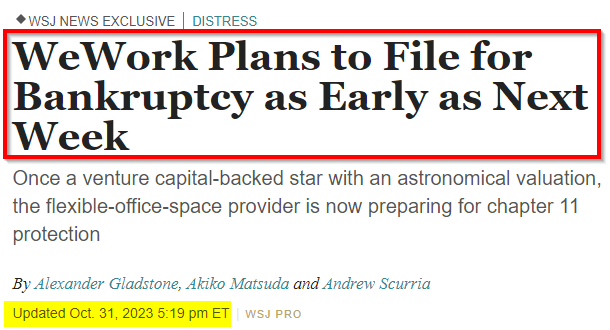 Source: Wall Street Journal
4. Exit Pressure
Venture capitalists expect an exit strategy that provides them with a significant return on investment. It can lead to premature sales, mergers, or initial public offerings (IPOs) that may not align with the long-term vision of the entrepreneurs.
Example: Snapchat's parent company, Snap Inc., went public in 2017 under pressure from its investors. It was despite the entrepreneur's concerns that the move might not be in the best interest of the company's long-term growth and profitability.
5. Loss of Privacy and Disclosure Requirements
Venture capital investment may require startups to disclose sensitive information about their business, including financials and strategic plans. It can result in a loss of privacy and a competitive disadvantage if sensitive information falls into the wrong hands.
Example:
The biotech startup Theranos, which faced significant legal and regulatory issues, had to disclose sensitive information to its investors. Ultimately, the company's challenges were exposed, leading to a highly publicized downfall.
6. High Expectations and Short-Term Focus
Venture capitalists often have high expectations for a quick return on investment, which can lead to a short-term focus on growth and profit. It may not align with the founder's desire to build a sustainable, long-term business.
Example: Many startups in the "Unicorn" category (privately held companies valued at over $1 billion) face pressure to maintain high valuations and generate profits quickly. This compromises their ability to focus on product quality and long-term sustainability.
Final Thoughts
Venture capital offers access to vital resources, expertise, and networks, but it comes with trade-offs like a loss of control, equity dilution, and short-term pressures. Therefore, entrepreneurs must make informed decisions, considering their long-term objectives and risk tolerance when seeking venture capital financing for their startups.
Recommended Articles
We hope you found this article on the advantages and disadvantages of venture capital helpful. Refer to the following recommendations to view similar articles,