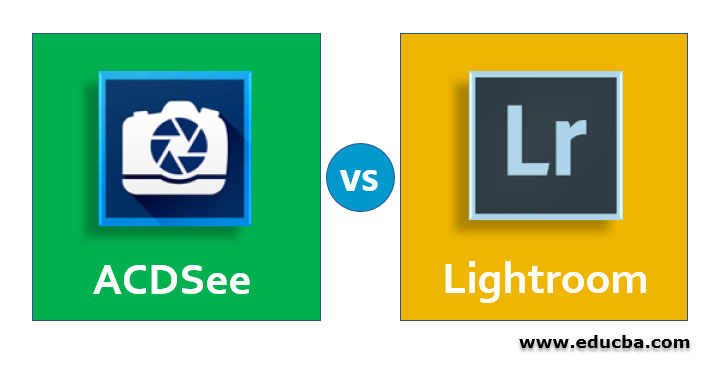 Difference Between ACDSee and Lightroom
In this article, we will learn about the difference between ACDSee vs Lightroom.
ACDSee is a swift, full-equipped image viewer, database, browser, file management, and image handling software, everything in one developed by ACD Systems International Inc. It was initially released in 1994. It supports over forty accepted image file formats and LZH and ZIP archives, scanners, photo sharing services, digital cameras, etc. It has the potential of appending plugin modules. You can display the images utilizing the on-screen slide show abilities of ACDSee. ACDSee comes with a wide scale of tools to work with your pictures, either in the edit mode or QuickView. You can produce choices, adjust exposure, and operate with the histogram through curves or levels.
Lightroom is a first-rate image database management system and image processor wrapped into a single software designed by Adobe Systems in 2007. It is not a solitary, intractable software; instead, it should be looked upon as an entourage of software modules that produce an absolute workflow for digital photographers when put together. Lightroom was designed to eliminate the problems and provide obstructive intelligibility. The tools available in Lightroom are intended to simplify the image editing and management operation and to build the user experience as effortless and smooth as possible. The objective is to present photographers with the tools they need the most and remove the call for intricate workarounds.
Head to Head Comparison Between ACDSee and Lightroom (Infographics)
Below are the top comparisons between ACDSee vs Lightroom:

Key Differences Between ACDSee and Lightroom
Let us discuss some of the major key differences between ACDSee vs Lightroom:
ACDSee is a significant substitute to Lightroom; after all, it produces an alternate workflow to Lightroom's procedure of importing, modifying, and exporting files. Lightroom operates as an individualistic catalog, while ACDSee performs live, straight from disk to disk.
The Edit mode of the software is where everything in one solution comes into effect. Lightroom allows you to import a consignment of images, regulate every image, then export them to be used in Photoshop. There is no need to quit one program with ACDSee and can do nondestructive rework with an imposing intricacy.
Lightroom has always worn laboriously on memory (Random Access Memory); on the other hand, ACDSee utilizes about one-third of the memory.
A very significant difference between Lightroom and ACDSee is that in ACDSee, there is no need for importing Meaning; ACDSee examines your drives straight from the disk and skips the import of files into a catalog. ACDSee still comes with an import function, but that is purely copying the files to your local hard drive from your card reader and not preserving the copy of the files in its own database.
ACDSee provides a finer value that comes with a lifetime license key evaluated to complement Lightroom's freestanding price of $149.99. It can be bought once and utilize it as long as you wish, or gain free of charge upgrades, web access, a suite of associated software and ten GB of cloud storage by registering for a yearly subscription that starts at only $69, which is just about half the price of a similar Adobe Creative Cloud Photography Plan membership.
Lightroom provides attributes such as Tethered Capture for clicking pictures right within Lightroom and allows Photoshop to manage any crucial pixel-level editing, while ACDSee bypasses the clicking part and incorporates Photoshop-style picture editing as the last step of its workflow.
Adobe has focused on the subtle differences of user experience and interface, while ACDSee has been paying particular attention to producing the absolute freestanding software.
Lightroom is one of the more in demand RAW image processors, although it does not incorporate the same level of pixel-based editing tools that ACDSee provides.
The tools in Lightroom are very organized but not quite as extensive as ACDSee's outstanding management module.
Although ACDSee's user interface is slightly dated, it comes with an extremely customizable user interface to adjust in any workflow in comparison to Lightroom. Consumers can disassociate, budge, pile, or dock panes and toolbars, stationing them nearly wherever they would want. There is a complete accompaniment of known selection tools, unsegregated RAW editing, and non-destructive image processing, so you always have the privilege to test.
ACDSee utilizes licensed technology known as Light EQ to identify picture-perfect subjection in as little as a single click in comparison to Lightroom.
ACDSee assists the Photoshop plugins that are already present as a part of the Edit mode workflow and even permits you to produce your own filters and utilize them in union with the existing top range editing tools.
The difference in Editing Process Between ACDSee vs Lightroom
The below points explain the different form of the editing process between ACDSee vs Lightroom:
Lightroom Editing Process
Start Lightroom.
Choose Files from the System for Importing Purpose.
Import Images to Lightroom.
Choose Files to Modify.
Hit Develop Button.
Modify Image.
Export Image.
ACDSee Editing Process
Start ACDSee Photo Studio.
Choose the Files You Want to Modify on Your System.
Hit Develop Button or The Edit Button.
Save Your Image.
Comparison Table of ACDSee vs Lightroom
Let's look at the top comparisons between ACDSee vs Lightroom. After going through this table, you will get great knowledge about the features of this software.
Basis of Comparison 
ACDSee
Lightroom
Devices Supported
Windows, Mac, iPhone/IPad, Web-based.
Windows, Mac, Linux, Android, Web-based.
Pricing

Starting Price – $64.95
Regular Price – $159.98

Starting Price – $119.88
Regular price – $119.88 per year.

Ranking
22nd
6th
Disk Space
Small
Large
Document Support
Present
Not present
Performance/Speed
Fastest
Fast
Layers and Adjustment Layers
Available
Not available
Multiple Layers
Selection Possible
Selection Not Possible
Editing Source Files
Direct Editing
Have to Import
Customization Of GUI
Customizable
Not Customizable
Skin Tune
Present
Not present
Codebase
C++
C++, Lua
User Interface Layout
Extensive Amounts of Command
Very Less Command
Free Trial
Available
Not Available
Conclusion
ACDSee is an outstanding RAW workflow image processing and management application that is very economically priced in comparison to Lightroom. Some of the user interface components are very peculiarly gauged and obscure compared to Lightroom, and some unrelated organization and review modules could be merged to smoothen the workflow a little further. The management of the files and the demonstration of those files, integrated with the imposing speed at which the ACDSee performs, adds value to it. This can be a significant difference in comparison to Lightroom when you are operating with a substantial quantity of images.
Recommended Articles
This is a guide to ACDSee vs Lightroom. Here we discuss the key differences with infographics and a comparison table. You can also go through our other related articles to learn more –