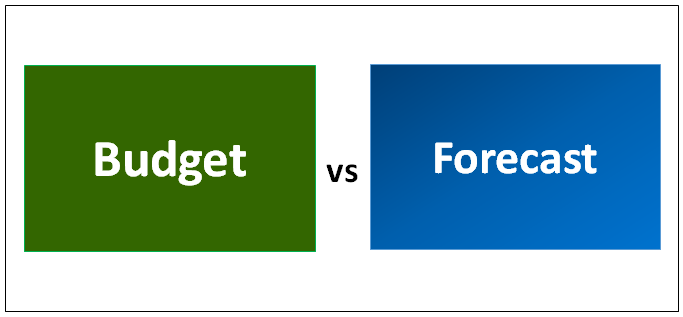 Difference Between Budget vs Forecast
A budget is a detailed statement of expected revenues and expenditure which quantifies the tactical plans of the management to reach a desired goal for the company during a specified period.  Through a budget, you can convert your action plan for your company into estimates of revenue and expenses, cash flows, debt requirements, etc. and gauge the feasibility of your vision and prepare a baseline for comparing your actual performance. Forecasting is an estimation of future outcomes which quantifies where the company is headed during the forecasted period. Forecasts, being strategic, help companies to realize their growth plans. Financial forecasting will help you to model various scenarios and evaluate whether your company will meet your strategic growth plan.
Budget
Budget not only quantifies your execution plan, but it also serves to examine the viability of your plan, the expected financial position of your company and debt requirements, as well as a control technique to evaluate the actual performance. Budgets are usually short-term in nature, done for a maximum duration of an accounting period. You may find short-duration budgets like that for a month based on the company's expense management. The budget is always prepared prior to plan implementation and may be adjusted to better manage the company's operations.
Forecast
Financial forecasting is based on historical data, business drivers, and assumptions of the situational factors expected to affect the company during the forecasted period. As a company manager, you would like to know where your company is actually going. Financial forecasting serves as an input for making budget allocations and helps management to develop its strategic plan. Forecasts can be short-term as well as long-term. There could be quarterly revenue forecasts based on business drivers and past data. There could also be forecasts of cash flows for several years helping management in several aspects like determining the optimal apital structure.
Head To Head Comparison Between Budget vs Forecast (Infographics)
Below is the top 5 difference between Budget and Forecast

Key Differences between Budget vs Forecast
Both Budget vs Forecast are popular choices in the market; let us discuss some of the major Difference:
Budget is a financial statement of expected revenues and expenses during the budgeted period prepared by management before the budgeted period starts. The forecast is the projection of financial trends and outcomes prepared on the basis of historical data
Budget is the quantified outline of the tactical plan that expresses what the management wants the company to achieve during the budgeted period. A financial forecast is the quantified outline of the upcoming business activities that express where the company is headed during the forecasted period
Budgets are usually prepared for one accounting period. Forecasts include both short-term projections spanning one quarter and long-term estimates spanning several years
Budgets are more static in nature. Once prepared, budgets are adjusted less frequently, only when there are changes in assumptions used to make the budget. In contrast, forecasts are more frequently adjusted to vary the assumptions as well as environmental changes and thus include the most recent and relevant data at any time
Budgets are tactical tools that help companies to manage their operations during an accounting period. Forecasts are strategic tools that help companies to plan for their growth over several years.
Budgets provide targets for future performance and hence, used for variance analysis of actual vs expected results. Forecasts are only projections; they do not provide any performance yardsticks for comparing actual results with forecasted results
Budget vs Forecast comparison Table
Below is the topmost comparison between Budget vs forecast
| | | |
| --- | --- | --- |
| Basis Of Comparison  | Budget | Forecast |
| Meaning | Quantitative business plan prepared by management for a future period | Estimate of future trends based on historical data |
| Quantifies | What management wants the company to achieve during the specified period | What the company will achieve during the specified period |
| Time horizon | Usually done for short-term, maximum one accounting period | Usually done for long-term spanning several years |
| Flexibility | Comparatively static, statement updated less frequently to stay connected with prevailing market conditions | Comparatively more flexible, revised multiple times to incorporate real-time data |
| Application | Serves as a control tool for managing operational performance in the short-term | Serves as input for preparing budgets and help management in developing the company's long-term strategic plan |
conclusion
A budget is a management tool used to forecast revenues and expenses during a specified period for the purpose of identifying avenues for cost-cutting and be more efficient and productive in operations. Budgets also ensure a planned approach towards managing cash flows and debt requirements in the business.  Budgets are usually short-term in nature and span a maximum time horizon of one accounting period. Budgets usually represent action plans which management used to achieve their strategic goals
In contrast, financial forecasting is a strategic tool that projects the growth trajectory of a company over several years in the future. Forecasts are developed based on past sales and expense trends, future sales contracts, trends in growth drivers, and changes in internal and external environmental factors affecting the company, for example, changes in competition and market share. In the case of a new company, forecasts would be prepared by tracking the past sales of competitors. Forecasting provides a direction to the company's strategic growth plan and helps in making strategic decisions like new product introduction or acquisitions or addressing the cyclical pattern of demand etc.
Hence, while the budget provides management insight on what they want the company to attain, the forecast shows whether the company is able to achieve its budget or not. Forecasting of sales and expenses from past performance or peer performance provides a guide to developing an effective budget. Comparison of a budgeted summary with the most recent forecast helps management to make required amendments to address changing business conditions and formulate more reasonable budgets in subsequent years.
Budget vs forecast are not mutually exclusive since they serve different purposes. While forecasts help in achieving strategic goals, that is not possible without attaining the tactical goals or management of action plans through sound budgets.
Recommended Article
This has been a guide to the top difference between Budget vs forecast. Here we also discuss the Budget vs forecast key differences with infographics, and comparison table. You may also have a look at the following articles –