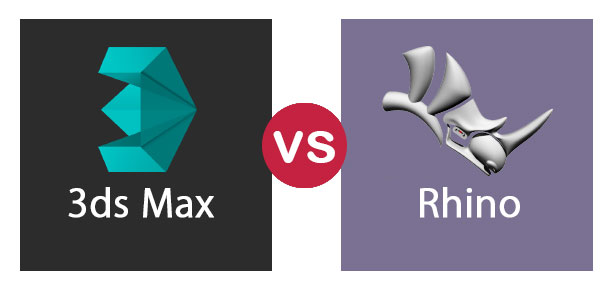 Difference Between 3DS Max and Rhino
Commercial 3D computer graphics and computer-aided design(CAD) software are popularly known as Rhinoceros (Rhino). It was invented in 1980 by an American, secretly held, employee-owned company called Robert McNeel & Associates. Rhino generally comprises of NURBS mathematical model, whose aim is to produce a precise mathematical depiction of curves and freeform surfaces in computer graphics. Rhino has no limits on complexity, degree, or size in translating NURBS curves, surfaces, and solids. It is known for creating, editing, rendering and animating graphics. The geometry created can also be exported to laser cutters, milling machines or 3D printers.
A professional 3D computer graphics program used for making 3D animations, games, models, and images. It was released in the year 1996 and was created and produced by Autodesk Media and Entertainment. Microsoft Windows platform is compatible with using 3DS Max. 3DS Max is a factory of tools and features and is perfect for interior architecture, industrial design, jewelry models, animation models, organic forms, etc. It is also used for movie effects and movie pre-visualization. In addition, 3DS Max has advanced tools for rendering like; Material Editor and V-Ray.
Head to Head Comparison Between 3DS Max and Rhino (Infographics)
Below are the top 4 differences between 3DS Max vs Rhino:

Key Differences 3DS Max and Rhino
Both are popular choices in the market; let us discuss some of the major difference:
3DS Max is more of a professional application used for complex modeling, while Rhino is a commercial software used for simple and basic modeling.
Combining 3DS Max and VRay gives the user high rendered and high-quality results while using Rhino with VRay can be difficult for the user.
While Rhino supports Mac OS with limited functions, 3DS Max doesn't support it at all.
3DS Max has a default rendering method called Scanline Rendering, whereas Rhino doesn't have any rendering software of its own.
3DS Max has a slow NURBS Modeling, while Rhino is known for NURBS Modeling.
3DS Max vs Rhino Comparison Table
Let's look at the top comparison: –
The basis of comparison 

3DS Max

Rhino

Definition
It is a professional 3D computer graphics program for creating models, games, geometry, and animations.
It is a commercial 3D NURBS modeler.
Usage
Used for high-end rendering and animations.
It is much of a general-purpose modeler.
Pros

3DS Max is very flexible software having the best of modeling tools that are easy to understand.
The UV tools provide the user with the satisfaction to work within the same software instead of switching the software, which makes work more simplified.
3DS Max is a multipurpose application that allows the user to convert one format to another and then save the file in different formats.
The greatest advantage of 3DS Max is its rendering software, V-Ray.
3DS Max has an internal scripting language known as MAXScript, which allows the user to write their own tools.
Importing and linking DWG files is also supported by 3DS Max.
A tool that provides a systematic view of scene data and helps in working with a more difficult scene is Scene Explorer which is also a part of 3DS Max.

Rhino is very easy to use the software. The user need not to know all the commands and yet can use them without any complications.
Rhino has file import and export converters for a vast variety of CAD and design formats. Also, the user can expand them with the help of plug-ins.
It has impressive licensing since it doesn't have any subscriptions and mandatory yearly updates. It also has an open policy for educational users.
Rhino's functions are easy and very user-friendly.
Rhino is a very dynamic program that uses the simple functions of 2D CAD drawing and combines it with the 3D capabilities that allow the user for fast prototyping and manufacturing.
Rhino has a lot of plug-ins like Grasshopper or Visualarq that makes it a demanding software.
It relies on a few plug-ins that help in 3D printing and allows the export of them. STL and.OBJ file formats, both of which are aided by numerous 3D printers.

Cons

The tool palettes comprise many different functions, which lead to a very high learning time and a very long execution time.
For a beginner, 3DS Max is quite a difficult software to understand because there is so much to learn.
One of the major cons of 3DS Max is that it crashes and hangs a lot.
3DS Max has tons of animation tools, but sometimes they are not user-friendly.
Some types of modeling need to be added as modifiers since they are old-fashioned and hidden. Without using a plug-in, particle physics is difficult to use.

Rhino's Mac version does not support Grasshopper, so the user has to use the windows version.
Rhino is a bit inaccurate and imprecise. Also, some of the tools sometimes fail to work properly.
It doesn't have a parametric modifier tool, which means editing the shape created, is not possible; instead, the user needs to repeat the entire process.
Rhino is not a standalone product. That means the user should be aware of any associated software like VRay for rendering & Grasshopper for complex parametric geometry.
Using VRay with Rhino is a bit difficult for the user. The texture mapping and animation tools are also limited.
Conclusion
Both are different in many aspects and serve different functions. There is no choice between 3DS Max vs Rhino. 3DS Max has a specialization in high-quality rendering and animation, while for general design modeling, Rhino is the best choice.
While Rhino is a simplified application, 3DS Max is much more of complex software. Still, Rhino cannot be used alone as the user must use different software for different functions. Like VRay for rendering, illustrator for designing and Grasshopper for parametric modeling. While 3DS Max has an inbuilt renderer and can be used as solo software.
Recommended Articles
This has been a guide to the top difference between 3DS Max vs Rhino. Here we also discuss the 3DS Max vs Rhino key differences with infographics and comparison table. You may also have a look at the following articles to learn more-