Updated April 7, 2023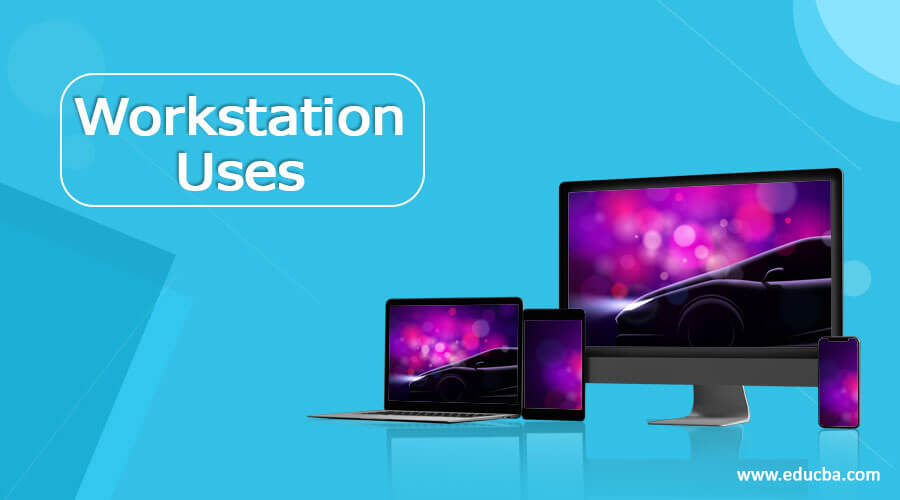 Introduction to Workstation Uses
Workstation uses are defined as the computer system which is designed for the workstation users or single users which has advanced graphics capabilities with large storage capacity and also have powerful CPU therefore; these workstations are used as they allow accommodating high-resolution interface with advanced abilities to communicate with other computers. In general, workstations are primarily used for performing intensive scientific computations, also used for complex financial & business apps and other engineering tasks hence high-end workstations are often used to serve a network of the client computer that makes use of apps and tools to access and manipulate data that are stored in workstations.
Benefits of Workstations Use
Workstations are much better than computers or PC's but their importance is a bit lower than any servers and hence workstations are most widely used for applications that require advanced graphics and data processing procedures. In this section we will see a list of uses of workstation:
As we know a workstation is designed to work better than a desktop or PC, therefore we can say that workstations are widely used when we want to have higher performance than any other desktop or PC. As workstations have more power than PC's they can handle more processing than desktops such as audio/video creation & editing, CAD designing, animation software, data processing & analyzing, and photorealistic rendering, etc.
As workstations are built with higher standards such as motherboard, internal drive, video cards, RAM, CPU, etc which are much better than PC's are used for handling internal workings easier than desktops. Where, workstations are used to work even when humans or any users are off from the workstations and the task needs to be done, then workstations are widely used in such situations, therefore a large data processing or animation creations are done on their own when the workstation is kept on even when users are off to home or away from workstations. Hence, the workstations are used as many more durable systems than PCs.
Workstations are widely used in CAD sector as it uses huge graphics hardware. Workstations are therefore used in manufacturing, designing, architecture, constructing many different applications for better performance and reliability of those applications. In CAD, workstations are widely used as they serve different kinds of computing spaces, finance, etc and hence workstations are more widely sold in this CAD sector than in any other fields.
Workstations are used in the medical field such as 3D visualization of any organ damage or checking of any organs. Workstations are used in the medical field for taking ray tracing using 3D rendering and as in medical-only the 3D surface visualization is not enough and therefore beneath the surface also is important to scan and this is done using high-end workstations that helps in volume rendering broadcasts rays which are very intensive than ray tracing and hence the workstations are widely used in the medical field also so that it gives many accurate results than any other PC's can or scanning.
Workstations are used by photography professionals too. This photography profession needs high-end processing of images which can help many photographers to take out the challenges obtained and also the workstations are used in a variety of photo editing software as they require creating some lively images that they have taken. Some of the workstations like Adobe photoshop, lightroom, GIMP, or Corel help to display the purest color and the brightness of the taken image when this photo is uploaded in any of these workstations. As in this profession, photo editing is a major role in this profession which takes lots of different tools, software when done on desktops but this all is included in one system with a high-end workstation for developing the finest photo images.
Workstations are also used in animation and video editing fields. As large videos with high-resolution graphic videos require lots of processing units and memory when video editing or any animation processes are being done. Workstations are used when the videos can be edited using updated components of workstations which help to edit and render any large video files. These workstations are also used in animation designing fields and also provide privacy to protect data related to video editing or any animator's work data sets. So that these workstations can easily do the processing of such huge data, processing of proper color display of videos. Workstations such as HP ZBook Studio x360 G5 laptop workstations are widely used in video editing and animation designing fields.
Workstations are also used in creating 3D images in any field like medical, photography, mechanical engineering. This is one of the latest and finest uses of workstations in such fields where it helps the user to have easy access to inner components of any images taken which helps to make any modifications to the components of that technology taken as images and many software like Catia and Siemens NX are installed in many workstations for developing different mechanical machines or different mechanical valves and pumps that are used various huge machines parts.
Workstations are also used or helpful for students also in their academics. Students when opting for studying higher education they use workstations for research, project creations, calculations, etc. In student's lives, there are various projects and researches to be handled which helps in displaying detailed modern and sleek designs. Workstations such as HP Pavilion x360 convertible laptop which is very popular for college students use in their academics and also this can be used by teachers also for explaining different computing concepts with detailed images and researches in the classrooms.
Conclusion
In this article, we conclude that the workstations are powerful computer systems that fall between desktops and servers. Workstations are more powerful than PCs but less powerful than servers. Workstation computers are widely used in different fields or various education sectors also. Workstations are mainly used when there higher data processing is required which is not done by the normal PCs. Workstations are also used in medical fields for identifying the faults in various organs. Many such uses are discussed in this article.
Recommended Articles
This is a guide to Workstation Uses. Here we discuss the Introduction, list of uses of workstation. You may also have a look at the following articles to learn more –