Updated April 5, 2023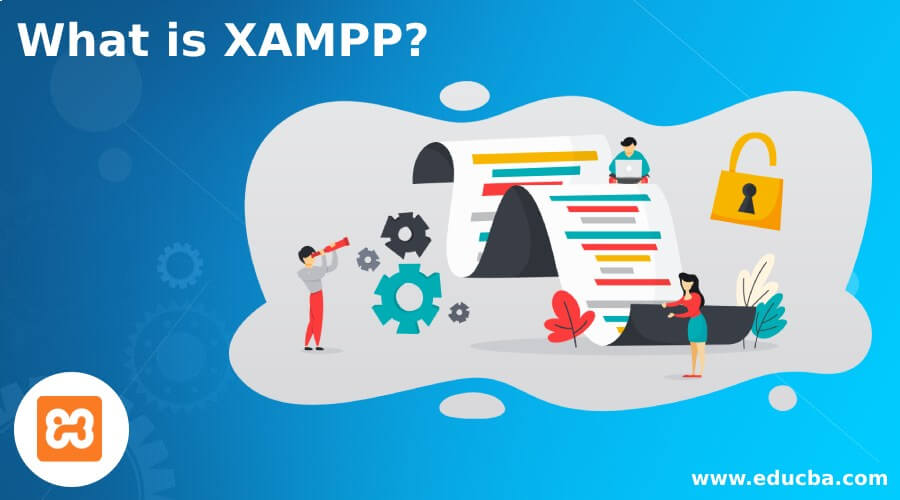 Introduction to XAMPP
XAMPP is a cross-platform web server that is free and open-source. XAMPP is a short form for Cross-Platform, Apache, MySQL, PHP, and Perl. XAMPP is a popular cross-platform web server that allows programmers to write and test their code on a local webserver. It was created by Apache Friends, and the public can revise or modify its native source code. It includes MariaDB, Apache HTTP Server, and interpreters for PHP and Perl, among other computer languages. Because of XAMPP's simplicity of deployment, a developer can quickly and easily install a WAMP or LAMP stack on an operating system, with the added benefit that common add-in apps like WordPress and Joomla can also be loaded.
Need for a XAMPP
XAMPP is simply a local host or server.
This local server runs on your personal computer, whether it's a desktop or a laptop.
It is used to test clients or websites before publishing them to a remote web server.
On a local computer, the XAMPP server software provides a suitable environment for testing MYSQL, PHP, Apache, and Perl projects. Because most real-world web server deployments share the same components as XAMPP, moving from a local test server to a live server is straightforward.
Advantages and Disadvantage of XAMPP
Given below are the advantages and disadvantage mentioned:
Advantages:
In comparison to other web servers such as WAMP, it is simple to set up.
It is Multi Cross-Platform, which implies it works on both Windows and Linux.
With a single command, you may start and stop the entire web server and database stack.
Both a full and a standard version of XAMPP are available.
It has a control panel that you can see contains start and stop buttons for specific mechanisms, such as Apache, which is running through its Control Panel.
It also includes OpenSSL, phpMyAdmin, MediaWiki, Joomla, WordPress, and a lot of additional modules.
Disadvantage:
In comparison to the WAMP server, configuration and setting are more difficult.
Components of XAMPP
The components that are included in the XAMPP are given below:
Cross-Platform: Different operating systems are installed in separate configurations on different local systems. The cross-platform component has been included to improve the functionality and reach of this Apache distribution package. It works with a variety of platforms, including Windows, Linus, and MAC OS packages.
Apache: Apache is a cross-platform HTTP web server. It is used to transport web material all over the world. If someone requests files, photos, or documents using their browser, HTTP servers will serve such assets to clients.
MariaDB Database: XAMPP used to include MySQL DBMS; however, MariaDB has now taken its place. MySQL is one of the most extensively used relational database management systems. It provides data storage, manipulation, retrieval, management, and deletion services via the internet.
PHP: The full form of PHP is Hypertext Preprocessor. PHP is a backend programming language that is most commonly used in web development. Users can use PHP to build dynamic websites and applications. It supports a variety of database management systems and may be installed on any platform. It was written in the C programming language.
Perl: Perl is often referred to as the "generic" programming language. This Perl language is dynamic and interpretable. This language is used for web development, GUI development, system administration, and other things. HTML, XML, and other markup languages are all supported by Perl.
phpMyAdmin: It is a database administration tool for MariaDB.
OpenSSL: OpenSSL is an open-source implementation of the SSL and the TLP.
XAMPP Control Panel: The XAMPP Control Panel is a panel that assists in the operation and regulation of other XAMPP components.
Webalizer: It is a web analytics software solution that keeps track of user logs and reports on usage.
Mercury: It is a mail server that aids in the management of emails across the internet.
Tomcat: It is a JAVA-based servlet that provides JAVA functionality.
Filezilla: It is a File Transfer Protocol Server (FTP Server) that facilitates and supports file transfer processes.
Applications of XAMPP
The creators of XAMPP intended it to be used as a development tool, allowing web designers and programmers to test their work on their personal computers without the need for Internet connections. Many key security elements are disabled by default to make this as simple as feasible. XAMPP is used to serve the web pages on the Internet.
It can also use to create and manipulate databases in MariaDB and SQLite, among other databases.
Once XAMPP is installed, an FTP client can connect to a local host and treat it as if it were a remote host. When installing a content management system like Joomla or WordPress, using a tool like FileZilla. You can also use an HTML editor to connect to a local host through FTP.
Conclusion
XAMPP is a short form for Cross-Platform, Apache, MySQL, PHP, and Perl. XAMPP is a free and open-source cross-platform web server. XAMPP is simply a local host or server that is used to test clients or websites before publishing them to a remote web server. The XAMPP server software on a local computer provides an appropriate environment for testing MYSQL, PHP, Apache, and Perl projects. This method might sometimes help you avoid issues on your live website.
Recommended Articles
This is a guide to What is XAMPP? Here we discuss the introduction, need, advantages & disadvantages, components, and applications, respectively. You may also have a look at the following articles to learn more –