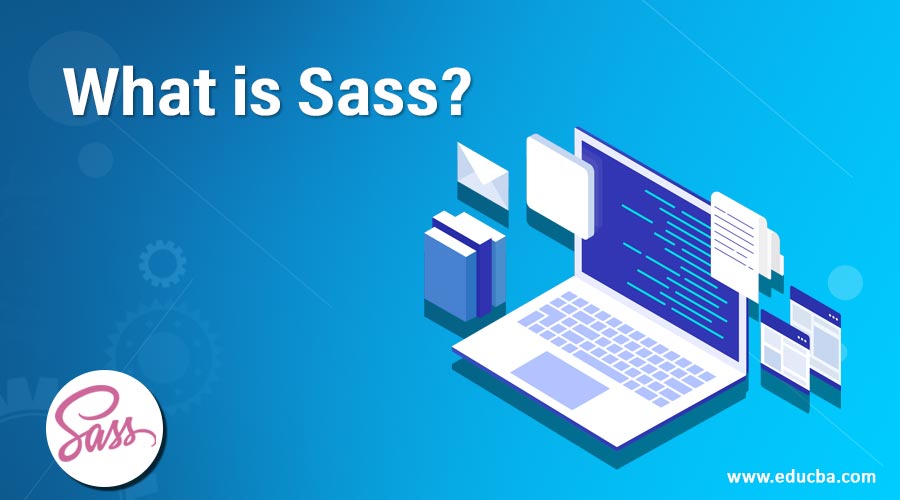 Introduction to Sass
Sass is a CSS pre-processor that helps in reducing repetition with CSS and in turn saves time. It is considered to be more stable and powerful when compared with CSS. It describes the style of a document very clearly and structurally. It helps in getting work done in a faster and better way. With all its features it is mostly preferred over CSS. It allows variables to be defined which can begin with a $ sign. The variable assignment can be done by using a colon. It also supports logical nesting which CSS does not. It enables the user to have nested code which can be inserted within each other.
What is SASS?
SASS is style sheet language that was designed by Hampton Catlin. It is an abbreviation for Syntactically Awesome Style Sheets. It is a pre-processor scripting language that can be interpreted or compiled into Cascading style sheets. It is a more stable and powerful version of CSS which describes the style of any document structurally. It is a mere extension to CSS. It includes new features like variables, nested rules, mixins, inline imports, built in functions which help in manipulation of color and other values. All these are completely compatible with CSS.
Understanding SASS
SASS is considered powerful, stable and fast. The reason for this is that it has differentiating features like variables, nesting, mixins, etc.
Let us go through these ones by one and understand SASS better:
1. Variables
Variables enable the user to define certain values and use them again across the code. These variables are similar to JavaScript. Any variable can be easily defined by adding a $ sign.
Example: $variable-name: variable-value;
A user can define any number of variables as required. Once the variables are compiled they are replaced by their actual values in CSS.
2. Nesting
Nesting helps in defining child selectors inside parent selectors. CSS does not support this and hence makes SASS a more optimized coding language. It helps in writing cleaner and less repetitive code.
3. Mixins
Mixin is another useful feature that can reduce redundancy and makes reuse of code possible. It is similar to functions where a code once defined can be reused any number of times.
4. Partials and Imports
Partials are separate files that can contain code which makes the code modular. By using this feature you can easily have separate files for different components. A partials name is always defined by adding an underscore before the name.
How SASS Works?
To get the code you must make use of SASS pre-processor. It helps in translating the SASS code to CSS. This process is known as transpiring. It is similar to compiling but here instead of converting the human relatable code to machine code the translation is done from one human-readable language to another. The transpiring from SASS to CSS is easy. All variables which are defined in SASS are replaced by values in CSS. This makes it easy to create and maintain different CSS files for your application.
How to Use SASS?
The below steps will guide you on using SASS in the easiest possible way.
Create a demo folder anywhere on your system.
Inside this folder create two folders /CSS and /scss.
Once these two folders are created go to /scss folder and create a file called a demo.scss This extension is scss which means it is a SASS file.
Go to the command prompt and navigate to the demo folder.
Once you are in this folder you will watch your scss files getting compiled to CSS. Type below command in order to watch:
Sass –watch scss: CSS
The watch is a flag that detects the change and compiles the scss file into the final CSS file which can be used in your application.
Advantages
SASS enables the user to write a clean code. It makes it easier to be handled and less CSS is used to construct a  program.
It contains less code which makes it easier to have its corresponding CSS quicker.
It is more stable, powerful and elegant. It is used by designers and developers and helps them in working more efficiently and quickly.
It is compatible with CSS and hence all CSS libraries can be utilized.
It provides facilities like nesting which helps in writing nested syntax and makes use of functions like color manipulation, math functions, and other values.
Why Should We Use SASS?
Below are the five major points why you should use SASS:
Variables: Unlike CSS where you always have to go back and check for your previous styles, SASS has variables that store information and can be reused. All color values, font stack, etc can be stored and used whenever needed.
@import: CSS does have @import which pulls all other styles, but it does not create another HTTP request. SASS is a pre-processor that will pull all files before it compiles the CSS. As a result, the CSS page is handled by one HTTP request. The request can be broken down into chunks and will still serve only one page to the browser.
Color functions: SASS has different functions which are similar to CSS. All these can be easily used in SASS.
@extend: @extend allows us to share a set of CSS properties from one selector to another.
Mixins: Mixins are declarations that can be used throughout the site.
How does this Technology Help you Grow in your Career?
SASS is faster and efficient. The SASS code can be reused and hence it saves time. The conversion of code from SASS to CSS is not hectic and hence it is advisable to be used so that time can be saved. It is an advanced version of CSS. Once you know SASS you can easily get freelance and jobs with big companies. It helps you in working quicker and show your skills with the features that it provides. Whichever programmer who is using CSS and is looking for a more efficient and less time-consuming technology for building web applications can use SASS and experience the new features.
Conclusion
SASS is a very efficient way of replacing CSS. With the variables, nesting, mixin and other features, it helps in providing better results than CSS. When you replace CSS with SASS you can easily reuse your code instead of writing the same piece again and again. Hence use SASS and become sassy with your applications.
Recommended Article
This has been a Guide to What is SASS? Here we discussed the concepts, working, advantages, and career growth of SASS. You can also go through our other suggested articles to learn more –