Updated February 28, 2023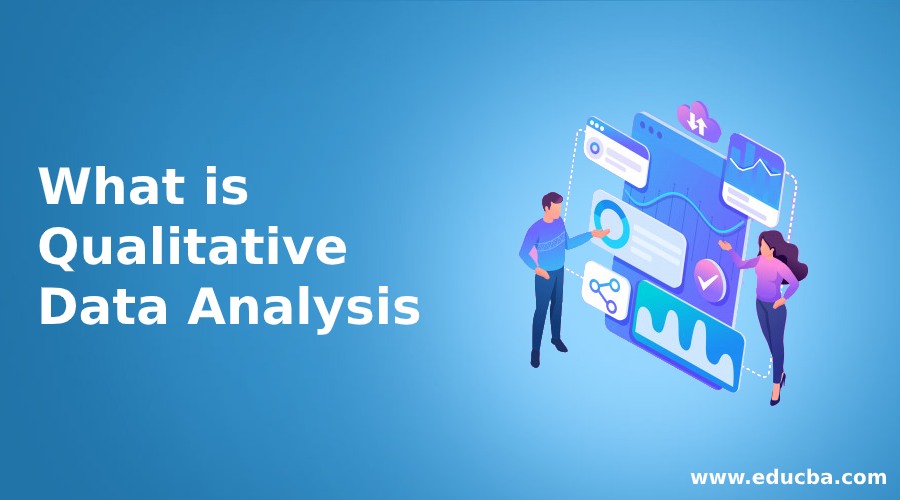 Introduction to Qualitative Data Analysis
Qualitative Data is an information that is associated with ideas, opinions, values, and behaviours of individuals during a social context. It refers to non-numeric data like interview transcripts, notes, video and audio recordings, pictures and text documents. What is Qualitative Data Analysis is commonly subjective, rich, and consists of in-depth information commonly presented with the sort of words. Analysing qualitative data entails reading an outsized quantity of transcripts searching for similarities or variations, and afterwards finding themes and developing classes. The use of qualitative data management reduces technical sophistication and makes the process easier.
What is Qualitative Data Analysis?
 Qualitative Data Analysis is outlined as the method of consistently looking and composing the interview records, observation notes, or completely different non-textual materials that the investigator accumulates to increase the understanding of an event. The process of analysing qualitative data preponderantly involves writing or categorising the information. Primarily it involves making sense of massive amounts of data by reducing the amount of raw information, followed by distinctive important patterns, and eventually drawing meaningful knowledge and later building a logical pattern.
Examples of Qualitative Data Analysis
Qualitative data is additionally known as categorical data since this data can be classified according to classes.
For example, think about a student reading a paragraph from a book throughout all the class sessions. A lecturer who is listening to the reading offers a feedback on how the child read that paragraph. If the teacher offers a feedback supported fluency, intonation, throw of words, clarity in pronunciation while not giving a grade to the child, this is considered as an example of qualitative knowledge.
The cake is orange, blue and black in color (qualitative).
Females have brown, black, blonde, and red hair (qualitative).
Types of Qualitative Analysis
This can be divided into the following five categories/types:
1. Content Analysis
This refers to the method of categorizing verbal or activity data to classify, summarize and tabulate the information.
The content can be analyzed on two levels:
Descriptive – What's the data?
Interpretative – What was meant by the data?
Using content analysis, researchers will quantify and analyse the presence, meanings, and relationships of such words, themes, or ideas.
Content Analysis is employed to spot the intentions, focus or communication trends of a personal, cluster or establishment.
Content Analysis is employed to explain attitudinal and behavioral responses to communications.
It is employed to reveal patterns in communication content.
2. Narrative Analysis
Narratives are transcribed experiences.
Narrative analysis refers to a cluster of analytic methods for deciphering texts or visual data that have a storied kind.
Narrative Analysis involves the reformulation of stories bestowed by respondents taking into consideration context of every case and totally different experiences of every respondent. In alternative, narrative analysis is the revision of primary qualitative knowledge by man of science.
Different approaches to narrative analysis are categorized on an idea of whether or not they target the narrative content or structure, with the thematic version interrogating what a story is concerning, whereas the structural version asks how a story is composed to attain specific communicative aims.
The core activity in narrative analysis is to explicate stories presented by individuals in numerous contexts and supported their different experiences.
3. Discourse Analysis
Discourse Analysis is usually associate umbrella term for several traditions by which discourse is also analysed.
Discourse Analysis may be a technique of analysing a naturally occurring interaction (spoken) and all types of written texts.
It may be a general term for variety of approaches to analyse written, vocal, or language use or any vital philosophical theory event.
Discourse Analysis involves real text not invented, created and artificial text.
Discourse Analysis appearance not solely at an essential level of what is said, but takes into consideration the encircling social and historical contexts.
It maybe a great tool for finding out political meanings that inform written and spoken text.
Discourse Analysis is employed at the beginning of a discussion to foreground the subject underneath discussion and determine it as important to the speaker.
4. Framework Analysis
The framework is an associate approach to qualitative data analysis that provides researchers a scientific structure to manage, analyze, and determine themes, and is especially helpful with massive volumes of text.
This analysis has distinct phases that are interlinked and form an organized and rigorous framework. These phases modify researchers to know and interpret data, and move from descriptive accounts to an abstract clarification of what is happening with the information.
The five distinct phases of Framework Analysis are :
Familiarization: Transcribing and reading the information.
Identifying a thematic framework: Initial coding framework that is developed from each problem – priori and emerging.
Coding: Using numerical or textual codes to spot a specific pieces of data that correspond to totally different themes.
Charting: Charts created using headings from the thematic framework (can be thematic or by case).
Mapping and Interpretation: Looking for patterns, associations, ideas and explanations within the knowledge.
5. Grounded Theory
Grounded theory involves the gathering and analysis of data. The idea is "grounded" in actual data, which implies the analysis and development of theories happen when you have collected the information.
Grounded theory is an associate inductive, comparative methodology that gives systematic guidelines for gathering, synthesizing, analyzing, and conceptualizing qualitative data for the purpose of data gathering and modeling.
In efforts to identify empirical social phenomena, and construct theories that are constrained by those phenomena, majority options and theories of GT adopt 3 major categories of data coding, memoranda, and theoretical sampling.
In GT, data gathering and data analysis are interactive. From the time data assortment begins, grounded theorists interact in data analysis, that ends up in additional data collection, subsequent data analysis, and so on.
Conclusion
Qualitative Data Analysis has seen an increased popularity in the last two decades and is becoming widely accepted across a wide range of medical and health disciplines, including health services research, health technology assessment, nursing and allied health. Qualitative methods explore the perspective and meaning of experiences, seek insight and identify the social structures or processes that explain people's behavioural meaning.
Recommended Articles
This is a guide to What is Qualitative Data Analysis. Here we discuss introduction to Qualitative Data Analysis, what it is with examples and types. You can also go through our other related articles to learn more –