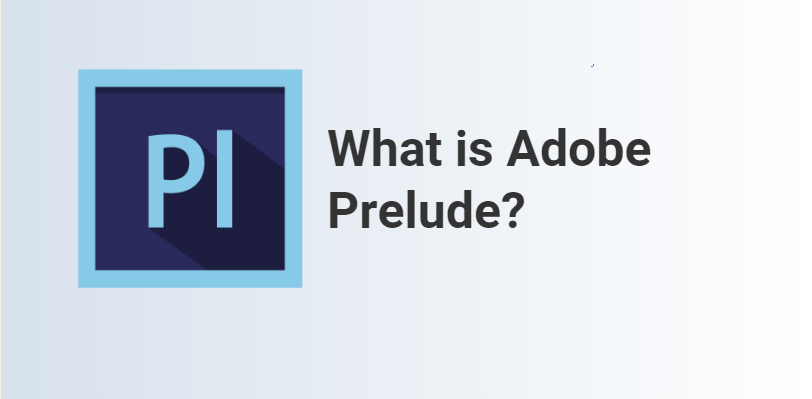 Overview of Adobe Prelude
Adobe Prelude is a part of Adobe Creative Cloud software of Adobe Systems. The program is simple words is footage or a video management program used in the post-production purposes of the film editing and making. Adobe Prelude is an organizer and a management program that can store various kinds of videos in different file formats and convert the videos into a default file format that any video editor and designer can use. The interface of the program is designed in a way that helps users to ingest, transcode, tag, duplicate, comment, and communicate the different data files and media files.
In return, Adobe Prelude is a program that speeds up the process of video editing by combining and converting a large number of files that are video footage and media clips. In addition to this process, the program also helps add markers and take out media clips subdivisions for further use.
How Adobe Prelude Makes Working so Easy?
It is compatible with Windows 10 and Mac Operating Systems. The program is designed in such a way that it is used basically for ingesting and converting media data files into a more specific file format and creating subdivision media clips as well form the footage and then importing the same to Adobe Premiere pro. It is not an independent program used for video editing; rather, it is a software that can be used with as a combination with other video editing programs such as Adobe Premiere Pro. The program makes the working of the user easier and simpler by offering them a platform to ingest, transcode, and implement their raw media footage and work on them at the same time.
What is the Use of Adobe Prelude?
With Adobe Prelude software, one can perform multiple functions at the same time and use the program to create video projects and edit a raw clip that includes large quantities of videos and media files. Adobe Prelude can also be used to create rough cuts and markers in the basic editing sequence, and these rough cuts and markers can also be exported to other video editing programs.
This special Logging feature helps the user create subdivisions of the clip and even add temporary markers. This feature can also be used to import and export the data files and upload the same using Creative Cloud. The program can also ingest and rename media clips and perform data to the files.
Advantages of Adobe Prelude
Adobe Prelude has great compatibility with Adobe Premiere Pro, and the videos can be transferred to the program without any hassle and wastage of time. The interface of Adobe Prelude is user-friendly and efficient, and easier to use. The user can even use Adobe Prelude to provide a hyperlink to the media files, copy the same to another destination, or convert it to another file format.
If the user solely depends on the video editing software for organizing the media files, it will take both time and manual effort. Whereas, when the user uses adobe prelude for management and review of the files, it takes less effort and time. It also speeds up the post-production process and integrates an efficient interface that helps in achieving the target within time frames.
Why should We Use Adobe Prelude?
We should use Adobe Prelude as it has much more to offer than just combining footages together. It also offers an XMP open platform that helps the user to integrate the media data files into other editing programs. These have some of the features imported from Adobe OnLocation. One of the features of Adobe OnLocation integrated is Prelude is the Media Browser that is the default browser for any adobe software.
Scope
Adobe Prelude is said to be a successor of Adobe OnLocation, and Adobe OnLocation has been permanently shut down. The features of Adobe OnLocation have been transferred to Adobe Prelude. The Scope of Adobe Prelude is bright and high as it is the new addition program added to Adobe Creative Cloud Suite. It has multiple functions, and these functions are useful and helpful to the user. The program can be used to make video projects and edit large files at the same time.
Required Skills
As such, there are no specific skills that are generally required to learn Adobe Prelude. A basic understanding and knowledge of Video file formats and metadata can be an added advantage to the user learning the software. It works on raw footage and video clips, and thus a fundamental knowledge about the same can prove to be helpful to the learners.
Career Growth
It is a management as well as organizing a program that helps in ingesting, transcoding, communicating, developing and tagging media files and video clips. Learning this technology will help the users in the long run, and they can make their careers accordingly. Adobe Prelude alone cannot help anybody, but it will certainly help users manage, organize, and distribute the enormous amount of media in the post-production process of video editing. This can help the user to choose the right career path and future prospectus.
Conclusion
In the end, it is right to be concluded that Adobe Prelude is a useful program with an extensive toolset and functions that helps the user extensively and makes their work easier and fun to do without spending hours on organizing and managing data to having a separate program for all these functions.
Recommended Articles
This is a guide to What is Adobe Prelude. Here we discuss the concept, scope, required skills, and career growth of Adobe Prelude. You may also look at the following article to learn more –