Updated April 7, 2023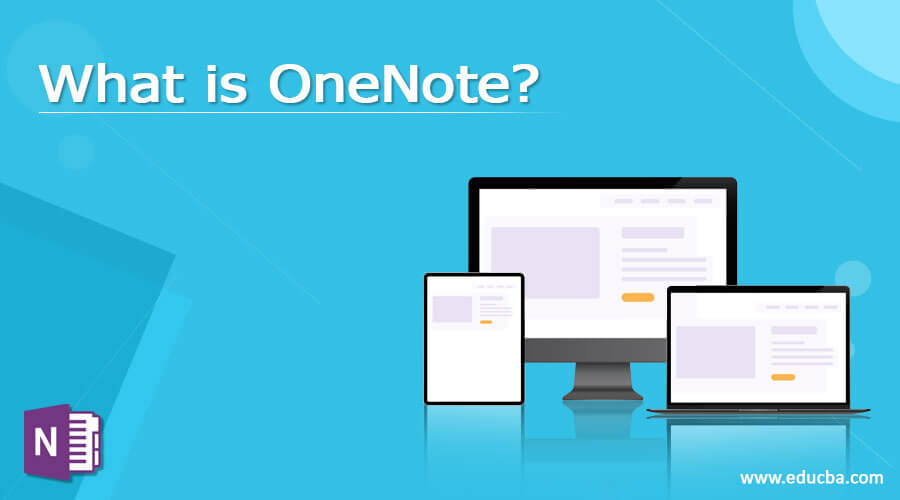 Definition of OneNote
Microsoft OneNote is a digital equivalent of a physical notebook. OneNote stores information on various subjects and interests in digital notebooks in the same way as students maintain different physical notebooks for each of their subjects and dividing each of their notebooks into multiple sections for capturing notes on various topics in a given subject in the allotted pages for each topic.
OneNote, a note or information capturing tool is offered as an app along with Excel, Word, PowerPoint in Windows 10/ Office 2019 package. This app enhances the productivity and user experiences of white-collar workers and general home users.
Why do we need OneNote?
Ideas capturing is made easy
OneNote offers a perfect platform to capture ideas in a text or handwritten format or stylus scribbling format in notebooks. It also enables users to organize/reorganize the data across various sections in a notebook and link the data with other data parts for attaining good insights.
Data capturing can happen through any devices like Desktops, Laptops, Tabs, and Smartphones, and OneNote support any operating systems in these devices. The data is captured in OneDrive in cloud. Users can record the data as it happens, on the go, through any of the above devices and the captured information can be viewed from any other devices instantly.
Collaboration happens in real-time
The information captured can be shared instantaneously with team members or peers or family members seamlessly and their inputs can be taken for further processing. This collaboration has no geographical barrier and takes place in a real-time mode. OneNote provides a security layer for the confidential data shared with password protection so that only the right users consume the data.
Effective Project Management
Project documents can be created in OneNote platform with periodical updating of status by concerned team members and viewing by others. This method avoids
a. Maintenance of project-related documents such as Status reports, tasks, agenda, Meeting requests, and Minutes of meetings separately and multiple versions of it floating among users.
b. Sharing the copies externally through E-mail
c. Constant exchange of communications among members through Chats and mails
OneNote provides a foolproof mechanism in running projects in an efficient and agile manner.
OneNote enables sharing of information among the user groups as quick notes before the meetings and during meetings. Audio files and video files can be uploaded along shared among the users along with quick notes.
OneNote data components are well integrated with Microsoft and non-Microsoft applications and it's a known terrain for the users to operate and collaborate.
How OneNote Works?
Notebooks
The data to be handled in OneNote need to be grouped under various subjects. A separate notebook can be created for each subject. When OneNote is installed it creates a default notebook. Users can create as many notebooks as the number of subjects to be handled.
Sections
Sections can be used to compartmentalize the data within a notebook as per the topics in a subject. Any number of sections can be created within a notebook and it should be meaningful and manageable.
Pages
Each section is further divided into pages and the pages could be the last level at which the data is stored. The no of pages to be created is as per the need and it should be at a manageable level. If the user still requires one more level to avoid cluttering of data and effectively manage the data, users can go in for another level called subpage. The data can actually be stored in subpages.
Storing data
Data in any format can be stored in pages/sub-pages of any notebook. It can be a structured data file, text file, handwritten file, stylus scribbled file, Audio/Video file, Images, Drawings, blogs, Sticky Notes, Quick notes, Web clips, and pages.
Links to another part of data can be created for seamless knowledge dissemination and comprehensive learning.
Information can be clipped from the web and stored on the appropriate pages.
Integration with other software
OneNote is a part of Office 2019, data interfacing with other office products is simple and integration with other Microsoft products like Outlook mail is also easier. Integrations with non-Microsoft apps are possible with help of plugins and customized interfaces.
Retrieval of data from OneNote
Data components from any part of the active and inactive notebook can be retrieved with little effort in OneNote. One need not have to remember what has been stored in OneNote and this global search retrieves the data from every nook and corner.
Advantages and Disadvantages of OneNote
Advantages:
1. Provides a comprehensive tracking tool to manage big projects obviating the need for managing documents and project management actions separately
2. Defines a clear workflow for various processes to efficiently handle day-to-day operations.
3. Acts as a good knowledge repository
4. Due to its cloud deployment it facilitates the Work from anywhere concept.
5. It supports all the devices with any operating system.
6. Versatility in storing/retrieving data in any format in a secured way.
7. Flexibility and user-friendly operations attract not only business users but also general users including students
Disadvantages:
1. New users find it difficult to understand the nuances of the tool while using it. More tutorials and training sessions would address this issue.
2. Lack of AI features especially Natural language processing to locate data in OneNote
3. This tool has few issues in integrating files created in few external applications and it can be fixed.
4. Tagging of pages is not that elaborate and it is currently limited. It had to be improved to expand the scope of search operations.
Uses of OneNote in Various Fields
1. Business users: To store their individual ideas and share them with their peers and colleagues.
2. Project team members: To store project documents, update status, meeting agenda, minutes of a meeting, and track progress
3. Employees: To store training materials, notes during a training session, and knowledge nuggets to remain contemporary
4. Family members: To store recipes, shopping lists, budget expenses, social photos and collaborate with family members while on the move.
5. Students: To store the study materials subject-wise and notes in various notebooks.
Conclusion
OneNote is a versatile tool that empowers users to organize their data content efficiently to achieve productivity and agility.
Recommended Articles
This is a guide to What is OneNote?. Here we discuss the definition, Why do we need OneNote?, Uses, advantages, and disadvantages. You may also have a look at the following articles to learn more –