Updated March 4, 2023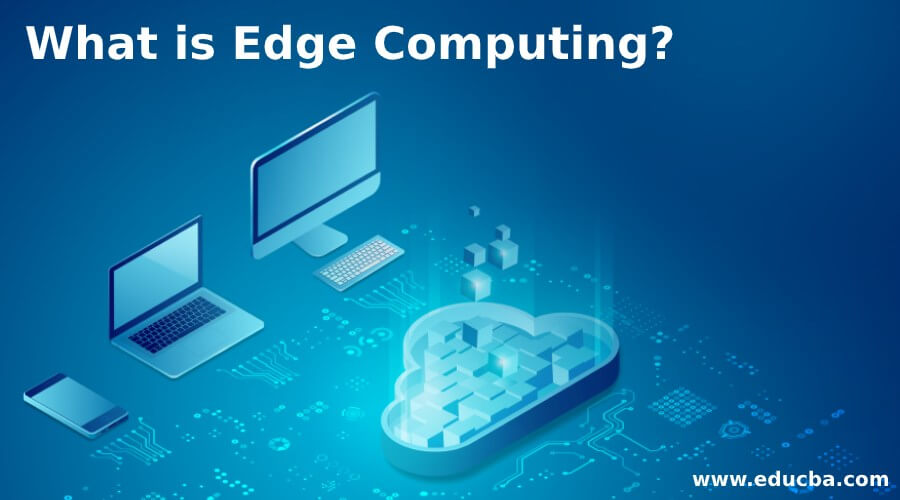 Introduction to Edge Computing
Cloud, IoT and Artificial Intelligence are a buzzword for edge computing. Simply stated, the decentralization of networks requires Edge Computing. Edge Computing is the next technological breakthrough. The actual sense of the term 'Edge' is the place on the earth for the delivery of services. It is a distributed computer system that enables data calculation and storage to be too closely linked to the source (where data is necessary). It closes computation as closely as possible so that bandwidth is reduced, response time increased and latency is used. The idea assumes that the computation of data is distributed rather than centered at a centralized location.
Why Edge Computing is Important?
Edge Computing is a new kind of technology that not only saves time, but also reduces maintenance costs and extra costs.
The following are the reasons for answering the question:
t enables smart applications and devices to react to data very rapidly when data is generated and therefore to eliminate lag time through edge computing. It also allows acceleration of data streams that involves data latency-free real-time computation.
The acceleration of data transmission is still important for the technology of self-driving vehicles, giving companies similar and essential benefits. Efficient large-scale data processing by enabling source-near processing, saving internet bandwidth as well.
This lowers costs and makes the applications in remote areas available effectively.
The capacity is to provide the most remote services and data processing makes the sensitive data a protected layer without storing it in the public cloud.
Applications of Edge Computing
Today the world is dependent on the Internet from small to large, which is why IoT prices like sensors and computer costs are also reduced. More items will continue to be linked to the Internet in this way. This leads to the development of more embedded devices and edge computing on demand. In the following fields, Edge Computing is potentially beneficial.
1. Transportation
It is one of the most potential sectors in which edge computing, particularly in autonomous cars, plays a vital role. That is because independent vehicles are packed with various types of sensors, ranging from camera to car radar. These independent devices may actually use edge computers in order to process data over these sensors too close to the vehicle and thus save a good deal of time. But these self-sufficient cars have not become the mainstream yet.
2. Healthcare
People rely on fitness trackers, smartwatches, resistance testing watches, etc. and are comfortable with wearing health tracking. However, in real time research, the real importance of the gathering data is understood by the fact that certain health wearables are connected directly to the cloud, while others can only be run in offline mode. Some healthcare systems measure the pulse and sleep cycle only offline, and physicians use the study findings to review and assess the patients on-site.
3. Remote Monitoring of Oil and Gas
IoT systems currently have advanced safety monitoring and sensory instruments for temperature, heat, odor, vibration, and oil and gas radiation control, monitoring and sensing. IP cameras and other IoT devices produce large and continuous data volumes, and then aggregate and analyze the data to provide a accurate understanding of the health of a running system.
Benefits of Edge Computing
Given below are the benefits mentioned:
Data is located in edge computing near the source, which distributes the data processing work through many datacenters and computers. It protects the data from cyber threats of any sort and may be vulnerable to sensitive data such as the security of data from DDoS attacks.
With it, scaling becomes simple, where edge devices with high computational power can be bought to improve their edge network. There is no need to create your own private and centralized data centers to meet your data requirements. Combine edge computing and positioning services to extend the edge network.
There are numerous IoT applications that function together, and the server will definitely slow down when they are centralized. In addition there is a vast amount of data which can generate confusion for all servers and all IoT devices fragments. However, the devices attached often fail if the server slows down or crashes.
Disadvantages
Given below are the disadvantages
As in edge computing, data is stored at distributed sites, and protection in such a setting is a challenge.
Theft and cybersecurity concerns are also difficult to be found. Furthermore, it will open gates to attackers to damage the data if new IoT devices are installed.
Edge calculation is considered to save many costs in buying new appliances, but edge calculation is also costly. This means that the prices are too high.
Recommended Articles
This is a guide to What is Edge Computing? Here we discuss why edge computing is important? applications, benefits, and disadvantages. You may also have a look at the following articles to learn more –