Updated February 28, 2023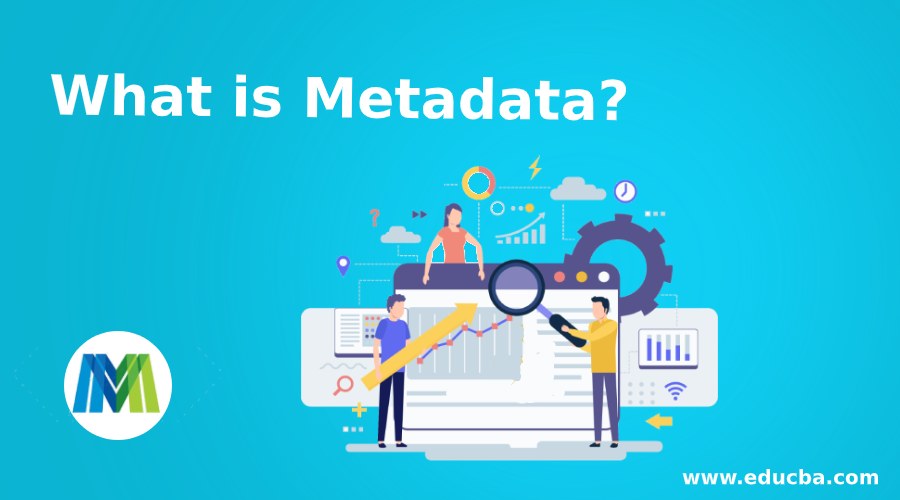 Definition of Metadata
Metadata means data or data identifying other data. In technology circles, the prefix "meta" generally means " an underlying concept or explanation". It makes it easier to locate and interact with data – so that users can filter or search different records. The author, the date created, the date changed, and the file size are some basic examples. It is used for unstructured data like photos, videos, web pages, tablets, etc. Metadata in meta tag form are also found on the Web pages. Meta tags are also used to define content inside a web page with metadata and keywords. These data may be used by Search Engines to help explain a page's content.
It is possible to construct metadata manually or automatedly. Accuracy is improved by manual production as the user may insert relevant information. Automatic generation can be more general, usually showing only simple details like file size, file extension when, for example, the file was generated.
Types of Metadata
In a data warehouse, metadata is divided into three major parts: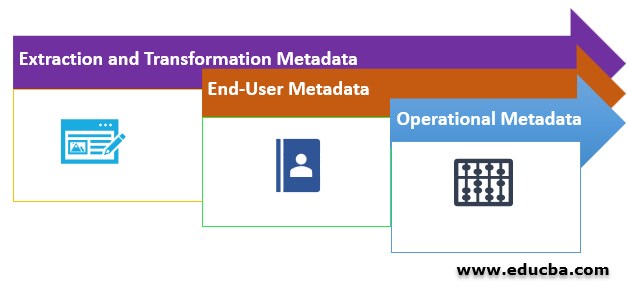 1. Extraction and Transformation Metadata
Data on data removal from the source systems are included in extraction and transformation metadata, including frequencies extraction, extraction methods and data extraction regulations for business purposes. This category also provides details on all transformations in the data staging area.
2. End-User Metadata
The data center management map is the end-user. It allows end-users to find data holdings information. The end-user helps end-users to use their company jargon and to search for information according to their overall view of the service.
3. Operational Metadata
As we know, data from different operating systems of the organization come from the data warehouse. These sources include numerous data structures. There are various field sizes and types of data elements selected for the data storage. We division details, merge document facteurs from different source files and handle various coding schemes and field lengths in order to choose information from the source systems for the details warehouses. We have to be able to connect this back to the source data sets when we provide information to the end-user. All this detail on the operational data sources is found in the operational metadata.
How is the Metadata Used?
Document metadata provides information on when it was created when it was last updated, a document like an author and its size. Web page metadata is used to define the website and to promote the interpretation of the website for search engines and other computers.Video and photo metadata are photo data that includes location, resolution, and other useful information in an image. Video and Photo metadata.
Purpose
With one of the most common resource discovery, it can here be contrasted with successful cataloging, which consists of recognizing resources, describing them according to criteria, combining related resources and distinguishing between the different ones.It is also an efficient way in which electronic resources are coordinated; an essential use as web-based resources are that. Typically, resources links have been identified and created as static web pages with hard-coded HTML names and resources. However, the use is to create such pages is a more successful technique. For web purposes, software tools can be used to extract and reformat the content.
Metadata Interchange Initiative
The proposal for the metadata exchange was designed to put industry providers and consumers together to resolve a number of serious problems and concerns in the storage, storage, and management. The purpose of the metadata interchange standard is to establish an expandable mechanism to allow the seller to share and bring 'patent' metadata. The initial goals were agreed upon by the founding members:
Establish common frameworks of access and application programming (API) that are independent from the manufacturer, industry-defined and maintained.
Enabling users to monitor and manage access and management through interchange tools which comply with standards in their own unique setting.
To define a simple, clean architecture for implementation that promotes compliance and accelerates adoption by minimizing the number of changes.
To develop a method and process to update and improve it over time, not just to retain and create an interchange standard specification.
Benefits
Following are the benefits given below:
It offers a range of tools to handle through enterprises.
It enhances operational efficiency, simplifies the way knowledge is handled and accounted for.
This provides specifications for CASE creation that can exchange and reuse metadata.
It offers a valuable method for handling organizational information assets in the database.
It offers a relational model to exchange knowledge with heterogeneous RDBMS.
Recommended Articles
This is a guide to What is Metadata?. Here we also discuss the Introduction and types of metadata along with how is the metadata used?. You may also have a look at the following articles to learn more –