Updated May 29, 2023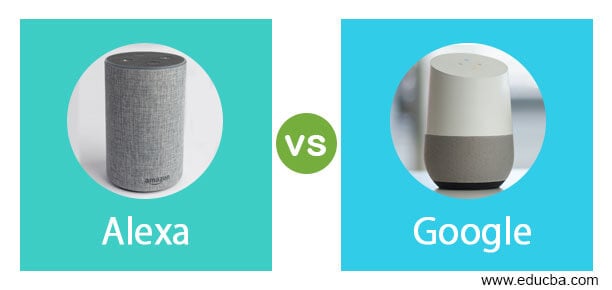 Difference Between Alexa vs Google
Alexa vs Google Assistant are household names today, and they assist people in carrying out many tasks digitally without having to move anywhere and use a keyboard. They are the most popular virtual data assistant tool designed by Amazon and Google, respectively, and they deploy Machine learning, Natural Language Processing, and Voice recognition features of Artificial Intelligence technology in developing these tools.
Crotona of Microsoft and Siri of Apple are competing products for Alexa and Google Assistant. Over the last five years, Alexa and Google Assistant have honed their features, plugged the gaps, and improvised the function of their products. Feature and performance-wise, both of these products have matching capabilities, and still, there are subtle differences between them, and in this article, we will try to bring them out.
Alexa
Launched in 2015 as a voice assistant platform in Amazon Echo, a smart speaker capable of listening to users' requests and responding in the same language and tone. Later in 2017, it expanded to third-party products and added new capabilities.
This intelligent personal assistant, based on a command from the users, searches Web information, adds events to the calendar, maintains a to-do list, sends alerts to the users, Orders products online, triggers events, plays movies and music as per playlist, and does many more tasks. Thousands of third-party apps bring out the best in the Alexa platform and offer multiple new capabilities.
Google Assistant
This voice-assisted digital assistant tool, launched in 2016, provides information from the web, books tickets, sends emails representing users, and performs many more actions. It takes voice commands and typed requests without a voice interface. Google Now was the first digital assistant product from Google. Google Assistant was the next improvised version with AI features, and it connected Google software products with hardware products.
Head to Head Comparison Between Alexa vs Google (Infographics)
Below are the top differences between Alexa vs Google.

Key differences between Alexa vs Google
These products have attractive features and won accolades from user groups for their novel ideas. In such a scenario, comparing the products is a complicated process. We will compare these two products' software, hardware, voice recognition, and other customer-centric features.
1. Hardware Design
Alexa and Google score equally in aesthetics; these products are attractive and covered with fabric to reduce vibrations. Though Google Home has more color options, the Amazon Echo device looks more artistic with a wooden finish on its sides and is pleasing to the eyes. Google device is bulky in size, and it resembles a speaker and needs to mix better with the ambiance. The sleek design and the Cylindrical shape of Echo devices score over the curved top and organic forms of Google. Amazon has a broader product line in its speaker, displays and continuously innovates its products, and brings more personalization to its effects.
2. Apps
Third-party apps in Alexa provide all the functionalities that end-users need, and it compensates for the gaps in the original app offered by Alexa. More than one lakh of such apps are in the Alexa store, and there is every chance any weird requirement of users will be met. Over and above, Alexa allows the development of new apps by the internal developer, providing the necessary templates and integrations.
Google Assistant has inbuilt more than 10 lakhs of actions and commands into the product, and it may cover all the possible queries of end-users. It doesn't have to depend on third-party new add-ons. Google allows users without any programming knowledge to develop custom actions.
3. Voice Recognition
Google Provides better-sophisticated features for managing the voices of multiple people in a household. Its product, Voice Match, offers more personalized elements like maintaining profiles for individuals for a better interaction experience with the devices for the users. The profile contains calendars, photos, payment details, flight preferences, default media services, etc.
Alexa is not sophisticated in maintaining individual profiles; a few details, like shopping, messaging, and limited media options, are only stored.
5. Smart home features
Users can perform various multi-actions by connecting devices through the Alexa platform. The action includes automated switching on/off bright lights upon some triggers or events and activates home devices when the user is about to reach home etc. Google has limited such actions as controlling the device through voice commands or a schedule.
6. General Knowledge
Both Digital assistants are equally strong and capable of answering the users' queries; Alexa has a little edge over Google in providing crisp, short, and straight answers to most of the users' queries.
7. Map Directions
Google gives more accurate time estimates, manages transit effectively, and provides correct route suggestions after reviewing the traffic conditions threadbare. Alexa lags in all the above features.
8. Language Support
Alexa handles multiple languages, but third-party apps manage translations, and it is more complex. The inbuilt translation capability in Google provides easy and effective translation services.
9. Collaboration
Alexa has a slight edge in making phone calls, video calls, and texting over Google because of its seamless integration with Skype and intercom features for broadcasting messages with other Echo devices in the house.
10. Music and Podcasting
Both the assistants are at an equal level in this area, and Alexa scores over Google in offering integrations with big players like Apple Music and Podcast.
11. Entertainment
With the help of third-party apps, Alexa can serve users intelligently to book tickets.
Comparison Table of Alexa vs Google
Now let's draft the comparison in the table below.
| | |
| --- | --- |
| Alexa | Google |
| Devices have a sleek design, Cylindrical curve, and wooden finish. | Devices are bulky, and have organic shapes. |
| Devices mix well with the ambiance. | Devices have the look of mere speakers. |
| More innovations and personalization are available on the hardware front. | Offers more color options for its devices. |
| Has a wider range of devices in its stable. | Limited range of products. |
| Lakhs of third-party apps enhance the features of this platform. | Millions of In-built actions and commands provide all the functionalities the user needs. |
| A new customized app can be developed using the development kit provided by Alexa. | Customized actions can be developed without having to know to program. |
| Limited parameters in the personal profile are maintained. | Multiple parameters are maintained in a personal profile to enhance user experience in a multi-user household environment. |
| Provides more functionalities and automated actions with the devices connected under a smart home in this platform. | Limited functionalities are available. |
| Crisp, short, and straight answers for the user queries. | Roundabout answers in some cases. |
| In the Map and direction functionality, Public transit is not handled efficiently. | In Map and Direction functionality Google provides accurate time estimates, route suggestions, and effective public transit. |
| A third-party app handles language translation, and it is not effective. | The in-built translation facility is very effective. |
| Integration with Skype and connectivity with intercom numbers provide a strong collaboration feature to this platform. | Limited integrations with collaboration platforms. |
| Limited Integrations with music platforms. | Integration with all the major music and podcast platforms |
| Integration with the Amazon store provides a great shopping experience for users. | Has limited shopping features. |
| Provides unlimited entertainment options through Amazon Fire TV and Fire TV Edition. | Limited options in the entertainment section and roundabout connections to avail services. |
Conclusion
It is a close race between Alexa and Google, as both are impressive in their own way. Alexa, with the help of numerous third-party apps to achieve any needs of the consumers and the strong support of Amazon in the backend, wins the race by a narrow margin.
Recommended Articles
This is a guide to Alexa vs Google. Here we discuss the Alexa vs Google Key differences with infographics and a comparison table. You may also have a look at the following articles to learn more –