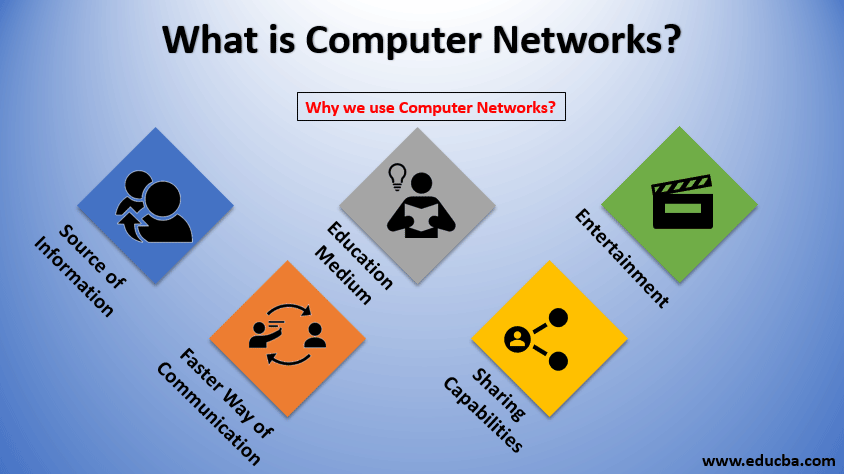 Introduction to Computer Networks
A computer network is a digital telecommunications network that uses a popular telecommunications technology to share resources between nodes, which are computer devices. It is the interconnection of multiple devices, commonly known to as Connected Hosts using multiple paths for sending / receiving data or media.
Why we Use Computer Networks?
The need of present-day computer network can be well understood if we consider the following scenario – which says imagine a world with no e-mails, online news, blogs, communication channels. Will, it is not unfair to human society as we need to connect among our self for better intellect on the global platform. There can be n number of cases that favor the importance of computer networks.
The below points are worth noticing.
1. Source of Information: The computer network was created with a vision to be a medium of information. Talking of the information it can be anything forms as small as an inquiry about ticket reservations to weather forecast information and from social media to watching movies online. Anything and everything under this sun under the spectrum of information exchange come under the concept of computer networks.
2. Faster Way of Communication: Definitely a faster and accurate medium of procuring information. What we need in terms of the information we get on a click.
3. Education Medium: It is a trusted medium one can rely upon during the learning phase. Either it is students or professionals all look after the computer network as a medium of gaining information.
4. Sharing Capabilities: A user van shares any kind of files locally or globally based on his needs by leveraging the benefits of computer networks, apart from this the computer networks also makes the user share their hardware like printers, scanners, and drives. In addition to this, it enables its users to share applications as-well.
5. Entertainment: It was doe to computer networks that we in our childhood days have played internet games. It facilitates its users to play a single game with multi-users.
Importance of Computer Networks
There are multiple reasons why a computer network is essential for any kind of business, schools, and colleges (academics) and even to individuals.
The below points are worth noticing –
Cost Cutting: Every organization looks for a feasible way to reduce wastage. Computer networks do the same by managing resources efficiently. The hardware setup is a troublesome task for any business with the computer network these hardware's are interconnected and leads to resource pooling, avoid unwanted software installation from time to time.
Fix Your Storage Related Problems: We know that a computer network puts their data to some central servers or repository which is accessible to employees or users as and when needed or as per authority, but under whatever reasons they need certain kind of information you are minimizing the storage consumption with increased efficiency.
24*7 Access on The Go: Isn't it great if some information is accessible anytime anyplace. Yes, because of that, we can get details whenever we need to.
Data Security: a business can never think of completely secured without protected access to network resources and files. You can grant access to a particular user community with a certain type of data utilizing computer network features.
As everything has some benefits associated with it, the same way there are some limitations as-well which is even crucial for our readers to know.
Limitations
These limitations can have several reasons from a technology point of view and at some time the user's community also contribute, let us see some of them –
Security Threats: security breaches are possible to occur for any secured systems of technology. This is something we cannot ignore either we can be relaxed about it. There are threats all across the globe with evil minds trying to restrict its full potential. So we can say that these are under a constant threat of misuse.
Need for Effective Handler: There are some responsible people behind any good thing. There are huge configurations and settings that go behind the proper working of the computer networks. A full group of technicians is working behind it which creates huge maintenance chares. If there is the slightest mistake then the entire user community has to suffer the problems.
Expensive Setup: setup is very expensive and also demands a constant check-up. Its initial setup is huge and depends upon the number of computers and other devices that needs to be connected. Devices like switches, hubs, routers add a huge sum to the business.
Advantages
Some of the advantages are given below:
A source which enhances communication and information
A convenient way to share a resource
Files sharing made easier
Highly flexible
Cost-effective solution
Boost storage capacity
Creates more opportunity for IT
Makes work collaboration easier
Quick file transfer
Opportunity to learn and explore about this technology
Conclusion
The quality technical solution serves as a success factor since humans have believed in information technology. We can consider the computer networks as one such essential solution, it has a wide spectrum of potential suitable to an even a wide range of businesses in any format. We have in the above section we tried to cover the possible pros of this technology and at last, we are leaving our audiences with one concluding statement with a belief that our readers will emphasize on it
"Until and unless you have full control over the workplace you can never think of full control over marketplace"
Recommended Articles
This is a guide to What is Computer Networks? Here we discuss the introduction to What is Computer Networks along with the importance, uses, and advantages. You can also go through our other suggested articles to learn more –