Updated March 10, 2023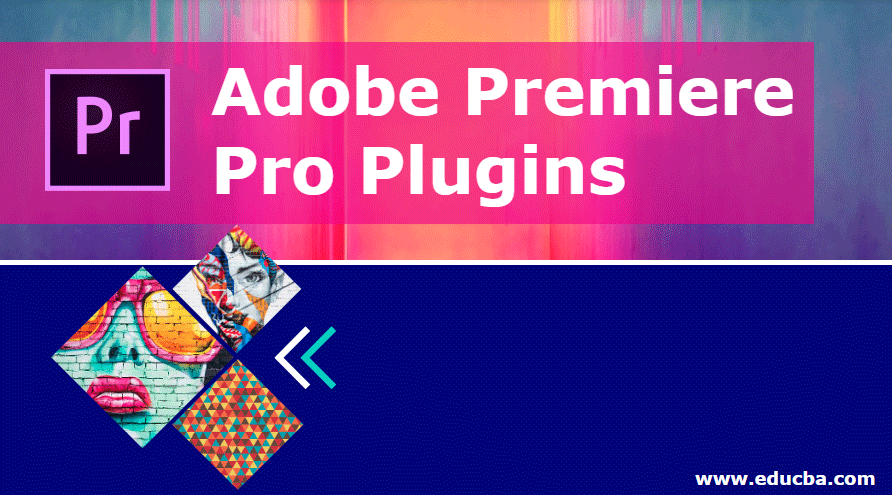 Introduction to Adobe Premiere Pro Plugins
Adobe Premiere Pro is a video editing tool based on timelines respective which are developed and maintained by Adobe Systems. The professional video editing tool is encouraged by many TV, Film, graphic, and animation used in their studios to enhance the videos in their channel, studios, theatre, etc. There are many elements to work in adobe premiere pro. Adobe systems encourage third-party plugins and tools to increase the capacity of visual out of the product for clients through an application. Today we are going to see a few third-party plugins based on the usage and purposes requirements of the projects.
Top 6 Adobe Premiere Pro Plugins
Many legal third party plugins can be used and officially entertained. We are going to discuss a few adobe premiere pro plugins and their importance of usage and impact on the output file quality and visual standards. There are many advantages of using plugins; they save time and efficiency for users to achieve nice and eye-catching creative output videos.
1. Film Impact
Film impact is a plugin used for getting high-quality video transitions. It is suitable for both Mac OS and Windows OS. There are 2 service packs within this. It has multiple uses to use for mentioned below.
Pack1: This set up a new view and quality of video transitions along with few powerful controls on effects such as blur, flash, color, push and roll impacts to switch from one to another frame compatibly.
Pack2: Along with ten transitions, it gets to add to our editing toolbar and improves GPU performance to deliver the best performance while rendering and getting effective output. This can be used in the personal setup and also for professional setup to improve the standards of Video quality by the end.
2. ABSoft
It's one of the effective plug-ins that work on clearing and reducing the noise from random frames, refines grain quality; it's with analogue interference. It contains all new and old temporal filters to maintain accuracy and details. The original file remains safe, and new attribution and edits will be created as new copies of the same by this original file will be safe. This is used in YouTube video making and film and television post productions projects.
3. Boinx
It is a complete setup of the built-in setup of presets for 3D filters, animation controls with a wide range of flexibility to work on single footage. A user-friendly plugin to switch between multiple presets makes it the most useable plugin. All video editors and users of Adobe Premiere Pro users must try and use it in their daily work requirements and check the impact.
4. Creative Impatience
Here we are going to talk about plugins that fall under this Creative Impatience category.
Feathered Crop: This plugin is flexible to use in operations for both Mac OS and Windows. This plugin allows for crop images and adds additional features like frame, boundaries, and more; the edit can be performed both in and outside the layers. The graphic plugin handles the OS bit value 32 bit or 64 bit to deal with User Interface and handling RGB and YUC colors for the area.
Vignette: This plugin allows the creation of a vignette to the frame with multiple rectangular and elliptical shapes and with different effects. This can be used to show past or history scenes for visual narration to get the feel. Color adjustments and blundering will be taken care of accordingly. We can use multiple layers and masks to apply changes.
5. CyberLink
This plugin is used in the stabilization of VR within video footage when shooting. It is suitable to work for Premiere Pro and After Effects. The option of stability does not disturb the frame and allows the makers and viewers of the footage to concentrate on the subject and know exactly what is being tried to explain by the concept of making this video by a director or the content makers.
6. Digital Film Tools
This plugin is a combination of multiple filmy tools within. Let's see one after the other now.
DFT Film Stock: It is a different set of filters with different color combinations than the regular one's stimulating with few add-ons such as photographic film stock, motion picture films stocks, effects, and historic photography process. It has a scan and recording option within and a huge library with a set of different looks.
DFT Photocopy: This is used to enhance the photo and video properties such as brightness, tone, details, graining, colors, and textures with old and new in the market; many filmmakers have used this already in their projects. We can create our own cam property profile by default until we complete the same projects so that every frame looks unique. Avoid replications, and auto stimulation will be taken care of while handling.
DFT Rays: This allows us to add suitable lighting based on the environment, such as narrow, deep lightning in forests, focus lights at stage performance scenes. Lights look as natural as few sunlight, bulb, tube lights based on location, and the ray adjustments can be done easily. Scenes such as drams, polish, style can be achieved by change the color and orientations of the light. Foggy, rainy, snowy and other climatic effects of lightning can be handled through the tool. This is more frequently entertained by film, television, VFX and photography studios to push their output quality limits.
Conclusion
Adobe Premiere Pro plugins enhance the video or footage standards in terms of many aspects such as Quality of visual, timing, effects, attribution and many more. There are reasons to adopt applications in many professionals. The effects and footage to footage can be matching with simple plugins and effects such as zoom in and zoom out and many more. Beginners must try to spend much time and practice trying multiple plugins until getting habituated to the tool. There is the scope of opportunities to grab with the knowledge of plugins along with a tool for multiple graphic and artistic roles in studios, channels, and other multimedia hubs and organizations.
Recommended Articles
This is a guide to Adobe Premiere Pro Plugins. Here we discuss the Introduction along with a brief explanation to the top 6 adobe premiere pro plugins. You may also look at the following articles to learn more –