About Veterans Day
This day is significant for honoring Americans' illustrious military sacrifice and service throughout history. Veterans Day has a limited history, numerous fascinating ceremonies, and a wide range of allied events.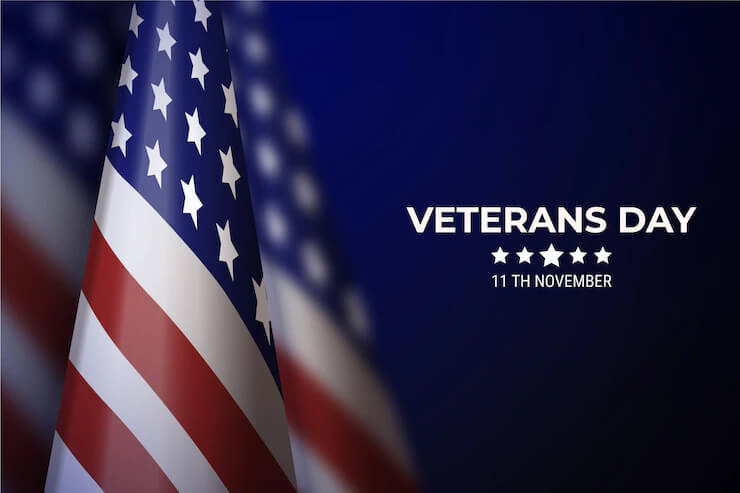 Veterans Day differs significantly from Memorial Day, another US national holiday that is observed in May. Although the latter is a day set aside to remember those members of the armed forces who passed away while on active duty, the former honors the services of all veterans of the United States military.
Brief History
To commemorate the formal conclusion of World War I, which occurred on November 11, 1918, Veterans Day, historically named Armistice Day, was first established as a legal holiday in the United States.
The 11th of November was declared "devoted to the cause of global tranquility and to be subsequently honored and remembered as 'Armistice Day'" by law established in 1938. This new regulatory holiday so paid tribute to veterans of World War I.
At the request of veterans service organizations, the 83rd U.S. Congress revised the Act of 1938 in 1954, replacing the phrase "Armistice" with the word "Veterans," after having experienced both World Wars II and Korea. November, 11 became a legal holiday on June 1, 1954, when this law was approved.
Four national holidays—Birthday, Washington's Memorial Day, Veterans Day, and Columbus Day—were observed on Mondays thanks to the Uniforms Holiday Bill, which was passed in 1968 and guaranteed three-day weekends for government workers.
Veterans Day was changed under this measure to fall on the fourth Monday in October. Many states disagreed with this choice and kept the holiday's original date as a result.
On October 25, 1971, Veterans Day was commemorated for the first time under the new statute, and it was a very confusing day.
Finally, President Gerald R. Ford passed legislation on September 20, 1975, moving Veterans Day back to the original date of November 11, starting in 1978. Veterans Day has been celebrated on November 11 ever since.
Traditions and Activities
Veterans Day 2022 can be celebrated in many different ways across the country. Start near home by thanking the veterans in your community, spending quality time with them, hearing their tales, and showing them some kindness.
There might be veterans or military organizations in your neighborhood who could use some assistance. This can entail mowing the lawn, bringing them food, or giving them a trip.
Other veterans clinics can benefit from volunteer groups as well as outstanding veterans charities that need funds.
There are also a ton of locations we may visit that will teach us about the sacrifices made by veterans throughout American history. One of the locations is the Korean War Veterans Memorial.
The warriors who fought in the Korean War lasted from 1950 to 1953 and are honored at the Korean Military Veterans Remembrance in Washington, DC. A wall of memory and 19 steel sculptures are part of the 1995 monument, which was also dedicated.
Veterans Day would be a great time to visit because it is open every day and is notably delightful in the evening hours and mornings.
South of the Reflecting Pool and south of the Lincoln Memorial in South Potomac Park is where you can locate the Korean War Veterans Memorial. Over tonnes of California – based stone was used to create the murals wall, which was then sandblasted with pictures of the wartime soldiers.
A battalion of soldiers, consisting of 14 US Army soldiers, 3 Marines, 1 Navy Officer, and 1 Air Force Advanced Air Observer, are shown in the triangular garden's statues on a bigger scale. There is also a stunning granite-lined small pond called the Pool of Remembrance that is surrounded by rows of pine trees.
Veterans Day is the right opportunity to learn about and memorialize both the living and the lost veterans, from the American Revolution and the French Revolution through the twenty-first-century wars in Afghanistan and Iraq.
Conclusion
About 21 million veterans are honored annually in the United States now. Veterans Day is significant to the country because it recognizes and thanks all of the nation's veterans for their valor, devotion, and sacrifice.
It's an opportunity to express gratitude to those who risked their lives to protect the United States and to think about the value of world peace and the part that all veterans serve in it. It also highlights the difficulties that many warriors face.