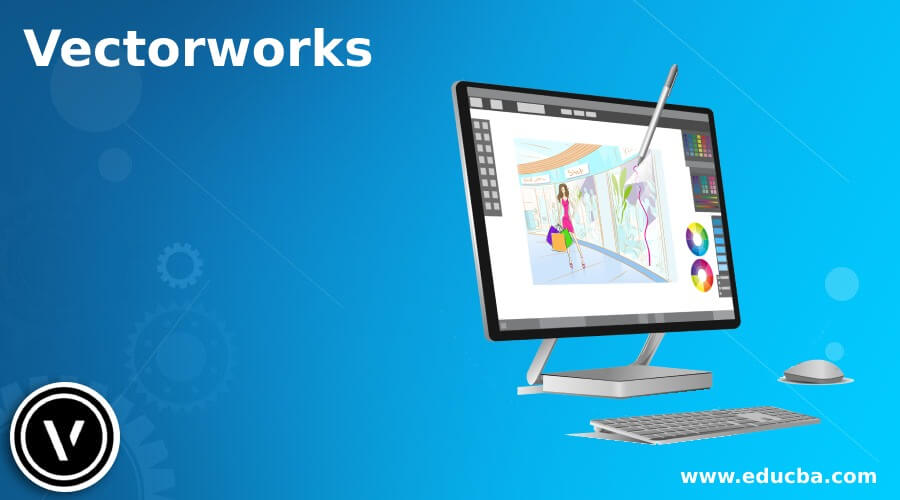 Introduction to Vectorworks
VectorWorks is a 2D & 3D software designing company that creates computer Aided Design (CAD) and Building Information Modeling (BIM) programs for architectural, landscape, engineering, and Entertainment Industries. It was created in the year 1985 by Richard Diehl.
Why Do We Use Vectorworks?
Designers and architects basically use VectorWorks software. It has a great user interface and rendering abilities. In addition, the software also provides a platform where the designers can comprehend the process of analyzing the initial stages of the product creation and the final stage as well.
It has detailed BIM capabilities with an integrated toolset; the software makes the work creative and precise. It has consistent tools for import and export, 2d Drafting, Rigging functions, creating calculation reports, drafting concepts, sharing files with Cloud Services, rendering audio/visual outputs and also a vast 3D modeling toolset.
How Does Vectorwork Works?
The VectorWorks Software Company has created a program for every purpose in the industry that it targets:-
1. VectorWorks Architect for creating BIM Models, blueprints, constructional designs and artworks.
2. VectorWorks Landmark for Landscape designs and Structural Grids
3. VectorWorks Spotlight for dynamic rendering effects and lightning devices
4. VectorWorks Fundamentals for creating 2D and 3D models and documents.
5. VectorWorks Designer to create, model, and render everything under one platform.
6. Vision Software for anticipating lighting effects before the event starts.
7. Braceworks Basically serves as an added present module for Spotlight and Designer Software. This program is created to create designs, productions, and rigging materials for the designers.
8. ConnectCAD serves as an added preset module for Spotlight and Designer for converting Audio and video generic codes to readable formats.
Advantages and Disadvantages
It has some unique capabilities that make the program different from other CAD programs. Every program has its own abilities and functions. Here is a list of some of the pros and cons of VectorWorks Programs:-
Pros
VectorWorks Fundamentals has considerable tools in creating 2d drawings. The tools can be modified and have detailed BIM functions as well.
VectorWorks Architect has the simplest 2d tools for creating 2d artworks, which are easy and quick to use and learn as well. There multiple shortcuts for tools that make the work rapid and amiable.
Braceworks Software is an added advantage for creating mathematical reports, investigating 3D models with proper accuracy, and also exporting the files in a DSTV format that can be shared with different teammates securely.
ConnectCAD is a useful module for Spotlight, when it comes to creating detailed reports, creating a composite 2D and 3D atmosphere, re-editing designs, and connecting with event planners as well.
The most commendable advantage of VectorWorks is that the customer support from the company is top-notch and really helpful to the users.
Cons
VectorWorks Fundamentals sometimes creates crashes, and the user interface becomes too slow to work on. The users find the program uneven at various stages of working with the software.
The audience of the program is limited. Owing to this, the users find it difficult to share or unite with other industry members easily.
For some users, the cost of the program seems to be high. It would be easier for them to purchase other cheap products instead of VectorWorks.
Although, VectorWorks works on both Mac and Windows Operating systems. But, sometimes, coordinating between the systems is a slow and troublesome process.
VectorWorks programs have a steep learning curve in the learning process. The users may require additional time to get familiar with the tools and working process of the program.
There are limited online tutorials on VectorWorks Programs for the users. Since the software is hard to learn, the users would need tutorials to learn the software.
Uses of Vectorworks
VectorWorks Architect has Deep BIM properties and CAD functions that help the designer to design and draft 2d drawings, create 3d models and render the same without any difficulties.
The Software is supported by SIEMENS Parasolid 3D engine that creates hassle-free 3d models.
The program is designed with detailed accuracy and works well with MAC, Windows, iOS, and Web Operating Systems.
VectorWorks Vision is a convenient program to anticipate the design with the 3D rendered viewing structure. The user can pre-visualize the designing structure with the help of Vision software.
Purchase VectorWorks Designer Product to get a combination of Fundamentals, Spotlight, Architect, and Landmark Functions, all in one platform.
Create realistic models and drawings with Spotlight Camera and rendering features. Adjustable and with multiple options available, this program is breathtaking on its own.
Conclusion
Wrapping up, VectorWorks delivers a bunch of programs that prepare the designers and architects to create some stunning artworks. It also supports add-on modules in the form of Braceworks and ConnectCAD. The software supports cloud sharing with team members as well.
The users can purchase the software as per their requirements and demand. On the whole, It is a good CAD Program with unlimited tools and functions that will not disappoint at all.
Recommended Articles
This is a guide to Vectorworks. Here we discuss How Does Vectorwork Works along with the Advantages and Disadvantages. You may also have a look at the following articles to learn more –