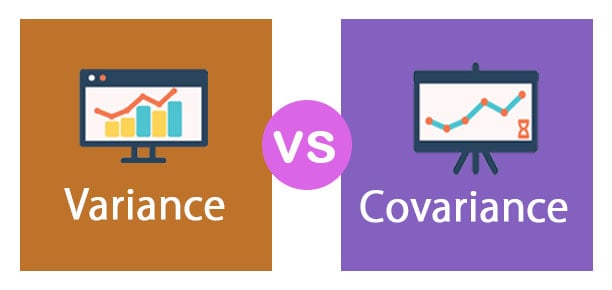 Difference Between Variance vs Covariance
Variance and covariance are mathematical terms regularly used in statistics. In addition to their regular use in statistics, both these terms have specific meaning for the investor as well as in the stock market. In the financial world, these two mathematical terms play an important role and many stock experts and financial advisors use both Variance vs covariance for a financial decision.
Variance
Variance is nothing but a statistical measure of how much a set of observation differs from each other. Variance is often used as a measure of risk in finance. In financial and accounting world variance means how much actual expenses deviate from the forecast or budget amount. Variance is nothing but the measure of volatility it measures how much stock differs from its average or mean value. Variance is a useful indicator of how much risk an individual stock comes with and because of this, it is easy for the investor to take an investing decision. If the variance of stock is higher it means that stock will fluctuate more widely so it means that higher the variance the riskier the stock.
A variance is just an act of comparing standard with the actual. Companies set a standard and compare actual performance with that standard. Variance analysis sheet is usually prepared by an accountant in business which is the importance of accounting in decision making. The main objective of variance analysis is to reviews cost control and cost reduction.
Variances are classified under 4 main head.
1. Element cost
Material Cost Variance.
Labour Cost Variance.
Overhead Variance.
2. Controllability
Controllable Variance.
Uncontrollable Variance.
3. Impact
Favorable Variance.
Unfavorable Variance.
4. Nature
Basic Variance.
Sub-Variance.
Benefit of Variance:
Variance helps in finding out all inefficient performance and the extent of inefficiency.
Variance method use for cost controls.
With help of variance method results, a manager can take the decision about cost reduction.
With the help of variance method, profit planning works properly carried out by the top management.
Covariance
Covariance is mathematical terms which measure how much two random variables will vary together. It evaluates how much the variable change together. In the financial world, the concept of covariance is used in portfolio theory. Covariance is a systematic relationship between a pair of random variables changes in one variable will result in the equivalent change in another variable. Its measure the direct relationship between two risky assets but it does not show the strength of the relationship between the two assets. In the financial world covariance calculated to help diversify security holdings.
Covariance gives positive or negatives values. Positives value indicate that two variable moves in the same direction whereas negative values shows that two variable moves in the inverse direction. Positive Covariance shows that asset returns have moved in the same direction and both assets likely to have the same return. Negative covariance shows that the return moved in opposite directions and one asset has a positive return and other is likely to have a negative return. A high Covariance result indicates a strong relationship between two variables and a low value indicates a weak relationship between two variables. The covariance has a drawback it only measures the direct relationship between two assets and it cannot show the strength of a relationship between two assets.
Benefit of Covariance:
If a portfolio is highly volatile and there is a need to reduce that volatility in that case covariance method is used for comparison of combined portfolio.
Covariance is an important tool for an investor as it gives them how the stock moves in the future by analyzing the historical price data of two stock portfolios.
It uses in the diversification of the portfolio.
It uses in Stock market and stock trading for construction of portfolios to identify stocks that are a good place to work together.
Popular Course in this category
Cryptocurrency Course
8 Online Courses | 50+ Hours | Verifiable Certificate of Completion | Lifetime Access
4.5 (1,068 ratings)
---
Related Courses
CFA Level 1 Course
Equity Research Course
Head to Head Comparison between Variance vs Covariance (Infographics)
Below is the top 6 difference between Variance vs Covariance

Key Differences between Variance vs Covariance
Let us discuss some of the major differences between Variance vs Covariance:
Variance is the average of the residuals of the same variable but the covariance is the degree of variation between two variables.
Variance tells us how single variables vary whereas Covariance tells us how two variables vary together.
Variance measures the volatility of variables whereas Covariance measure to indicate the extent to which two random variables change.
Covariance is in two dimensions because of two variables whereas variance is in one dimension.
Variance is non-negative whereas Covariance can be negative or positive.
Variance vs Covariance Comparison Table
Let's look at the top 6 Comparison between Variance vs Covariance
| | | |
| --- | --- | --- |
| The Basis Of Comparisons Between  Variance vs Covariance | Variance | Covariance |
| Meaning | It measures how far each number in the data set from the average value. | It measures the relationship between two random variables and how much they moved. |
| Dimension | Variance measure in one dimension. | Covariance always measures between two dimensions. |
| Variable | Measure the Variability of each number in the data set. | Measure Co-variability of two random variables. |
| Unit | Does not have the same unit of measure as original data have. | Covariance always has a unit of measure. |
|  Financial Context | Investors or many stock expert use variance to measure stocks volatility. | Covariance is the term used to describe how a stock will move together. |
| Indicator | Higher variance indicates the stock is risky. | Positive covariance indicates both Variables will move upward or downward at the same time and negative covariance indicates they will move counter to each other. |
Conclusion – Variance vs Covariance
So from the above description, it is clear that both variance vs covariance are mathematical statistics terms which are used in the financial world or by an organization to make the decision. Even though both variance vs covariance terms sound the same they actually have a different meaning. Variance is one dimension and covariance is two dimension measurable techniques and which measure the volatility and relationship between the random variables respectively. Higher the Volatility in stock more risky the stock and buying stock with negative covariance is a great way to minimize the risk. A positive covariance means assets move in the same direction whereas negative covariance means assets generally moves in the opposite direction.
Recommended Articles
This has a been a guide to the top difference between Variance vs Covariance  Here we also discuss the Variance vs Covariance key differences with infographics and comparison table. You may also have a look at the following articles to learn more.
Financial Analyst Course- All in One Bundle
250+ Online Courses
1000+ Hours
Verifiable Certificates
Lifetime Access
Investment Banking Course

Financial Modeling Course

Business Valuation Course