Updated April 17, 2023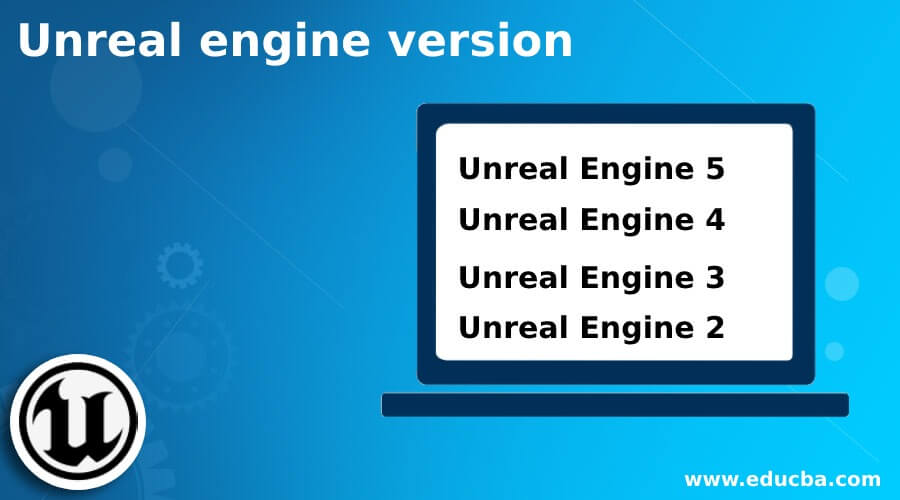 Introduction to Unreal Engine Versions
Unreal Engine Versions can be known as different forms of software that are launched by its developer from time to time for overcoming drawbacks of previous versions as well as the addition of new and advanced features to them. For example, in the first generation of Unreal engines, it has relied completely on software rendering that means all the graphics calculations were handled by the CPU of the system but later on, it used the capabilities of attached graphics cards. Same as this they have included several features in the different versions of this software. So today we will discuss all versions of Unreal Engine starting from the latest to older versions.
Versions of Unreal Engine
There are five versions of this software that makes it more and more compatible with its working area according to requirements of time and Unreal 5 is its latest version so let us start from the Unreal 5 version of this software.
1. Unreal Engine 5
It was revealed on May 13, 2020, which supports all currently existing systems and it includes next-generation consoles such as PlayStation 5 and Xbox Series X/S.
It is expected to fully launch in starting of the year 2022 with all its advance and exciting features that make the development of the game smoother than previous.
It is very interesting feature is Nanite that is an engine that allows to import of highly detailed Photographic source material into the games and provides a highly attractive appearance to its viewer.
Nanite can import any other pre-existing 3D representation of any objects as well as environments that includes ZBrush and CAD models. Not only this it can also handle the levels of detail that is related to the imported objects and it makes that object appropriate to the targeted platform and draws the distance.
Now let us move to the previous version of Unreal Engine 5 and before this version we had Unreal Engine 4 that also has some unique features so let us have a look at it too.
2. Unreal Engine 4
The vice-president of Epic Games revealed the Unreal Engine 4 in August 2005 and it was planned for one of the major features that were real-time global illumination that uses voxel cone tracing, eliminating pre-computed lighting. This feature offered the next level in game development and provides more control to its developer.
On March 19, 2014, it was launched for public use with a new licensing model, and by paying US$19 subscription charges for monthly one can have it that time but later on, in March 2015, it released with subscription update that was free to all users.
It also has a Blueprints visual scripting system that allows game developers to develop game logic without using code rapidly and results in good management between designers, technical artists, and programmers.
It supports many platforms such as Microsoft Windows, Mac OS, Linux, iOS, Android, HTML, Nintendo Switch, PlayStation, Xbox, and so on.
Before Unreal Engine 4 there was Unreal Engine 3 as one of the versions of Unreal Engine so let me tell you the major aspect of this version also.
3. Unreal Engine 3
It was revealed in July 2004 and was based on the first generation but had lots of advanced features such as basic architectural decisions that are visible to a programmer which is related to the object-oriented design, scripting approach on the base of data, and many other features that made game development easier than the previous version can do.
It supports gamma correct which is a high dynamic range renderer. The first games that were released using Unreal Engine 3 were Gears of War for Xbox 360 and Roboblitz for Windows; these were released on November 7, 2006.
It was supported only by Microsoft Windows, Xbox 360, and PlayStation platforms initially but later on iOS and Android were also added to it in 2010. Infinity Blade was the first iOS title and Dungeon Defenders was the first Android title.
Now in the next is Unreal Engine 2 in the series of Unreal Engine version and it also has some good features according to its time of development. So let us have look at them.
4. Unreal Engine 2
In October 1998 its developer was researching for the next generation engine and later on it was released. The first multiplayer shooter was American Army was released by U.S. Army based on this engine. Soon Unreal released Unreal Championship on the Xbox and it was one of the first games that utilize the Xbox live of Microsoft.
Although it was based on predecessor it got notable advance rendering features as well as an improved toolset for getting any result quickly.
It has the capability to run levels 100 times more in a detailed way than those were found in Unreal. This engine included a variety of features that are particle systems, cinematic editing tools, export plug-ins that use by 3D Studio Max as well as Maya, and skeletal animation system that was first showcased in the PlayStation 2.
Now the next is the very first version of this Engine that is called First Generation. So let us go through its details also.
First Generation
It was developed by Tim Sweeney who was the founder of Epic Games and began writing this engine in 1998 that worked for the production of games and includes graphics, tools, and networking as its features.
Initially, the rendering completely depends on software rendering that means of calculation for graphics handled by the CPU of systems itself but later on, it takes advantage of the capabilities of attached graphics cards for this purpose.
It has also some other features that were Collision Detection, a limited form of texture filtering, and colored lighting, and so on.
These are five versions of Unreal Engine with their own features.
Conclusion
I have given you all possible information about the different versions of Unreal Engine in this article and now you have good knowledge about how it developed and its developers added a different update to each version for making them compatible with the requirements of their time. So now you can go with Unreal versions to have more command on it.
Recommended Articles
This is a guide to Unreal engine version. Here we discuss all the versions of Unreal Engine starting from the latest to older versions. You may also have a look at the following articles to learn more –