Updated November 22, 2023
Introduction
PDFs have become an essential document format for sharing and preserving content in the digital world. As an Ubuntu user, knowing how to navigate the landscape of PDF editing tools is essential. This guide comprehensively explores the native tools, third-party software, and command-line utilities available on Ubuntu. It covers basic edits to advanced manipulations, helping you master the art of PDF editing on Ubuntu.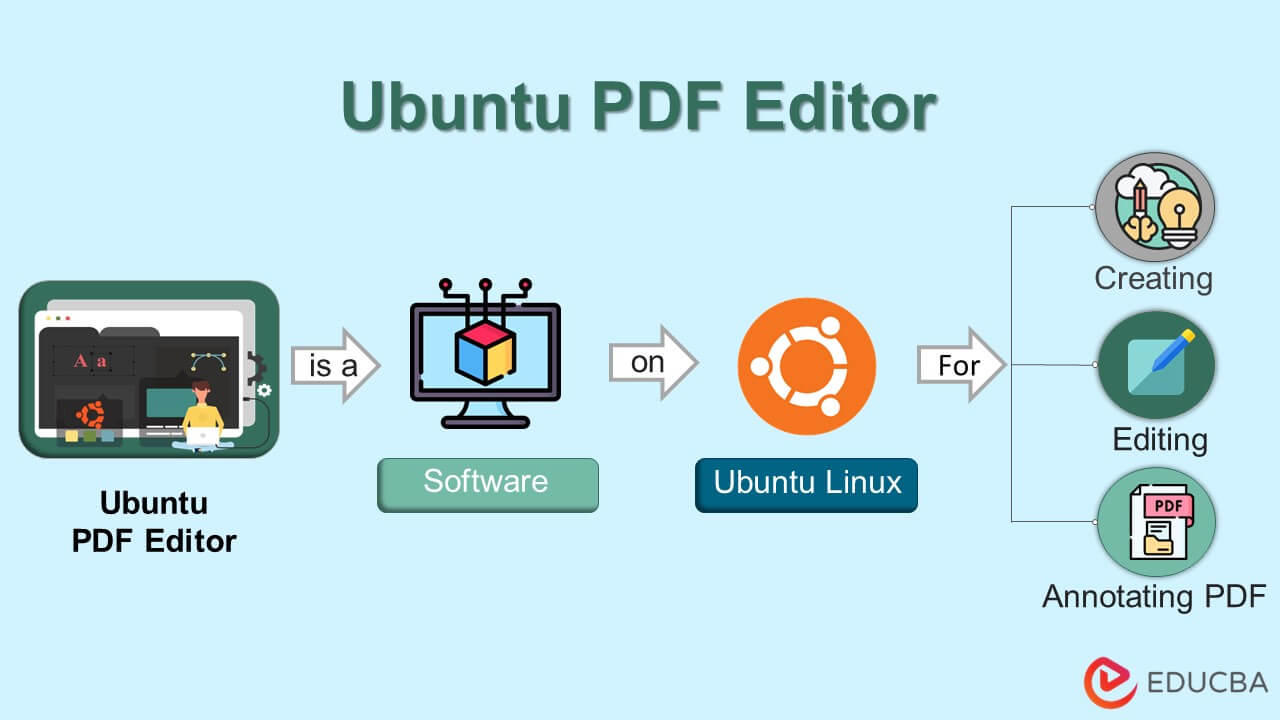 Table of Contents
Native Tools for PDF Editing on Ubuntu
If you're using Ubuntu and looking for native tools to edit PDFs, here's what you need to know about the available options:
1. Evince
Evince is the default document viewer for GNOME desktop environments, including Ubuntu. Although mainly used as a PDF viewer, it offers some basic editing capabilities.
Editing Functionalities:
Annotations: Using Evince, you can add annotations like highlights, underlines, and text notes to PDF documents.
Form Filling: Basic form-filling functionalities allow you to input text into PDF forms.
Strengths:
Evince has a simple and easy-to-use interface.
It's efficient for viewing and light editing tasks.
It seamlessly integrates with the GNOME desktop environment.
Limitations:
Evince has limited editing functionalities compared to dedicated PDF editors.
You can't directly edit the content of PDFs, like modifying text and images.
2. Okular
Okular is another popular document viewer available on Ubuntu, known for its versatility in handling various document formats, including PDFs.
Editing Functionalities:
Annotations and Markups: Okular offers extensive annotation tools, enabling users to add text, shapes, highlights, and drawings to PDFs.
Form Editing: Allows users to fill out forms and interact with form fields.
Text Selection and Copying: Users can select and copy text from PDFs.
Strengths:
Okular has a rich set of annotation tools for detailed markups.
Aside from PDFs, it supports various document types, customizable features, and viewing modes.
Limitations:
Okular has limited advanced editing capabilities.
May not suit extensive editing requirements.
3. PDF Mod
Note: While not as commonly pre-installed, PDF Mod is a lightweight tool in Ubuntu's repositories.
PDF Mod is a simple application that manipulates PDF files, allowing users to merge, split, and rearrange pages.
Editing Functionalities:
Merging and Splitting: You can combine multiple PDF files into one or split a PDF into several files.
Page Rearrangement: Allows for rearranging the order of pages within a PDF document.
Strengths:
PDF Mod focuses on specific PDF manipulation tasks like merging and splitting.
It has a straightforward interface for basic PDF restructuring.
Limitations:
PDF Mod has limited editing functionalities beyond merging, splitting, and reordering pages.
It's not as feature-rich as dedicated PDF editors.
These native tools on Ubuntu offer varying levels of functionality and cater to different user needs. While they might not match the capabilities of dedicated PDF editors, they provide basic functionalities for everyday tasks and casual editing requirements.
Third-Party PDF Editors for Ubuntu
Here's an in-depth look at some popular third-party PDF editors available for Ubuntu:
1. PDF Studio
PDF Studio is a commercial PDF editor with many features for creating, editing, and annotating PDF documents.
Ratings:
PDF Studio is a comprehensive PDF editor featuring advanced tools for text editing, form creation, and OCR. With a user-friendly interface, it is suitable for various professional tasks. Rated 4.5 stars.
Features:
Editing Tools: Text editing, image manipulation, and page management.
Forms: Form creation, editing, and filling capabilities.
Annotations: Comprehensive tools for highlighting, underlining, and adding comments.
OCR (Optical Character Recognition): Ability to recognize text in scanned documents.
Strengths:
Cross-platform compatibility (Linux, Windows, macOS).
Robust editing features suitable for professional use.
Regular updates and customer support.
Limitations:
Commercial software with a paid license(offers a free viewer with limited features).
Might be considered overkill for simple editing tasks.
2. Master PDF Editor
Master PDF Editor is a versatile, user-friendly PDF editor for Linux, including Ubuntu. It's available in both free and commercial versions.
Ratings:
Master PDF Editor is a professional-grade tool that allows for text and image manipulation, form editing, and document encryption. With a low rating of 3.8, it's a feature-rich PDF editor suitable for business use.
Features:
Text Editing: Modify text content within PDF files.
Annotations: Add comments, stamps, and shapes.
Form Editing: Create and edit PDF forms.
Encryption: Secure documents with password protection and encryption.
Strengths:
Intuitive interface with a Microsoft Word-like feel.
Handles complex PDF editing tasks effectively.
Available for free with limited features or as a paid fully-featured version.
Limitations:
Some advanced features are exclusive to the commercial version.
The free version has limitations on certain functionalities.
3. LibreOffice Draw
LibreOffice Draw is a vector drawing and diagramming application in the LibreOffice suite. While not solely a PDF editor, it can handle basic PDF editing tasks.
Ratings:
LibreOffice Draw is a basic tool suitable for simple PDF tasks. It is good for occasional editing but not for extensive or advanced modifications. With a rating of 4, it is an efficient program to use.
Features:
Basic Editing: Inserting and deleting pages, adding text and images.
Annotations: Markup and commenting tools.
Export to PDF: Create PDFs from documents and drawings.
Strengths:
Part of the open-source LibreOffice suite.
Suitable for simple PDF editing tasks.
Familiar interface for users already accustomed to LibreOffice.
Limitations:
Lacks advanced PDF editing features compared to dedicated editors.
Better suited for document creation than extensive editing.
These third-party PDF editors for Ubuntu offer diverse features catering to different user needs. Choosing the right one depends on the complexity of your PDF editing requirements and whether you prefer open-source solutions or are open to commercial software.
4. Inkscape
Inkscape, an open-source and powerful vector graphics editor, is not exclusively designed as a PDF editor but can be utilized for specific PDF editing tasks owing to its robust features.
Rating:
Inkscape has a rating of upto 3.9. It excels for vector graphic editing but has limitations for detailed PDF modifications. Recommended for design tasks, not extensive text-based edits.
Features:
Vector Graphics Editing: Inkscape excels at working with scalable vector graphics (SVG) and supports importing and exporting PDF files.
Text Editing: Users can manipulate text elements within PDFs.
Drawing and Shapes: Create and edit shapes, lines, and illustrations.
Layers: Allows for the organization of complex documents through layering.
Strengths:
Open-source and free to use.
Wide range of vector graphic editing tools.
Active community support and regular updates.
Cross-platform compatibility (Linux, Windows, macOS).
Limitations:
While it supports PDF import/export, Inkscape may not handle all PDF features, especially complex ones.
Text handling in PDFs might be limited compared to dedicated PDF editors.
More suitable for graphic design tasks than text-heavy documents.
5. Foxit Phantom PDF
Foxit Phantom PDF offers a reliable solution for creating, viewing, editing, performing OCR, and securing PDF documents on Ubuntu. The editor harnesses cloud-based power, supporting CONNECTED PDF. The operating system requirements for this Ubuntu PDF editor include Windows 7, Windows 8, Windows 10, and any version of MS Office from 2007 onwards with PDF creation features.
Pricing Options:
According to the Foxit website, there are two payment options for the Ubuntu PDF editor. Users can opt for monthly installments of $9 or make a one-time payment of $139.
Ratings:
CNET has awarded Foxit Phantom PDF Business a high rating of 4.5 stars out of 5. This accolade is based on the editor's user-friendly interface, making PDF document editing easy and efficient for users.
Features of Foxit Phantom PDF:
PDF Creation: Allows users to create PDF documents efficiently.
Viewing and Editing: Provides a user-friendly interface for viewing and editing PDF files.
OCR (Optical Character Recognition): Enables the conversion of scanned documents into editable and searchable text.
Security Features: Offers tools to secure and protect PDF documents, ensuring data integrity.
Connected PDF: Leverages cloud-based capabilities to support CONNECTED PDF, enhancing collaboration and document tracking.
Strengths:
Reliability: Foxit Phantom PDF is known for its reliability in handling various PDF tasks.
User-Friendly Interface: The editor provides an intuitive and easy-to-use interface for both basic and advanced users.
OCR Functionality: The OCR feature enhances the editor's versatility, particularly for handling scanned documents.
Security: Offers robust security features to protect sensitive information within PDF documents.
Connected PDF Support: Integrating cloud-based features supports collaboration and document tracking.
Limitations:
Operating System Dependency: Foxit Phantom PDF has specific operating system requirements, limiting its use to Windows environments.
Cost: The software comes with a price tag, which may be a limitation for users seeking free or open-source alternatives.
Feature Overwhelm: Some users may find the extensive features overwhelming if they only require basic PDF editing functionalities.
Cloud Dependency: While CONNECTED PDF offers collaboration benefits, it also introduces a dependency on cloud services, which only some users may prefer.
Limited OS Compatibility: As of the provided information, Foxit Phantom PDF's Ubuntu compatibility needs to be explicitly mentioned, potentially limiting its use for Ubuntu users.
Top Ubuntu PDF Editors
Below is the list of the best Ubuntu PDF editors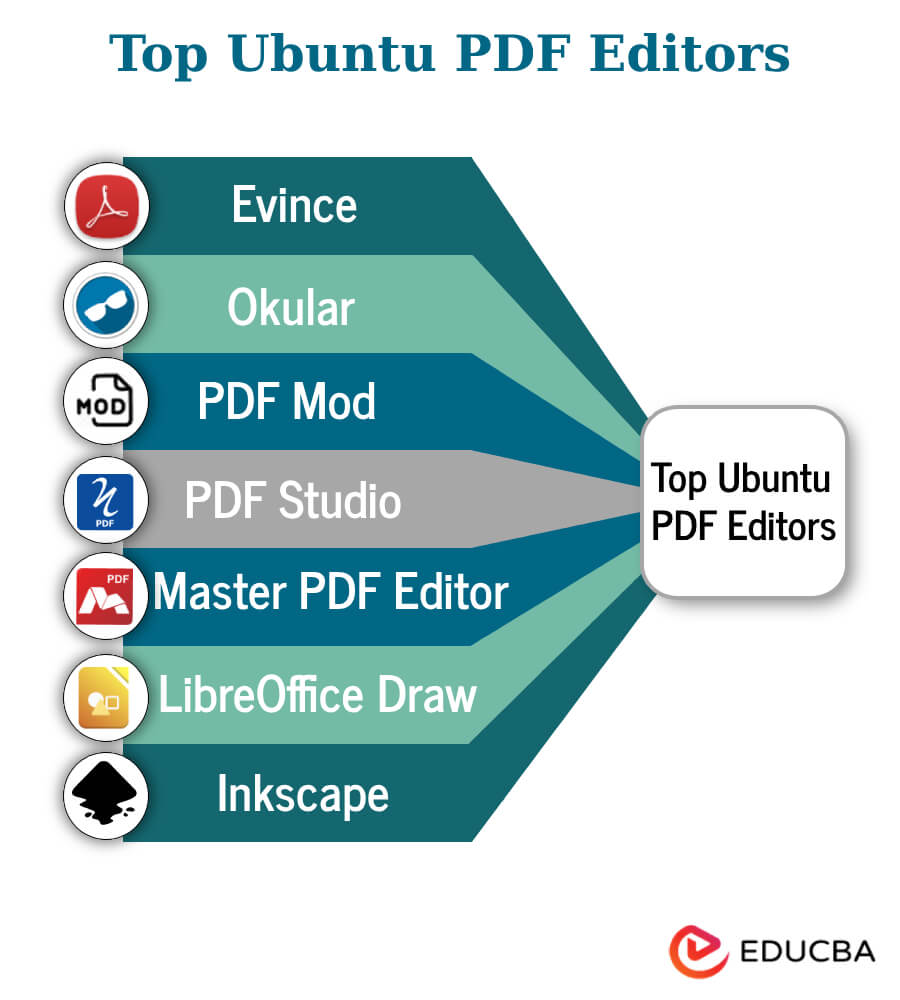 Comparative Analysis
| | | | | | | | | |
| --- | --- | --- | --- | --- | --- | --- | --- | --- |
| Feature | Evince | Okular | PDF Mod | PDF Studio | Master PDF Editor | LibreOffice Draw | Inkscape | Foxit Phantom PDF |
| Editing Functionality | Basic annotations, form filling | Annotations, form editing, text selection | Merging, splitting, reordering pages | Comprehensive editing tools, forms, OCR | Text editing, annotations, forms | Basic editing, annotations | Vector graphics editing, basic PDF support | Advanced text editing, image manipulation |
| User Interface | Simple and intuitive | Customizable, feature-rich | Basic and straightforward | User-friendly, MS Word-like | Intuitive with MS Office feel | Part of LibreOffice suite | Feature-rich, learning curve | Intuitive and user-friendly |
| Integration with GNOME | Integrated with GNOME | Integrated with KDE | Not tied to specific desktop environment | Desktop environment agnostic | Desktop environment agnostic | Not GNOME-specific | Desktop environment agnostic | Not GNOME-specific |
| Cross-Platform Support | GNOME/Linux | Cross-platform | GNOME/Linux | Cross-platform | Cross-platform | Cross-platform | Cross-platform | Windows, macOS, and Linux |
| Cost | Free  and open-source | Free and open-source | Free and open-source | Commercial with free version | Commercial with free version | Free and open-source | Free and open-source | Varies based on the version and licensing |
| Specialized Use Cases | Basic viewing and light editing | Diverse document handling | Simple PDF restructuring | Professional PDF editing | Advanced PDF editing tasks | Basic PDF editing tasks | Vector graphics, illustrations | Advanced PDF editing capabilities |
Conclusion
Mastering PDF editing on Ubuntu involves using a variety of tools. There are native tools like Evince and Okular, which are suitable for everyday tasks, and there are also third-party tools like PDF Studio and Master PDF Editor, which are more powerful and cater to specific needs. Whether you need to annotate a document, manipulate forms, or ensure document security, Ubuntu users have various options. The right tool for the job depends on the complexity of the editing task and individual preferences, allowing users to edit PDFs with precision on the Ubuntu platform.
Recommended Articles
We hope that this EDUCBA information on "Ubuntu PDF Editors" was beneficial to you. You can view EDUCBA's recommended articles for more information.