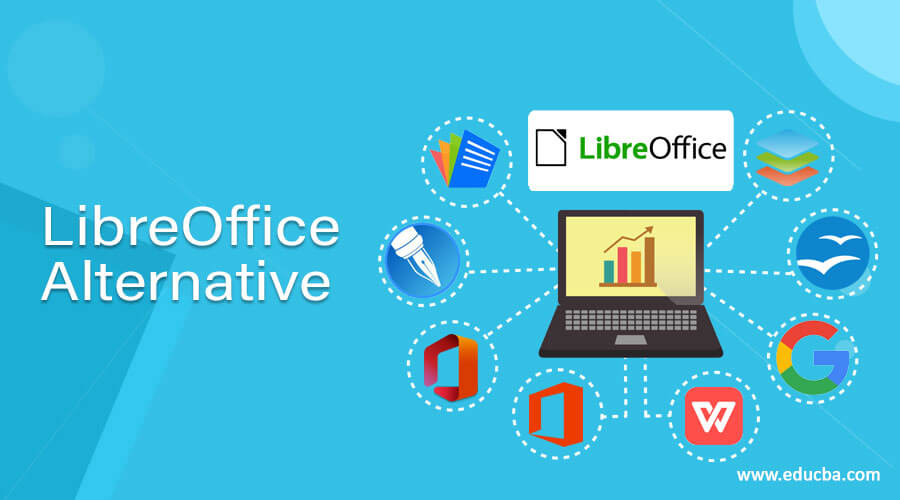 Introduction to LibreOffice
The following article provides an outline for LibreOffice Alternative. LibreOffice is an open-source office productivity software. LibreOffice suite consists of programs for word processing, creating and editing of spreadsheet, slideshow, diagrams, and drawings, working with databases, and composing mathematical formulas. It uses ODF (Open Document Format) for office applications to save the documents for all of its applications.
LibreOffice supports the file formats of most other major office suites, including Microsoft Office, through a variety of import and export filters. In addition, the software is cross-platform support operating systems like Windows, Linux, macOS, etc. There are other alternatives to LibreOffice in the market, which provide the same functionality as LibreOffice and some other functionality.
List of LibreOffice Alternative
Given below is the list of LibreOffice Alternative:
1. OnlyOffice
It is the best alternative for LibreOffice. LibreOffice is a free and open-source software office suite developed by Ascensio System SIA. Its three main components play an important role such as document server, community server, and mail server. Document server is used to maintain text documents, spreadsheets, and presentation editors. A community server is used to host all functional modules. Finally, the mail server represents components that allow creating a corporate mailbox using default or custom domain names.
2. OpenOffice
Another best alternative for LibreOffice is OpenOffice. It is a free and open-source office productivity software suite. It contains a word processor, spreadsheet, drawing application, presentation application, formula editor, and database management application. It can read and write a variety of file formats, with particular attention to those from Microsoft Office although, unlike LibreOffice. It cannot save documents in MS post-2007, Office Open XML format, but only import them. It supports operating systems like Windows, Linux, macOS.
3. G Suite
G suite is also known as google workspace, is a collection of cloud computing productivity and collaboration tools. It consists of Gmail, contacts, calendar, chats and meet for communication, drive for storage, googles docs suite for content creation. G suite adds enterprise features such as a custom email address at the domain, an option for unlimited storage, administrative tools, and advanced settings.
4. WPS Office
WPS Office is another best alternative for LibreOffice; It is an office suite for Windows, macOS, Linux, ios, and android. WPS office consists of three min components WPS Writer, WPS Presentation, and WPS Spreadsheet. Its basic version is free for users to use, and its fully-featured version is available at a subscription fee. WPS saves the text document. In wps, wpt, doc, dot, docx, dotx, docm and dotm format, spreadsheet document in xls, xlsx, csv, xlt, xltx, xltm, xlsm, xlsb, ets, et, ett. Saves xml document in xml, htm, html, mht, mhtm, mhtml format. Slideshow document in ppt, pps, pot,dps, dpt, pptx, potx, ppsx, pptm, potm, ppsm, dpss format.
5. Office 365
Office 365 is another alternative for office 365. Microsoft offers it as a part of the Microsoft office product line. It provides subscription services. Office 365 allows the use of ms office software suite over the life of the subscription. All plans of office 365 include automatic updates to their respective software at no additional charge. Office 365 consists of a number of services and products. All of its components can be managed and configured through an online portal. Users can be added manually or imported from a csv file. It introduced the email feature called clutter with office 365.
6. Microsoft Office
The micro office is a family of client and server software. Microsoft word, excel, powerpoint, onenote, outlook, one drive, skype, and Microsoft teams are Microsoft Office's components. For mobile, it provides office, office lens, and office remote software. For server, it provides Microsoft SharePoint, Skype for Business Server, and Microsoft exchange server. Microsoft Office used its own set of widgets. It allows users to access the external files through connection specifications saved in-office data connection files, i.e., .odc. Microsoft Office supports various platforms such as Windows, macOS, Windows Phone, Android, and iOS.
7. Word Perfect
Another alternative to LibreOffice is WordPerfect. WordPerfect is a word processing computer application owned by Corel. In the 1980s and 1990, it gained more popularity. It gained popularity for its looks and clean display. WordPerfect function's key-centered user interface did not adapt well to a new paradigm of mouse and pull-down menus.
8. Polaris Office
Polaris Office is a paid office suite that runs on platforms such as windows, macOS, IoS, android. It allows users to edit the file formats and view the pdf files. All files saved in the Polaris office are synchronized with other connected devices, and hence documents are updated automatically to the latest version.
Conclusion – LibreOffice Alternative
Here we have seen the various available alternatives for LibreOffice that users can use based on their requirements and reliability. Each software has its own features and advantages. Based on the functionality, you can select one of these.
Recommended Articles
This is a guide to LibreOffice Alternative. Here we discuss the introduction and list of LibreOffice alternatives for better understanding. You may also have a look at the following articles to learn more –