Updated May 16, 2023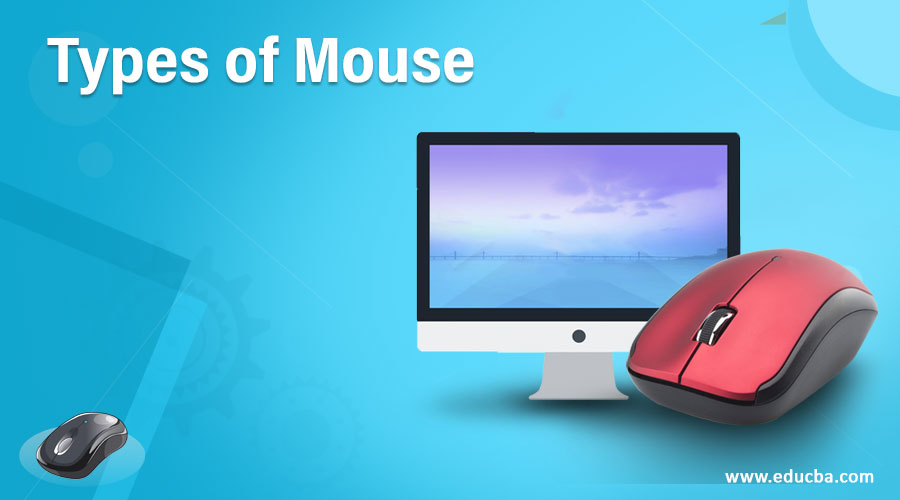 Introduction of Mouse
A mouse operates the pointer or cursor on a display screen. A mouse can roll over a hard, flat surface as a small object. The name derives from its shape, a bit like a mouse, the wire that you can imagine to be the mouse's tail, and the fact that you will scurry along a floor. The display pointer moves in the same direction when you move the mouse. Here is the list of various types of mice available, which is given as follows
Top 9 Types of Mouse
Below are the top 9 Types of Mouse in detail:
1. Wired Mouse
A mouse operates the pointer or cursor on a display screen. A mouse can roll over a flat surface; hard is a small object. The name derives from its shape, a bit like a mouse, the wire that you can imagine to be the mouse's tail, and the fact that you will scurry along a floor. The display pointer moves in the same direction when you move the mouse.
2. Optical Mouse
It is the mouse that lifts Joe, you see everywhere today. Nevertheless, an optical mouse uses an LED, sensing changes to the reflected light and detecting the movement rather than using a ball of rubbers and mechanical sensors—no sweet rubber balls to cleanse. Nevertheless, the optical mouse does not completely stay physically stable when light is being used in monitoring movements, but the buttons and scroll wheel are still mechanical and can be worn over time.
3. Laser Mouse
The laser mouse is an optical mouse type, and the operating instructions are similar – to sense movement through light reflection. Nevertheless, as the name implies, a laser mouse uses an LED instead of a laser beam. Due to the different light characteristics, the mouse can primarily be used on glass and plastic surfaces, although it is not practical.
4. Gaming Mouse
While a standard mouse typically has only 3 buttons, a game mouse has several buttons and is precise. Such additional buttons are also programmable for various tasks … particularly gaming. Scheduling keys are also helpful for non-gaming purposes. They can, for example, be used for web browsing or video replay as forward and backward buttons.
5. Trackball Mouse
Anything like the upside-down ball mouse is a trackball mouse. It senses movement by rotating the ball with the thumb or palms of the hand rather than turning the cursor around. Although the configuration of the trackball mouse is very different, it functions similarly to the ball mouse. Usually, the ball consists of thick glass or plastic, is smooth, and does not absorb dirt like gluing rubber. A trackball controller is held in one hand and serves as a remote control rather than a controller.
6. Stylus Mouse
It's a mouse-to-mouse cross, "mutation cursor." The mouse style, favored by digital artists, has the size of a very fat brush, typically for free-hand drawing by machines. Some higher-end mice are also prone to the impact of paper brush strokes.
7. Presentation Mouse
We must once carry a separate laser pointer and mouse and require another person to press the mouse for presentation. For anyone to click the mouse, we must always scream, "Next slide." Some wise singers thought adding a laser pointer and a mouse would be a smart idea, and this is it.
8. Wireless Mouse
Instead of using the "usual" wires, the wireless mouse uses a radio to connect to the computer unit. This applies to the mouse that has no cord stitching. The equation consists of two parts: The mouse is the transmitter and gives wireless signals when shifting and clicking. The machine receives and behaves accordingly to these wireless signals. As for 'Wireless Signals,' it is common. Some wireless mice are standard Bluetooth, some have a wireless 2.4 GHz standard, and some have a wireless USB dongle.
9. Mechanical mouse
In the old days, the mechanical mouse was what we used and one of the most famous mice in computer history. This is also called a ball mouse, as it uses a rubber ball to track motion – the ball rotates as you turn the mouse, and sensors determine the direction in which you turn.
Recommended Articles
We hope that this EDUCBA information on "Types of Mouse" was beneficial to you. You can view EDUCBA's recommended articles for more information.