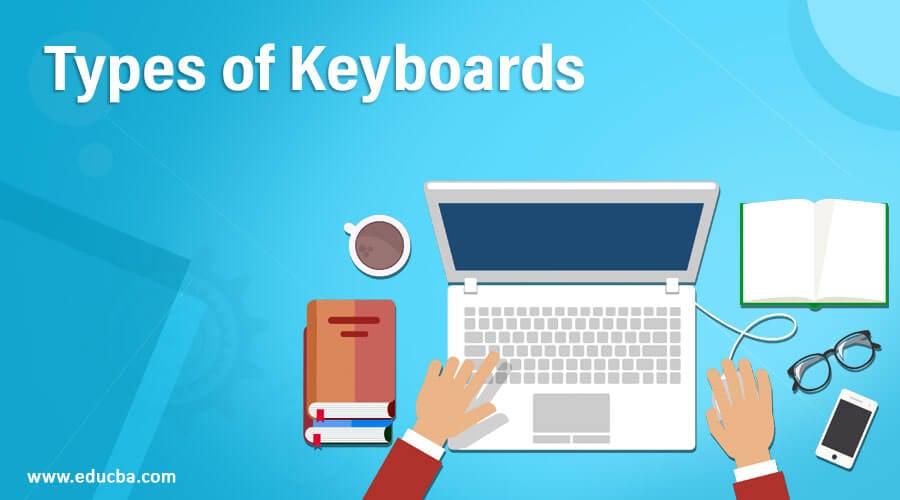 Introduction to Types of Keyboards
A keyboard is an input device that has alphabets, numbers, and other special characters and symbols. It is one of the most used input devices for computers. Entering the data in a computer with the help of a keyboard is called typing. There are various types of keyboards such as portable wire as well as a wireless keyboard, qwerty keyboard, virtual keyboard, USB keyboard, gaming keyboard, etc. We are going to see these types of keyboards in detail, which are given as follows.
Types of a Computer keyboard
Given below are different types of Computer keyboards:
1. Multimedia Keyboard
The keyboard, which contains all multimedia buttons such as play, pause, next, my computer previous, volume up, mute, and volume down, is called a multimedia keyboard. There are also special buttons to launch media applications, browsers, calculators are present.
2. Wireless Keyboard
Wireless Keyboard is connected to a computer screen or TV with infrared technology, 2.4 GHz WiFi, or through Bluetooth. Hence you can use it comfortably from anywhere. It works with the functions of transmitter and trans-receiver. Transmitter sends the keystrokes from the wireless keyboard in the form of radio waves. Then trans-receiver near the main device receives these signals and processes further. These keyboards are relatively cheap, lightweight, and easily available.
3. QWERTY keyboard
This keyboard has various functions at the top of the keyboard like volume and brightness control, punctuation symbols, shortcut to the home screen, numbers 1 to 0. It also has a separate numeric keypad to the right and letters A-Z in the "QWERTY" sequence. These keyboards are the most common and widely used for normal typing, daily browsing, etc.
4. Mechanical Keyboard
This old school keyboard uses physical buttons for each key. It makes a loud noise when the key is pressed. However, it provides precise control, cheap, more durable, and are more responsive while playing games.
5. Virtual Keyboard
The keyboard present in smartphones, tablets is known as a virtual keyboard. Windows OS also supports the virtual keyboard. Users can control when the keyboard should appear and disappear on the screen. This is automatically set as a requirement. It is useful and more secure when typing passwords as keyloggers can not detect keystrokes virtually as There is a physical object that is not involved in carrying a virtual keyboard.
6. USB Keyboard
USB (Universal Serial Bus) Keyboard has a wire and a USB stick that has to be inserted into the computer's USB port. Keyboard drivers need to be installed in a system for using this keyboard.
7. Ergonomic Keyboard
This keyboard is designed with the view of ergonomics. It has angled the hands would naturally fall and provides padding for the wrists to rest on. It minimizes the strain on the wrist. It is a very good alternative for the people who suffer from RSI (repetitive strain injuries), which is caused by long typing sessions like carpal tunnel syndrome.
Contoured keyboard and Split keyboard are two types of Ergonomic Keyboard
8. Gaming Keyboard
This keyboard has very few keys specially designed for gaming Graphics are also included in the keyboard. Gamers can do multiple functions with a single tap By reprogramming. These keyboards have LED-backlit with various color combinations that can be set by programming. So gaming keyboards provide a whole new experience to Gaming in the dark.
9. Laptop Keyboard
This keyboard is like a multimedia keyboard but provides added functionalities like switch on / off, volume control, brightness control on the keyboard. Also, there is a tracker which is used as the cursor.
10. Membrane Keyboard
These keyboards contain pressure pads, and characters are printed on a flexible surface hence called membrane keyboards. These keyboards are cheap however it is not convenient for fast typing and gaming.
11. Thumb Keyboard
This keyboard has fewer keys and is in smaller in size, i.e. thumb-size, so it is called a thumb keyboard. Some of the Thumb Keyboard only contains arithmetic buttons. These are widely used for gaming and arithmetic operations.
12. Flexible Keyboard
The flexible Keyboard is made of silicone. The distance between the keys is less. These keyboards can be rolled however it is not foldable.
13. Projection keyboard
With the help of a projection keyboard, you can type on any flat surface. These optical virtual keyboard Invented by IBM engineers. It uses lasers to displays a visible virtual keyboard on any surface. When user type on the holograph of the keys, camera or optical sensors catches these finger movements, which are then converted into characters and actions by computer software.
14. Handheld keyboard
the handheld keyboard is a combination of a trackball and a keyboard. Distance between keys is very less. This keyboard minimizes the typing time spent on conventional keyboards.
Conclusion – Types of Keyboards
Many keyboard options are available in the market, so it can be hard to choose the perfect keyboard for your specific requirements. So there are some factors that can be considered while choosing keyboards, such as ports, typing efficiency, shortcuts in a keyboard, Connection Type like USB, Wireless, etc. So in this article, we have seen various types of keyboards and their features. So I hope you will find this article helpful for choosing a keyboard for you.
Recommended Articles
This is a guide to Types of Keyboards. Here we discuss the following types of keyboards in the computer along with the factors that can be considered while choosing keyboards. You may also have a look at the following articles to learn more –