Updated March 20, 2023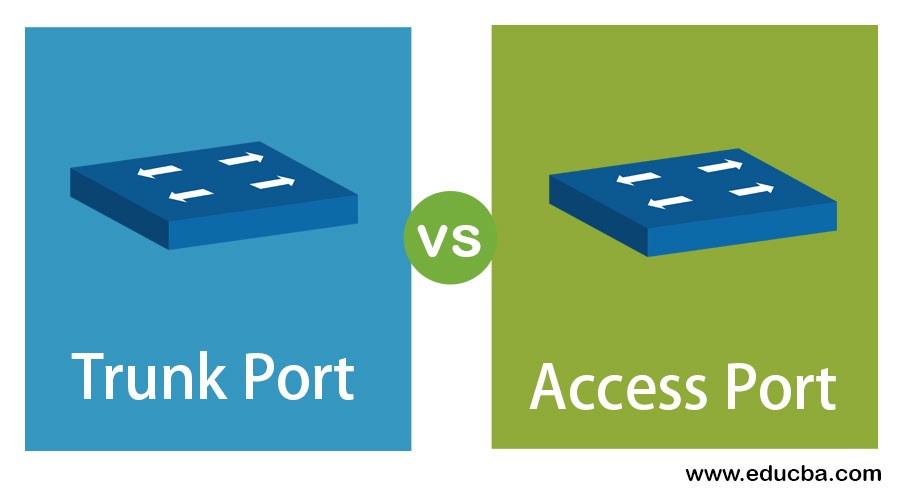 Difference Between Trunk Port vs Access Port
In the previous article, we discussed the NATIVE VLAN. Let's discuss what exactly Trunk Port vs Access Port means in the world of VLAN. This article will give you the basic knowledge of these two most confusing terms in the cisco world.
In very simple words, the trunk of a tree carries water and essential nutrients to all the branches and leaves of a tree. Similarly, the trunk in VLAN especially carries streams of signals to the correct destination or location. Basically, we can say it is a link that carries many signals simultaneously, which leads to creating more efficient network access between two nodes.
Let's have a look at the Access port now. The access port is used to connect a guest Virtual machine which is VLAN. Basically, it is a type of connection on a switch. It provides the virtual machines with connectivity via a switch, VLAN, and that too without VLAN tagging.
Head to Head Comparison Between Trunk Port vs Access Port (Infographics)
Below are the Top 10 comparison between Trunk port vs Access port:

Key Difference Between Trunk Port vs Access Port
There are many differences between the trunk port and the access port. But let's have a look at key and major differences between them:
The trunk port supports only the tagged frames, whereas the Access port sends and receives untagged frames.
The trunk port allows us to switch multiple VLANs, but all frames are in the same VLAN in the Access port.
The trunk port basically used to connect between switches; however, the access port is used to connect computer laptops, printers, etc.
We cannot extend the data from one switch to another switch, access ports via a trunk port. It can only be extended via the access port of the switch.
A trunk port has more than one VLAN set up on the interface, whereas an access port is capable of having only one VLAN set up on the interface.
Trunk port usually offers higher bandwidth and lower latency than access ports.
Voice VLAN feature is supported only on the access Port, not on the trunk port.
A TRUNK will add dot1q or ISL (inter-switch link) tag directly to frames, whereas the access port only passes traffic from a set VLAN, but it doesn't modify the frame with a VLAN Tag.
So these all are the main differences between these ports.
Access port sends and receives frames that are not tagged and only having access to VLAN Value. As the frames remain within the same VLAN, this doesn't cause signal issues. Also, if it receives a tagged packet, then it simply avoids it. If the network is more complex, then it is not an efficient choice.
Let's take an example to understand better the TRUNK port, which transmits data from multiple VLANs. Suppose we have n number of VLANs on a particular switch; we don't need any additional switches or cables for each one of LAN. It's just that single link that will work out. To get to the correct endpoint, a trunk port must use tags in order to allow signals.
The phone should detect the trunk and both the access and voice VLAN packets that are tagged. Without appropriate security features, it's very dangerous to configure the port as TRUNK PORT.
Access ports are configured on switch interfaces where end hosts are plugged into desktops or PCs.
Let's take an example of Access port now. Suppose an engineering PC is plugged into a switch, the port where it is connected needs to be configured as an access port for the engineering VLAN. The configuration is all on the switch. The end host doesn't need to know anything about VLANs.
By allowing only the traffic within the same VLAN, VLAN segment the campus LAN into smaller broadcast segments. Traffic between VLANs must go via a router.
Now let's have a look at the table of comparison between the access port and trunk port for better understanding.
Trunk Port vs Access Port Comparison Table
Below is the major comparison between Trunk Port vs Access Port:
 Basis of Comparison
Trunk Port
Access Port
Terminology
It carries traffic on one or more VLANs'S on the same physical links.
It's a part of only one VLAN and normally used to terminating end devices like Laptops, PC and printer.
Support Mode
Multiple Untagged VLAN's.
Single Untagged VLAN.
Common Use-Cases 

Switch to switch
Hypervisor to switch
Switch to router
Switch to the server, especially on VM terminology

PC/Printer to switch.
Comments
VLAN 1 can be tagged. It is untagged by default.
Belongs to 1 VLAN only.
Tags
Allows multiple VLANs to traverse and add tags.
Allows single VLAN to traverse and removes tags.
Configuration
To designate port to trunk mode- switch port mode trunk.
To designate port to access mode-switch port mode access.
Protocols
It uses the encapsulation protocol

ISL (inter-switch link)
802.1Q

It uses an encapsulation protocol that is IEEE 802.1Q.
Layer
It's in a layer 2 Ethernet frame.
It's in the Layer 2 Ethernet frame.
Bandwidth
It provides higher bandwidth.
Comparatively lower than trunk port.
Voice VLAN
This feature Doesn't support on this port.
Support on the access port.
Using the "switch port mode access" command forces the port to be an access port about its configuration part. Similarly, if any device is plugged into this port, then it will only be able to communicate with other devices that are in the same VLAN. In the same way "switch port mode trunk" command forces the port to be a trunk port.
Trunk ports mark frames with some uniquely identifying tags which are either 802.1 Q or inter-switch link (ISL) tags because they are allowed to move between the switches. They are used to add VLAN information to frames as they are transported between the switches and other devices.
Conclusion
All we can say is, these are very important factors in virtual LAN to carry the traffics, whether it is tagged or untagged. Hence the main use of these both the trunk and access port is to move traffic between VLANs, which we need a layer 3 device for it to route packets.
Recommended Articles
This is a guide to Trunk Port vs Access Port. Here we discuss the difference between Trunk Port vs Access Port, along with key differences, infographics, & a comparison table. You can also go through our other related articles to learn more –